Released 06.08.2017
New Features & Improvements | Mobile
Displaying All Shifts in the Mobile Roster Report
When viewing the Roster Report on mobile devices, managers now have the ability to view all shifts an employee is assigned regardless of the filters applied.  For example, if Ginger Grant is scheduled a Host shift and a Kitchen shift, selecting the Host filter will display only Host scheduled employees, but expanding the view for Ginger Grant will display the Kitchen assignment as well.
New Features & Improvements | Web
Scheduler - Forecast Comparison Data
Managers can now view the number of hours that have been forecasted for each of their schedules, so they can compare the number of hours they are assigning for each schedule.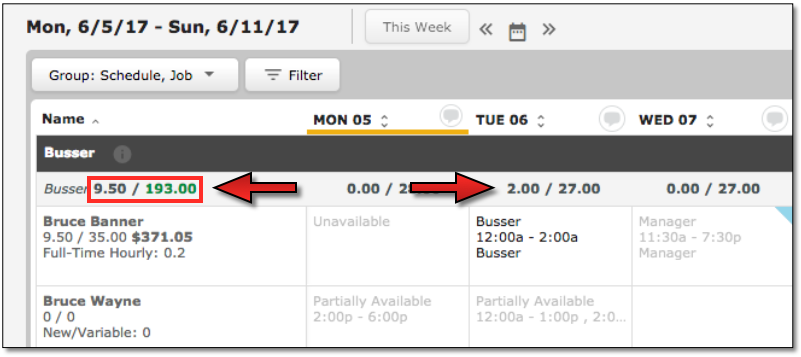 While viewing the "Schedule, Job" group of the Scheduler in ClassicView, forecasted and scheduled hours will display for the week as well as for each day.  The first number (9.50 above) is the weekly scheduled hours of all the jobs that map to the displayed schedule.  For example, in the above image, only the Busser job maps to the Busser schedule, so only the scheduled Busser shifts will display.  Scheduling a Cook shift on the Busser schedule will not be reflected in the listed number.  The number on the right (193.00 above) is the weekly forecasted hours of the jobs that map to the displayed schedule.  The forecasted number for the week will remain green until the number of scheduled hours exceeds the forecasted hours at which the color will change to red.  To view the total number of hours assigned to a schedule, regardless of the job, managers can hover their mouses over the information icon.
The same information displays when viewing the "Schedule, Job" group in SmartView.
Scheduler - Location Rotation Improvements
Behavior improvements have been made to the Location Rotation feature so managers can more accurately rotate their assigned (and house) shifts by start times and locations.
Staff - Emailing Bulk Welcome Sheets
Managers can now send Welcome Sheet emails in bulk to their employees who have confirmed email addresses.  By selecting multiple employees from the Staff List and then clicking the Welcome Sheets button, managers can select the new Email button from the modal.
When an employee without a confirmed email address is a part of the group of selected employees, managers will have the options to re-send email confirmations and/or print the Welcome Sheets for the employees they can't email.
Staff - Hidden Employees and the New Staff List Details
The Hidden flag has been added to the New Staff List Details page so that employees can be hidden from the Staff List, Scheduler, and other areas of the site.  Only users with the Staff - Show Hidden Employees permission will be able to hide (and view hidden) employees.
******************