Overview
Sometimes it may be necessary to manually upload a sales file into FnB. To do so requires some configuration changes and the creation of a CSV file in Microsoft Excel. This article provides guidance on this.
The following instructions are intended for customer system administrators.
Enterprise Configuration
Expand Home and navigate to the site the sales will be uploaded to
Go to the Edit Site tab


Fig. 1 – Edit Site
In the 'PLU Dataload' section, update the following fields:
For Dataload Header, select Micros 3700
In PLU Auto Upload File Code type in YYYYMMDD.csv


Fig.2 – Dataload configuration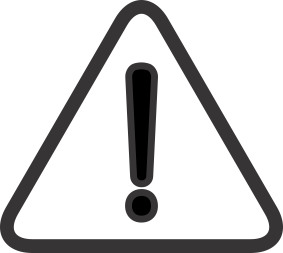 Any header other than Micros 3700 will not work for manually loaded sales.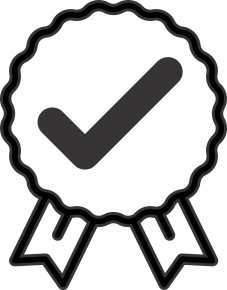 If another configuration is already present and the manual load is a one-off this can be changed back after the manual load.
Preparing the CSV File
This can be done in Microsoft Excel. The column format for the file is:
A – PLU Number
B – Item Description
C - Sales Price
D - QTY Sold
E - Gross Sales
Enter the values as required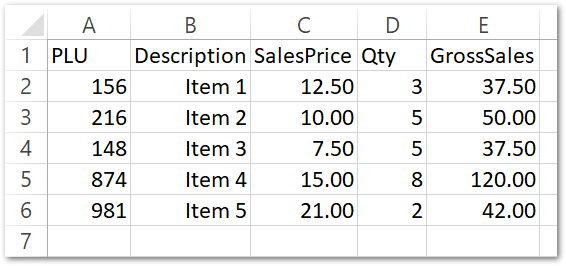 Fig.3 – Example file
Save the file in Excel as a .CSV file
The file must be CSV for it to load successfully in FnB
Loading the File in FnB
Log in at Site level and navigate to Stock Management > Import POS Figures > Upload PLU data


Fig. 4 – Upload PLU data
Select the date range required for the sales (this will default to the start and end dates of the period)

The dates on the files must be of a date that falls within the current stock period dates

Browse to select the file location and then Submit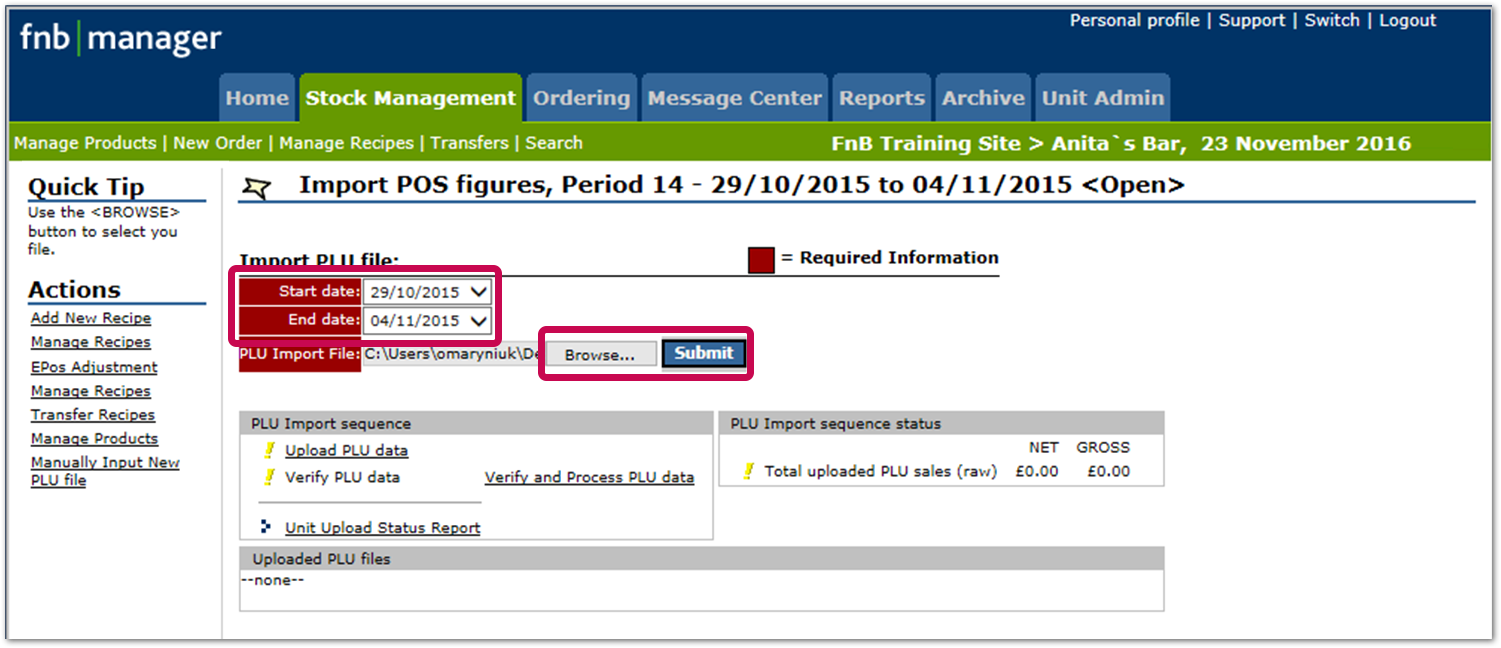 Fig. 5 – Select sales date
Raw Data Sales Report
The Raw Data Sales Report will match the file loaded.
Go to file reports > raw uploaded file
Please note: The report will deduct VAT from the gross sales to provide a net sales value.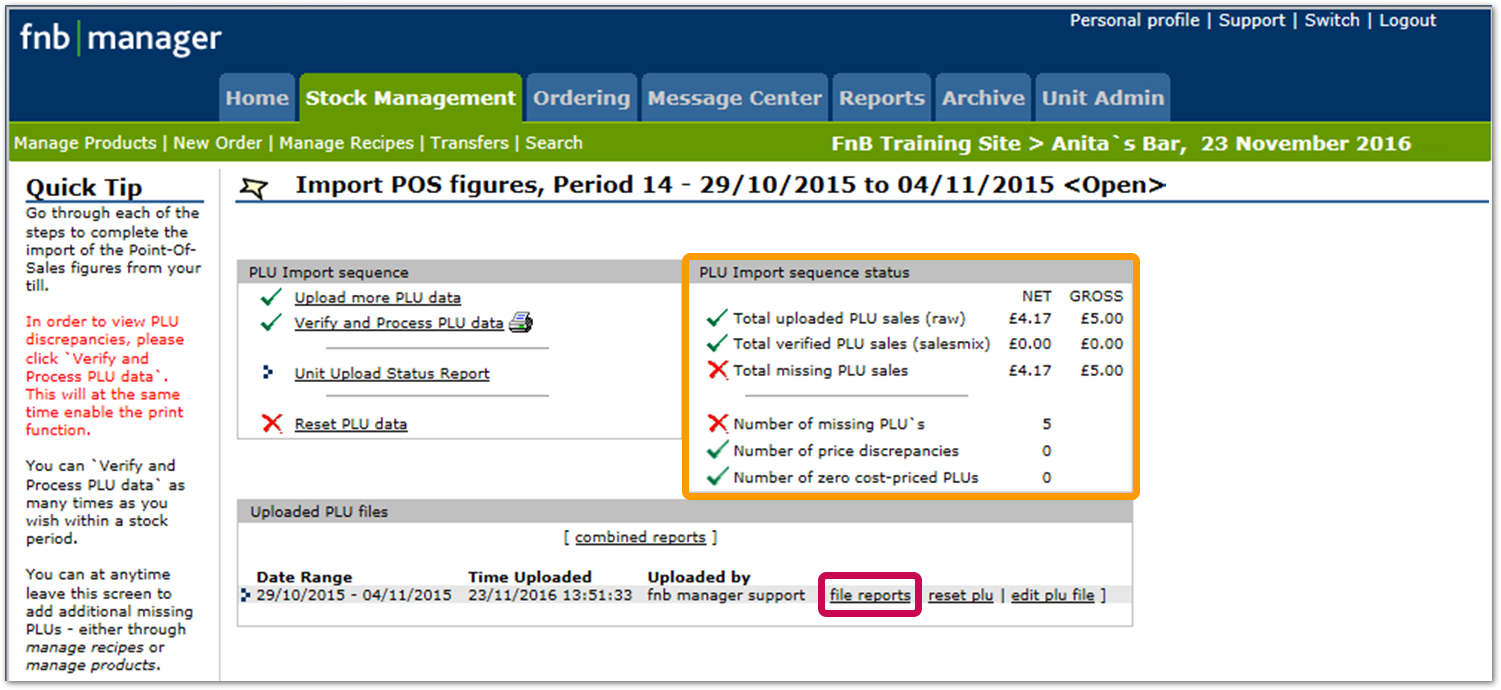 Fig.6 – Sales loaded and file reports button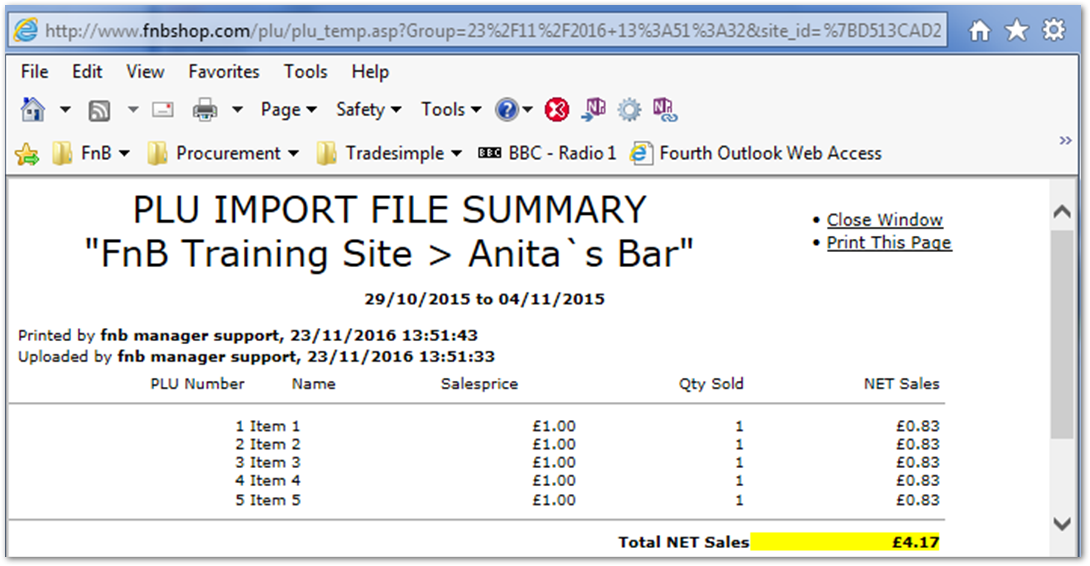 Fig.7 – Raw uploaded file