Video Guide
Step-by-Step Guide
Managers and Administrators can complete Section 2 of the I-9 from the I-9 Documentation Dashboard. 
To access the I-9 Documentation Dashboard:
Select WorkSpaces
Under your organization's name, select Administrator
The Administrator WorkSpace or 'Home' tab will appear
  Select I-9 Documentation. 

Fig.1 - Accessing I-9 in legacy view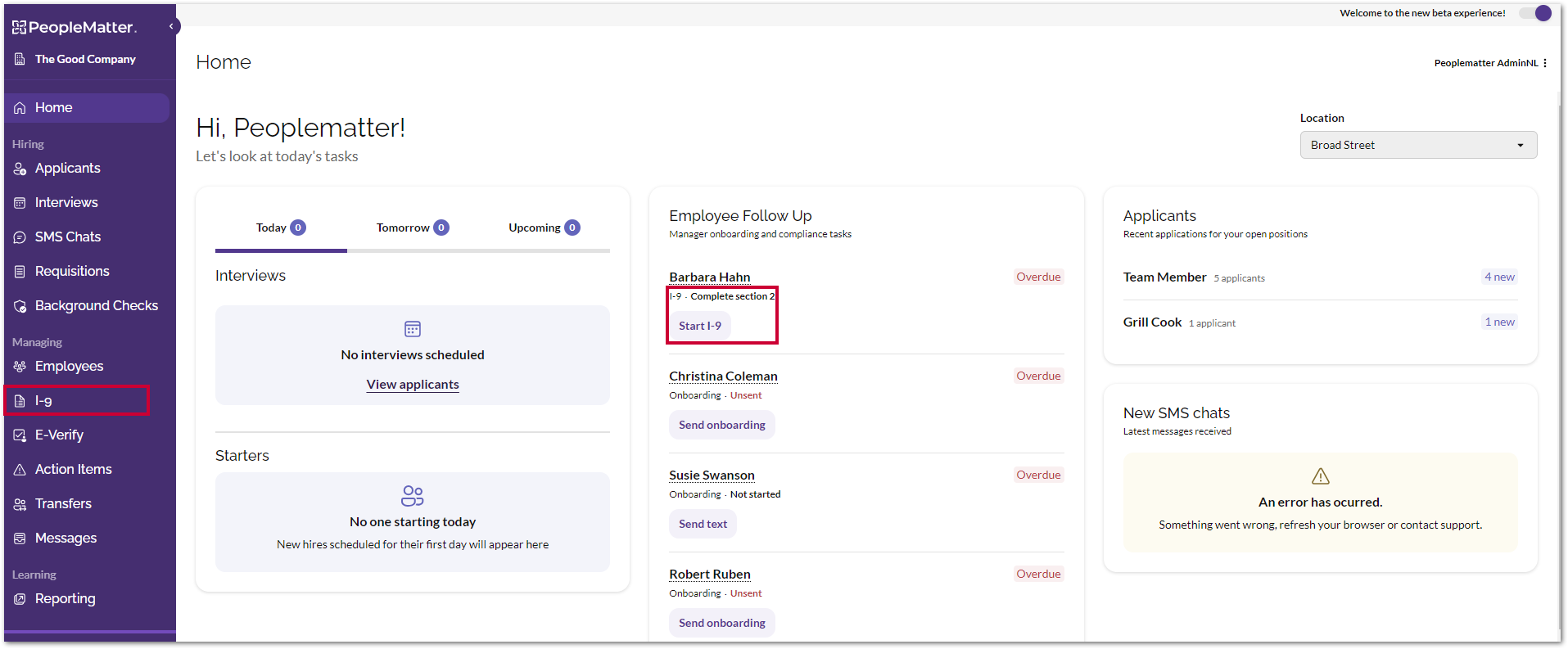 Fig.2 - Accessing I-9 in beta view
A list of Team Members will appear. The status of each individual will be displayed on the right-hand side.
You can search for a Team Member by name or use filters to narrow down your search
You will want to identify the Team Member's status of Waiting for Employer or Overdue - Waiting for Employee
Select Actions > Start I-9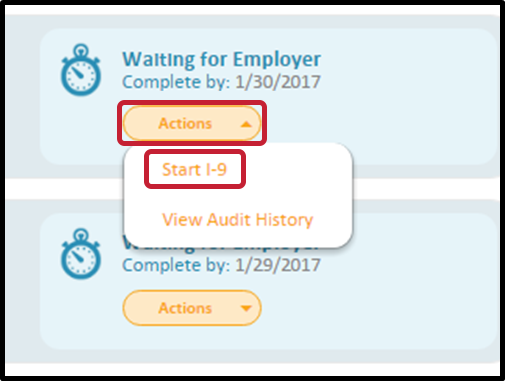 Fig.3 - Start I-9 from legacy view
Section 2 of the I-9 will open. There are four steps to complete:
Step 1.  Review Employee Information: Ensure the information entered by the employee in Section 1 is correct, and if so, select Next. If incorrect, select Send back to employee for corrections
Step 2. Enter Documentation Information: Select the appropriate documents you will use to verify identity and employment authorization. Use the Select Documents buttons next to the required documents. Follow the prompts to enter the information for the selected documents
Step 3.  Review Documentation Information: Review the documentation entered in Step 2.  If correct, select Next. If incorrect, select Edit Information or Clear and Select a Different List Document
Step 4. E-Signature: Read all information carefully and ensure you check the appropriate boxes and enter any required information. When finished, select Save and Complete

Fig.4 - Review employee information

Fig.5 - Enter document information 

Fig.6 - Review document information

Fig.7 - E-Signature
Note: You can access I-9s for all your team members at any time by selecting hiring and then I-9 from the main navigation on the left side of the page.
If your organization performs E-Verify in PeopleMatter, you will need to complete these workflows as well. Use the Documents tab to upload copies of documentation used for I-9 completion, if applicable. 
Related Articles: