Summary
Feature 1
Tronc2 Page enhancements
Small enhancements have been made to some pages within the Tronc2 module to improve the user experience
If using the Tronc module with the new user interface, please see WFM UK Release Note: Tronc2 Page Enhancements: New User Interface.
Release date: 17th June 2021
Tronc2 Page Enhancements
Enabled by Default? - Yes

Set up by customer Admin? - No

Enable via Support ticket? - No

Affects configuration or data? - No

Roles Affected: - All Tronc2 Users
What's Changing?
Minor enhancements to the Tronc2 module.
Reason for the Change?
To make the Tronc2 module easier to navigate, improving the user experience.
Customers Affected
All customers using the Tronc2 module.
Release Note Info/Steps
Record Receipts
To view record receipts, go to Tronc2 > Receipts > Record Receipts
Within the existing page, when a Location is selected, all previous tronc receipts are listed.

Fig.1 - Existing Record Receipts page
Using the new page, when a location is selected, the screen is split into two halves:
'Add New Tronc Receipt' – only shows the most recent receipt, with the ability for the user to add a new one

'Past Tronc Receipts' – shows the past four months' receipts by default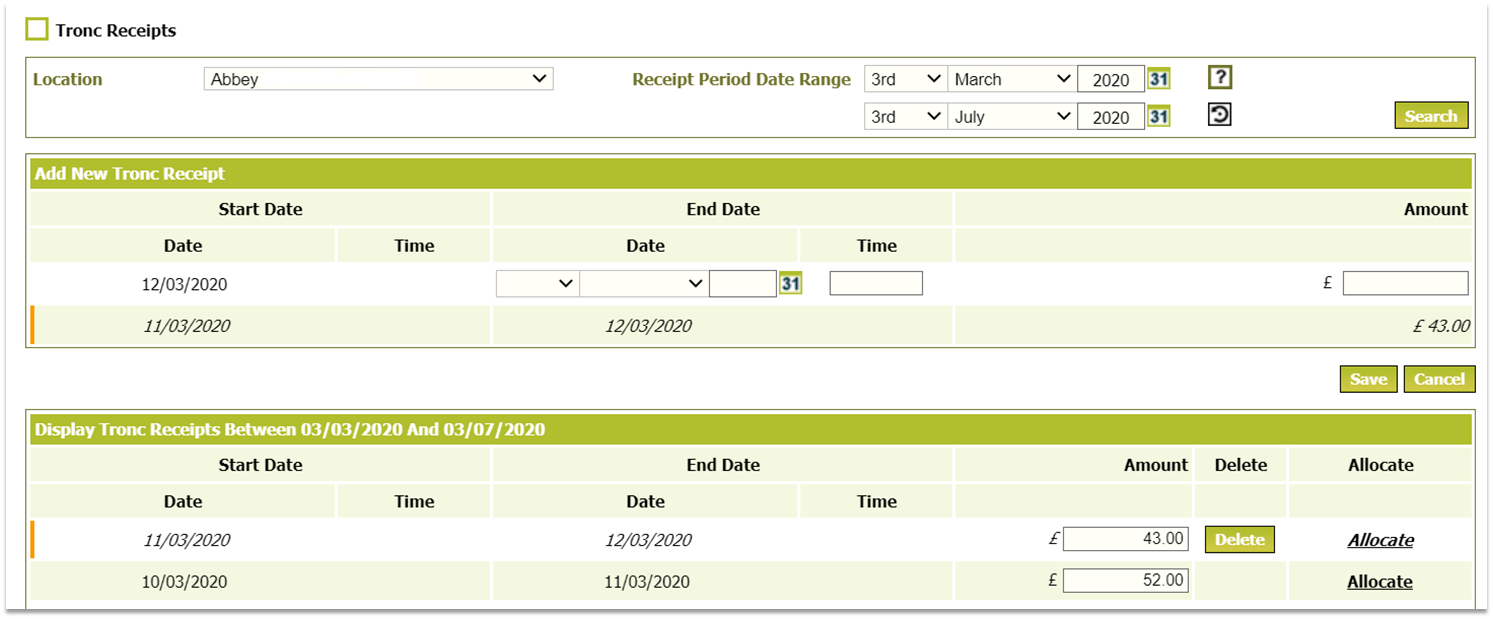 Fig.2 - New Record Receipt Page
A new Date Checker has been added to the top of the page which enables searching for past receipts older than four months.
Allocate Receipts
To view allocated Receipts, go to Tronc2 > Receipts > Allocate Receipts
Within the current page, when the Location and Receipt pages are selected, the list of funds to allocate appears.

Fig.3 - Existing Allocate Receipts Page
The new page displays the same information, however, the past periods available to select within the Receipt Period drop-down are now restricted to the previous four months.
This new page also has a Receipt Period Date Range to search funds from over four months ago
Fig.4 - New Allocate Receipts page