Overview
This report gives details of sales within the selected criteria.
Running the Report
To run this report, go to Report Center > Recipe Reports > Sales History Report
To open the report criteria screen, double click Sales History Report or select the report and click Run Report as per Fig.1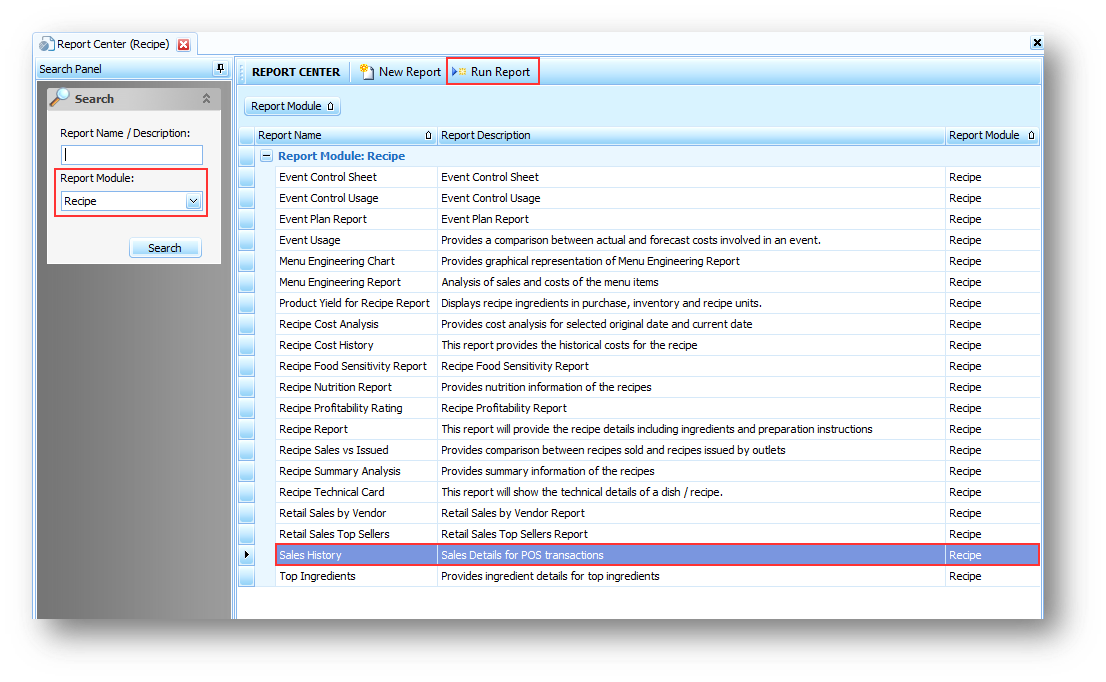 Fig.1 – Running the Sales History Report
Report Criteria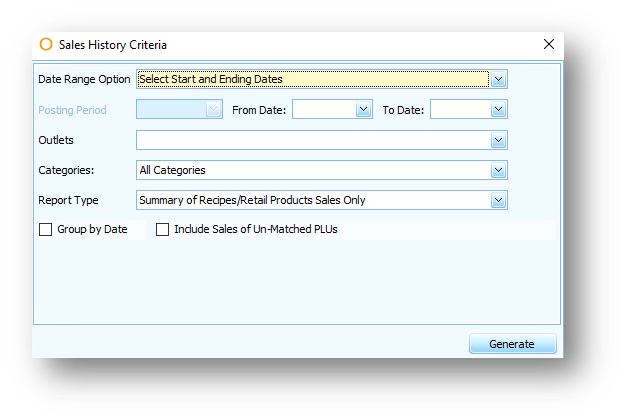 Fig.2 – Sales History Report Criteria
Table.1 - Report Criteria fields
Fields

Description

Date Range Option

Select Start and Ending Dates: Select a start and ending date for report results

Date Range by Period: Select period number for which to generate results

Posting Period

Fields will be editable depending on which option was selected above

Outlets

Select one or more outlets for which to generate results

Categories

All Categories: All categories will be included

Selected Categories: A new dialog box will open allowing the selection of one or more categories for which to generate the results

Report Type

Summary of Recipes/Retail Product Sales Only: Runs the report with summary of recipe and retail sales

Include details of Recipe Transactions: This option will exclude retail sales but give details of recipe transactions. Note that is a recipe is already in stock at the time of the sale then there will be no transaction details to report on.

Summary of Recipe/Retail Sales by Date: Runs the report including sales dates

Group by Date

Groups sales by date within the date range of the report

Include sales of Un-Matched PLUs

Include sales details where incoming sales have unmatched PLUs to Adaco recipe or retail product
Report Results
Depending on the options selected above, when the Sales History Report is generated the results will look similar to Fig.3.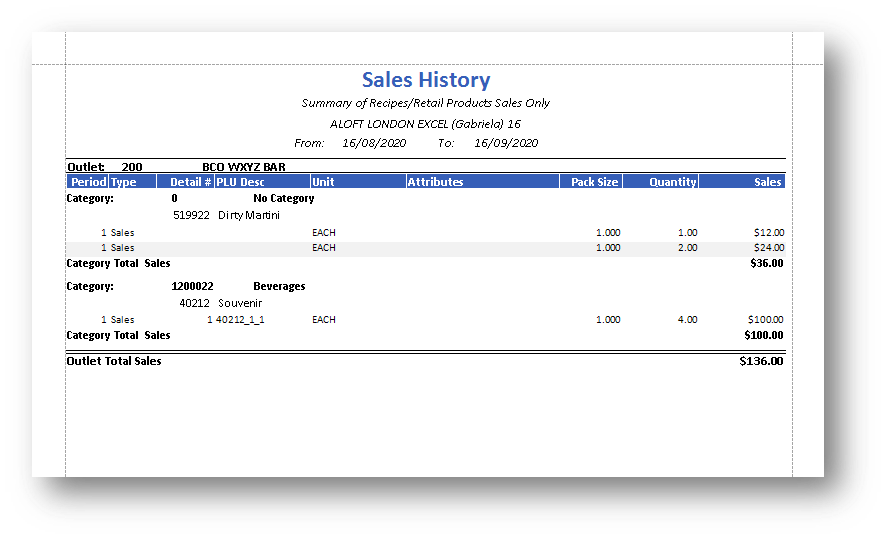 Fig.3. Sales History Report Results
Table.2 - Generated report fields
| | |
| --- | --- |
| Fields | Description |
| From: To: | Displays the from, to dates for which the report was generated |
| Outlet | Displays the Outlet Number and Name, if more than one outlet was selected sales will be grouped by outlet |
| Period | This field is left blank |
| Type | Sales Transaction |
| Detail # | Gives the Adaco recipe or retail product number |
| PLU Desc | Gives the description of the sales item with PLU number (if assigned) underneath |
| Unit | Unit of sale |
| Attributes | Lists the sales attribute of a retail product if defined |
| Pack size | Pack size of sales item |
| Quantity | Total number of sales within the sales transaction for the recipe/retail product |
| Sales | Total value of items sold within the transaction |
| Category | Details of the category within which the sales item resides. The Recipe/Retail Product must be assigned to a category otherwise No Category will be displayed |
| Category Total Sales | Total sales value for items within the category |
| Outlet Total Sales | Total sales value for all items within the outlet |