Overview

This article describes the process of Bulk Editing Recipes.

This allows for the editing of basic fields only, such as Recipe Sets, Categories and flags on multiple recipes. However, it does not allow for the editing of Prices of PLU References within this area, or recipe ingredients/quantities as this can be completed in other areas of the portal.

This is a useful tool to be able to complete a task in mass operation.

For a list of all Recipe and Menu Engineering articles, please visit RME - Article Contents Page

Bulk Editing Recipes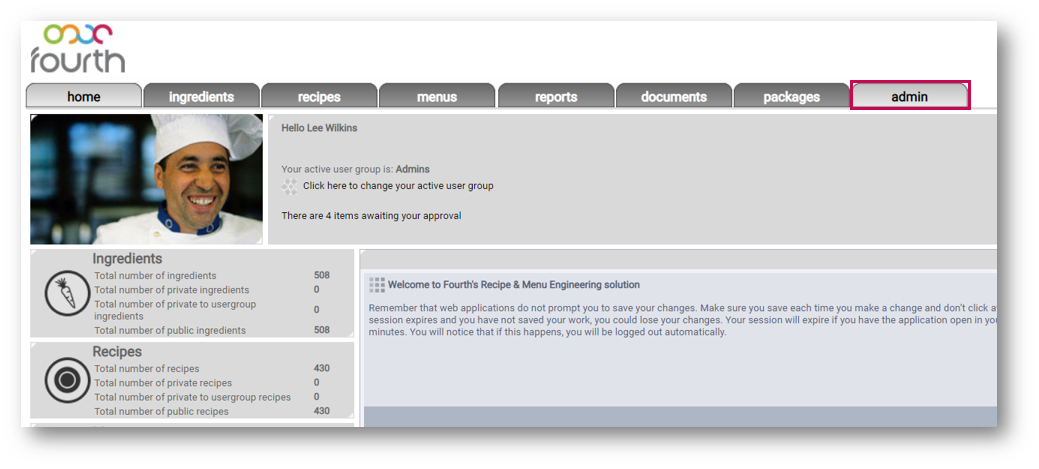 Fig.1 – Admin Tab
Select Tools in the Select drop-down option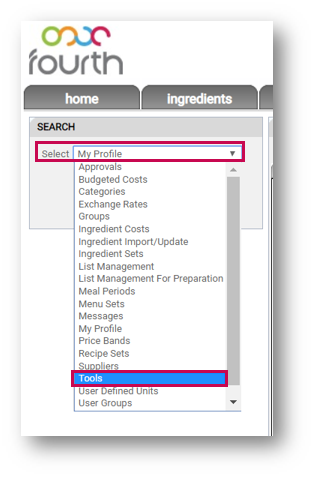 Fig.2 – Tools Option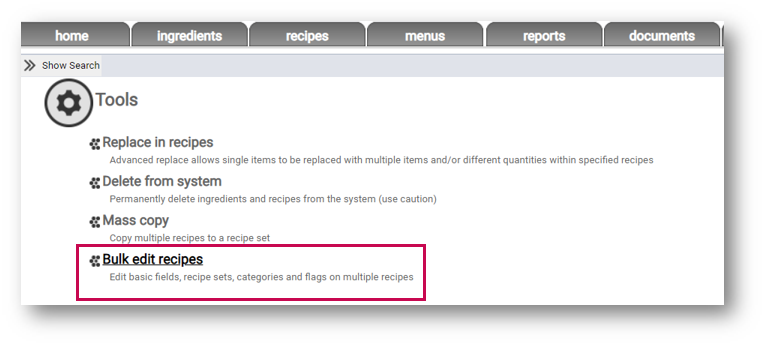 Fig.3 – Bulk Edit Recipes
Select the Search Criteria using the Scope, Recipe Type and Search Text fields
Select Next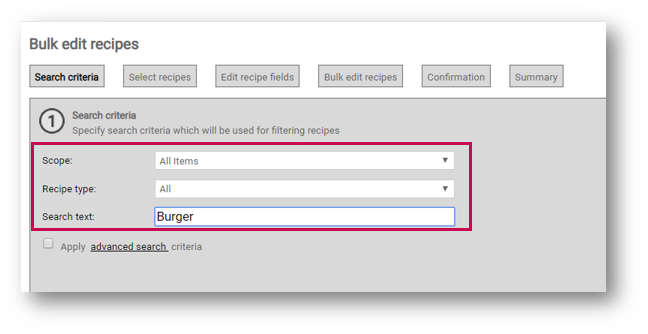 Fig.4 – Search Criteria Options
Use the tick boxes to select individual recipes or use the top check box to select all
Any recipes which have not been selected will not be carried over to the next step in the process.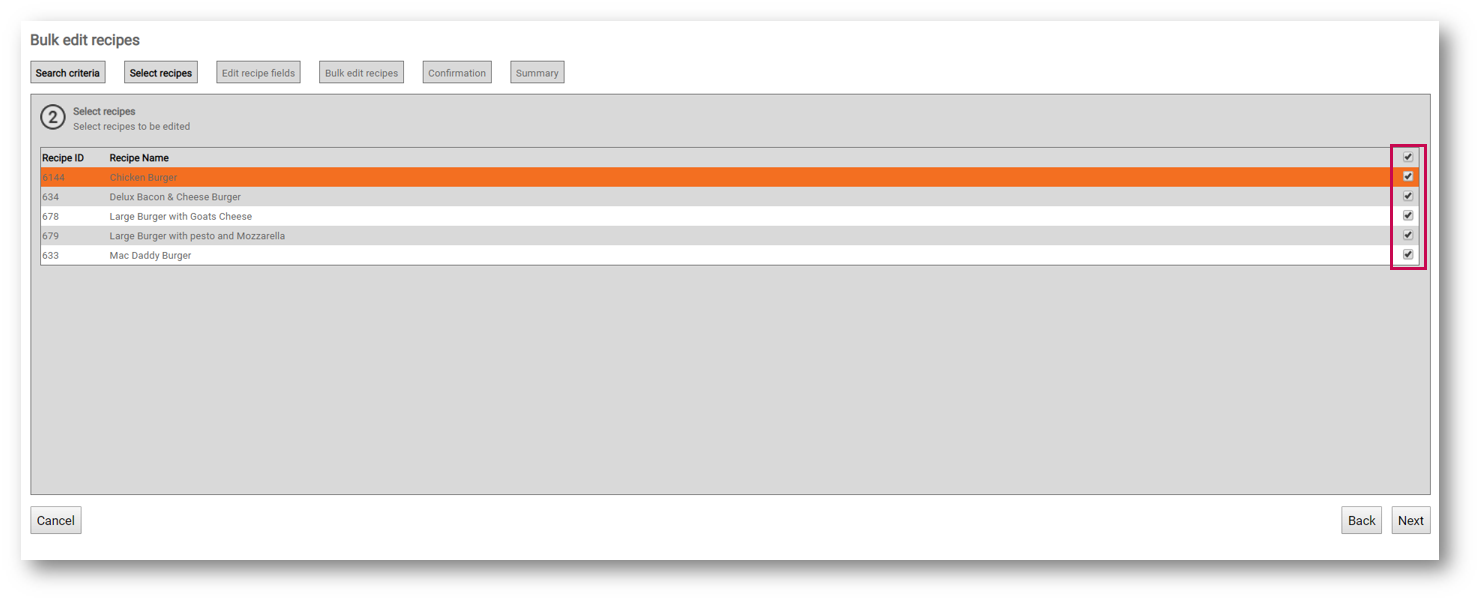 Fig.5 – Select Options
The 'Edit Recipe Fields' screen will then display.
Edit the recipes as required

Select which Heading for each product, e.g. Fig.6 shows 'Description' for 'Mac Daddy Burger'
Select Next or Back to change the filter process
Please Note: Price changes or actual ingredients and/or ingredient quantities cannot be altered here.


Fig.6 – Editing a Recipe
The 'Bulk Edit Recipes' tab will display.
Multiple changes to the recipes can be made here:
Update the Flags, add a Category, change a Recipe Set or change the Expiry Date for all selected recipes as appropriate
Please Note: In the Inventory solution, only one Smart Category can exist – this is the one with the Globe which links to Inventory. Other categories would be 'System' categories and only within Recipe & Menu Engineering (StarChef).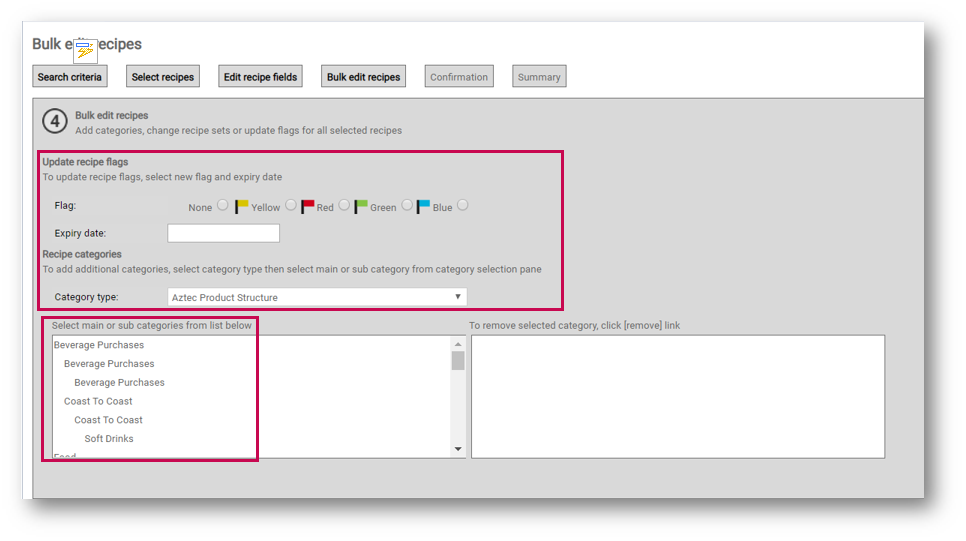 Fig.7 – Bulk Edit Recipe Fields
The 'Confirmation' tab will then display.
Review any changes made and select Confirm to proceed or Back to alter changes without saving


Fig.8 – Confirmation Screen
The 'Summary' tab will display.
View all confirmed changes, then select Finish to return to the 'Tools' screen


Fig.9 – Summary Screen