The System is designed to help those in the hospitality industry manage their purchasing, stock control and time.
Line Checks, also known as Cyclic Stock Count, is the practice of regularly counting and reconciling select number of items throughout the stock period. This article explains how to print a line check.

Printing Line Check Sheet



Fig 1 - Stock Count Home Page Options - Print Line Check
Click on the 'Print line check link'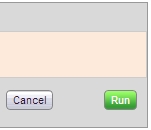 Fig 2 - Run Report Button
Click the green 'Run' button.


Fig 3 - Line Check Sheet
The results are shown in Fig 3.



Fig 4 - Line Check Sheet Save As Options
There are multiple options available for saving the line check sheet; one of the commonly used options is as CSV. Selecting this option will open the report in Excel (or any other spread sheet software) from which it can be printed.
Also See