Overview
It's important when stock counting that the process is easy and straight forward for users of the system. Preparation is the key when counting stock. Having an organised methodical manner for the process, ensuring the available time & resource is imperative and making use of any configuration within the system to make the counting process quickly, efficient & accurate.
The system allows some configuration to enable easy entry of stock data and at times it may be necessary to clear the entire stock count. Clearing the stock count will leave all stock count fields blank. It may become necessary to clear a stock count if, for example line checks were carried out and the old data needs to be removed from the stock count.
Please Note: Clearing the stock count cannot be reversed.
The following document explains how to clear the entire stock count.

Clearing the Entire Stock Count
Select the Stock Management tab
Select Stock Count



Fig.1 - Stock Count Link
On the Stock Count Home page, under the Setup Stock Count section, select the Clear Entire Stock Count link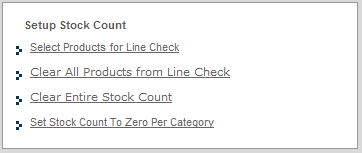 Fig.2 - Setup Stock Count Options
A pop-up box will display to confirm the action, select OK to confirm or Cancel if the action is not required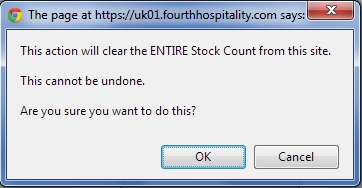 Fig.3 - Clear Stock Count Dialogue
The system will display a confirmation message that the stock count has been cleared successfully.



Fig.4 - Stock Count Cleared Message
Also See