Overview
The Recipe Sales Vs Recipe Issued Report provides a quick overview of Recipe movement within an individual Outlet, or a selected group of Outlets. This article describes the process of accessing this report, setting the criteria of the report to meet the required needs, and how to read the data displayed.
Accessing the Report
To access this report, go to Report Center > Recipe > Recipe Reports
Select Recipe Sales vs Issued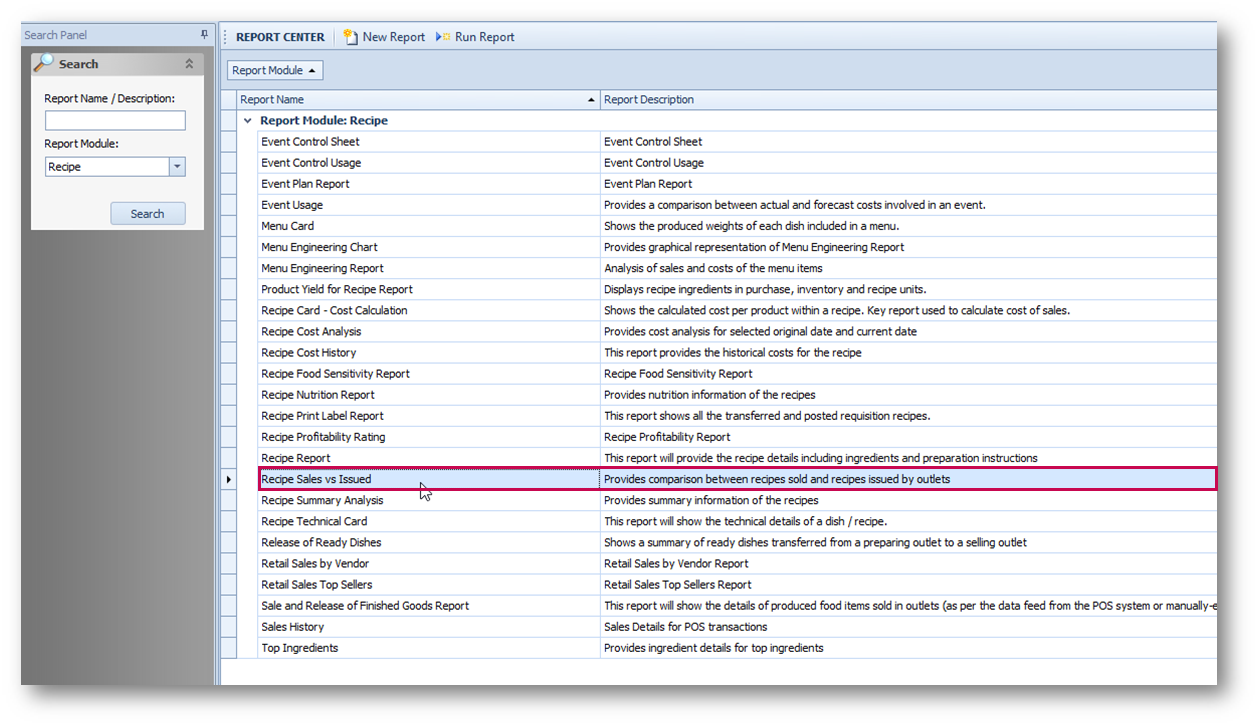 Fig.1 – Report Center
Alternatively, type the report name into the search bar on the left.
Report Criteria
The report criteria page will then display, set the criteria as required. More information on the fields within this page is displayed in the table below.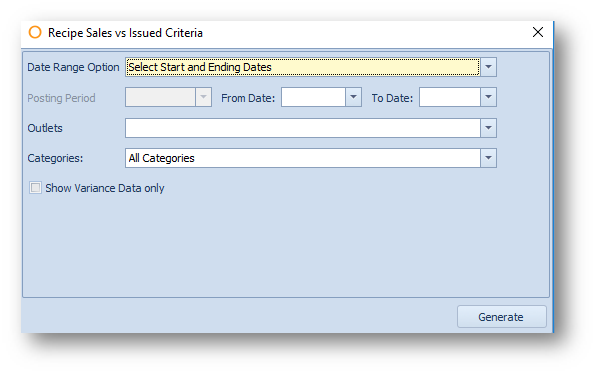 Fig.2 - Recipe Sales vs Issued Report Criteria
| | |
| --- | --- |
| Field | Description |
| Date Range Option | This field determines if the report will be run by selected start and end dates, or by the Company's defined Inventory Period dates |
| Posting Period | Depending on the option selected above, select a From Date and a To Date, or any past/current period |
| Outlets | Select one or more Outlets to run the report for. There is an option to select all Outlets if required |
| Categories | Select certain Categories or select all |
| Show Variance Data Only | If this box is ticked, the report only shows results where there is a variance |
Recipe Sales vs Issued Report Data
The report will look similar to Fig.3. More information on the fields and data within this report is detailed in the table below.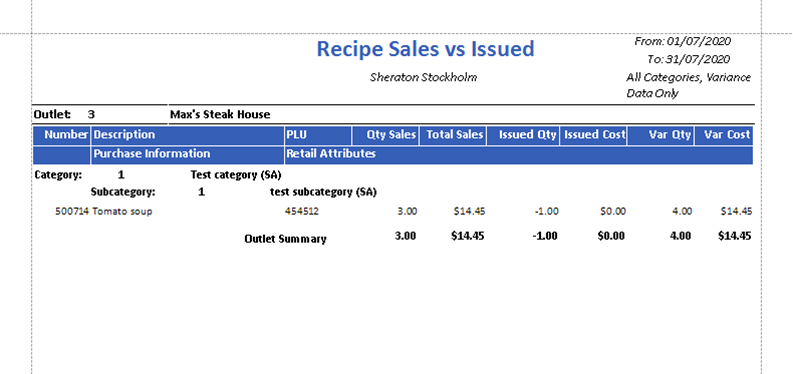 Fig.3 - Recipe Sales vs Issues Report
| | |
| --- | --- |
| Field | Description |
| Header in the top right | Displays a breakdown of the criteria selected to run the report |
| Outlet | Number and name of the Outet(s) selected |
| Number/Description/PLU | Recipe Number and Description, PLU number is assigned |
| Qty of Sales | Number of sales in the selected dates |
| Total Sales | Monetary value of total sales |
| Issued Qty | +/- quantity of Requisitions and Transfers in the selected dates |
| Issued Cost | Monetary value of issued quantity |
| Variance Qty | Difference between the sales and issued quantity |
| Variance Cost | Monetary value of difference between sales and issued cost |
| Outlet Summary | Details grand totals of all Recipes within the selected criteria |