To return to the PO Inquiry article contents page please click here.
Structure Type: Property Only
Navigation: Purchasing > Purchase Order Inquiry > in a drop-down list click By Order > click Search > select a product > click Details
Use this screen to get the detailed information for the selected purchase order. By expanding the drop-down next to the product number, you get information about the outlet that received the product, product quantity and account information.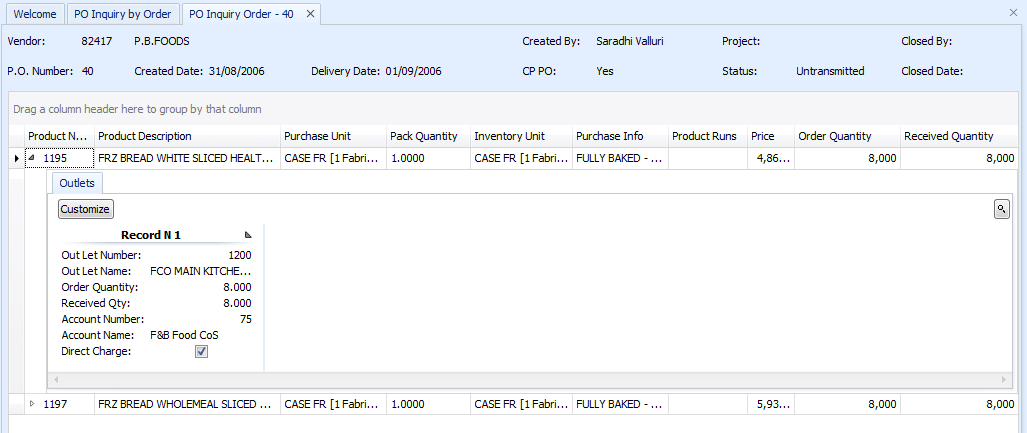 Fig 1 - PO Inquiry by Order Details

| | |
| --- | --- |
| Field name | Description |
| Vendor | Displays the vendor number and vendor name. |
| P.O. Number | The number of a purchase order. |
| Created By | Displays the name of the user who created the purchase order. |
| Project | Displays the name of the project, with which the purchase order is associated (if any). |
| Closed By | The name of the user who closed the purchase order (if any). |
| Closed Date | The date when the purchase order was closed (if it was closed). |
| Created Date | The date when the purchase order was created. |
| Delivery Date | Displays the delivery date, specified on the Purchase Order Details screen when creating a purchase order. |
| CP PO: | If the corresponding purchase order was created at a Central Purchasing, this check box will be selected. |
| Status: | The status of the purchase order. |
| Product Number | The number of a product. |
| Product Description | The description of a product. |
| Purchase Unit | Displays the purchase unit selected for the product on the Product Details screen. |
| Pack Quantity | Pack Quantity is a number of items in one pack. This number is taken from the Product Details screen. |
| Inventory Unit | Displays the inventory unit selected for the product on the Product Details screen. |
| Purchase Info | This column displays the purchase information specified on the Product Details screen. |
| Product Runs | Displays the values assigned to the retail attributes for the corresponding product (if any). |
| Price | The price per purchase unit. |
| Order Quantity | The number of purchase units ordered. |
| Received Quantity | The number of purchase units received. |