The system offers the flexibility of having different account nominal codes per site. A Nominal Code is a code used to uniquely identify an account with in an accounting package's nominal ledger. This article explains how to update a site's nominal code.



Fig 1 - Update Nominal Code Button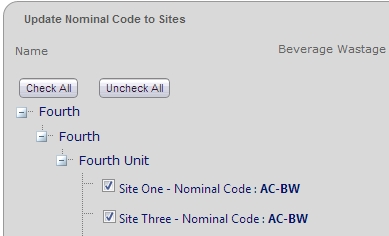 Fig 2 -Select Sites To Update
Click the 'Setup' Tab > Account Admin.
Search for the account that is to be amended (see article P2P&I - Inventory: Search for an Account on how to search for accounts).
Click on the 'Where Used' tab.
Click the grey 'Update Nominal Code to Sites' button.
Select the sites to be updated by expanding the organisation hierarchy. Alternatively all sites can be selected by clicking the grey 'Check All' button.



Fig 3 - Enter New Nominal Code(s)
Update the nominal codes for the relevant sites and click the green 'Save' button.
Note: It is possible to update multiple sites by entering a nominal code in the Nominal Code field highlighted in Yellow in Fig 3 and clicking the 'Update Unit' button. Clicking the grey 'Update All' button will enter the nominal code in the field to the left of the 'Update All' button against all selected sites.
Click the green 'Save' button.
Also See