It is possible to search for various documents; one of the document types is Invoices. Using the documents this function will save time especially when searching for unmatched invoices sent by EDI suppliers.
It is possible to search for documents across all units.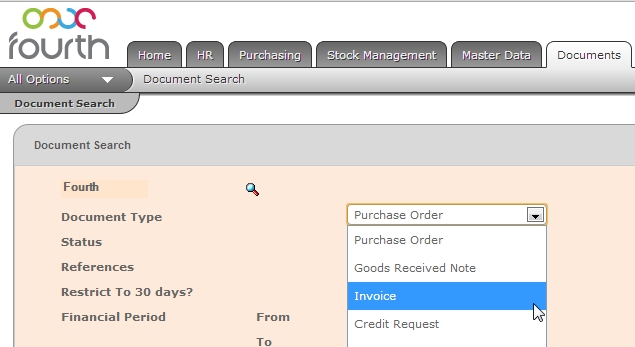 Fig 1 - Documents Tab
Click the Documents Tab > Select Invoice from the 'Document Type' drop down box.

Fig 2 - Invoice Search Options
Status – These are described in the Appendix > Invoice Status.
References – The invoice reference provided by the supplier.
Supplier – Select the supplier from whom the invoice was issued.
Restrict To 30 Days – Restricts the search to the last 30 days (the current day's date is included).
Financial Period – Search between stock period financial periods.
Created Date – The date the invoice was manually created or if EDI, the date it was sent by the supplier. If using this option uncheck the 'Restrict To 30 Days' option.


Fig 3 - Document Search Button
After inputting the relevant criteria click the green 'Search' button to view the results.


Fig 4 - Invoice Search Result Actions
Next to each search result line are two links 'View Document' & 'View Discrepancy'.
View Document opens a printer friendly version of the invoice.
View Discrepancy navigates to the 'Invoice & GRN Validation Page'.
Also See