The purpose of this article is to demonstrate how to Close Purchase Orders in Adaco using the Close Purchase Orders function.
Closing a Purchase Order
Go to Purchasing>Close Purchase Orders.
In the Close PO section, fill in the information needed, as per Fig 1, as follows:

Select Type:

Auto Close POs: Using a selected date, the system will find POs with a Delivery Date equal to or prior to the date selected, to close.
Close Selected POs: This allows the user to select specific POs to close.

Vendors: Select specific or all vendors for POs to be closed.
Will close POs Older Than: This field will close POs older than the date specified.
Include Cancelled Orders check box: Check if desired to include cancelled POs in search criteria.
Select All: Will select all POs in Select PO section.

Once all criteria is selected, click Go.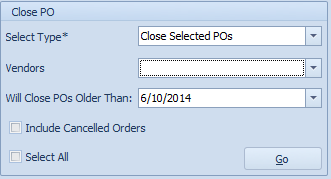 Fig 1 - Close PO criteria
The Select PO section displays the results. Select the desired POs in the corresponding check box, as per Fig 2.

Fig 2 - Selecting the POs to close
When ready, click Close PO, as per Fig 3.


Fig 3 - The Close PO button

The POs will then be closed.
Closed POs can be reopened as outlined here: Release Notes: Adaco 4_6_83

Note: This is not to be confused with Purge PO function, that will delete POs from the system.