Possible issues clocking into WebClock
The current time is outside of the site's parameters:
If you try and log in outside of your posted scheduled shifts, a warning may appear.  Your manager will need to sign in to WebClock with their HotSchedules username and password to override the notification.  You may have also tried to clock in with a job code different from the job you are scheduled for that shift.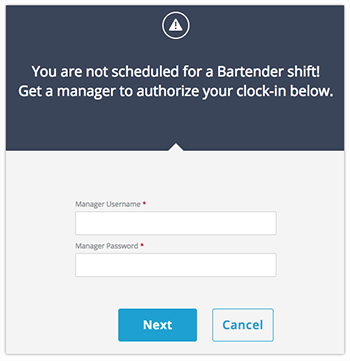 Note for Managers: The acceptable number of minutes before and after the scheduled start time that an employee can clock in without a manager's approval, as well as exempting job codes from this restriction, can be configured by contacting HotSchedules Customer Care.
The device being used to clock in is not an authorized device:
WebClock can be configured so that only devices that are using one of a set of approved IP addresses are allowed to clock in or out.  If you are attempting to clock in on a device and get a generic error message, the device's IP address may not on the approved list.  You can update the list of IP addresses you would like to allow by contacting HotSchedules Customer Care.
The employee does not have a POS ID assigned:
All users will need a POS ID assigned to their profile in order to be able to use WebClock.
If you are an employee and you are receiving this message, please reach out to your manager.
If you are a manager, you can assign POS ID's in the "Employee POD IDs" page under the Staff tab.