On April 4, 2016 we started rolling out our updated Scheduling tab. The shiny, new interface was developed with the goal of helping you build better schedules - faster!  The update was a reflection of extensive customer feedback, user testing, and lots of development hours.
Over the course of the year, the transition to the new interface, was rolled out to customers in phases, but there are still a few who are on the old interface.  HotSchedules is now in the process of discontinuing support and development for the old interface and will be transitioning all existing customers to the updated version.
What Does This Mean?
As of August 28, 2018, all sites who are still using the old version will be moved to the new interface.
Why is HotSchedules Removing This?
The old Scheduler was a great way to schedule your staff, but it was lacking in several areas including (but not limited to) the ability to view all schedules on the same screen, saving and updating teams in real time, and customizing your view with various filtering and viewing options. Plus, it was super ugly.  Am I right?
Instead of building out these (and other) valuable features on an outdated foundation, we stripped it down and built it back up to match the style and branding of the rest of the site and to help you save even more time.
Now that the new Scheduler can do everything the old version can do and more, it doesn't make sense to support two platforms.  Technology changes quickly, and we understand that it could impact your business.  With that in mind, we have been fairly conservative about which platforms we deprecate or discontinue support for.  
In order to deliver new features to you - and continue to support the features you love - with the best experience possible, we need to be mindful of which platforms to continue to support.
For more information about how HotSchedules handles feature and technology support deprecation, please see HotSchedules Feature Deprecation Process & Policies.
Am I Affected?
Does your screen look like this when you're writing your schedules: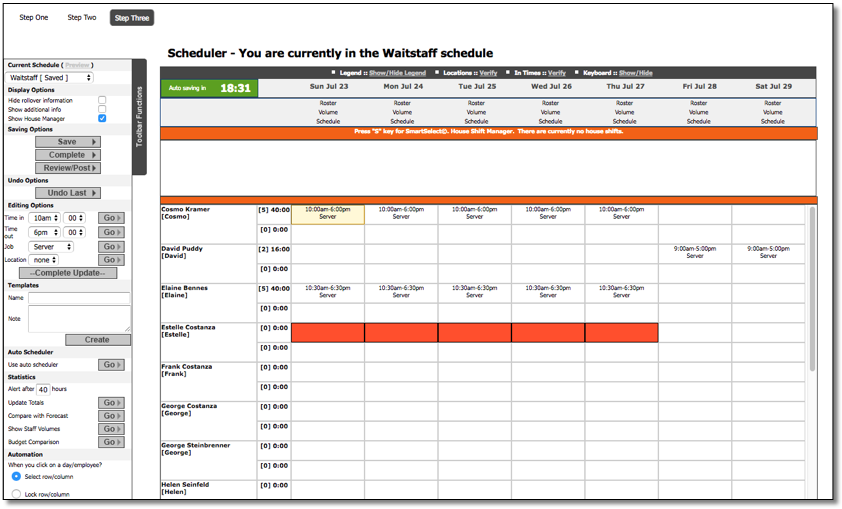 Then yes. This change will drastically affect the way you schedule your employees, but don't worry!  You still have until August 28, 2018 to learn everything there is to know about the new interface.
What do I Need to Do?
To assure the best user experience possible and to familiarize yourself with the new interface, we recommend checking out some of the items below:
New Scheduler

Quick Guide
An assortment of articles written by our Customer Care team that can be found in the Help Center including a very helpful overview article.
What Happens if I Don't Act in Time?
You will still be able to use the old Scheduler until August 28, 2018 when all sites on the older interface will be moved to the new layout.
Who Should I Contact if I have Questions or Need Further Assistance?
You can reach our Customer Care team 24/7 at customercare@hotschedules.com or 866-753-3853.  You can also visit the Help Center to submit a case!