Video Guide
Step-by-Step Guide
Under Company Settings, the 'Jobs' section allows the administrator to configure the jobs within thei company.  
To access Jobs at any time, go to Settings and select your Organization
Then go to Company Settings > Jobs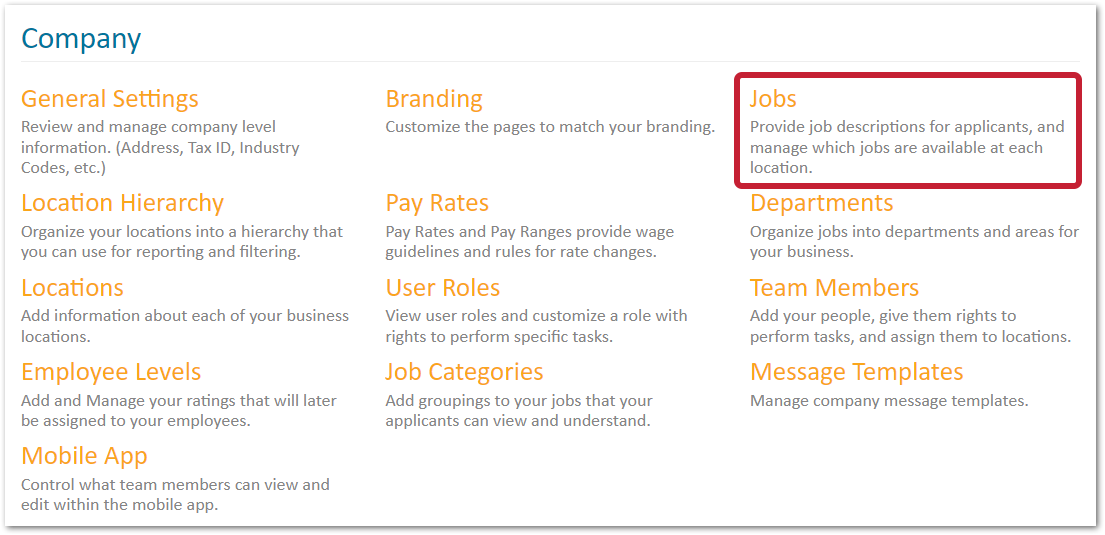 Fig.1 - Job Settings
To Add a Job:
Note: All fields with a blue asterisk * are required.
Select Add New
Enter Title
Notice the checkbox This is a managerial position. Hover your mouse over the Information Symbol to learn more. If you check this box, the job will be marked as managerial.

Marking a job as managerial in the system restricts access to which System Administrators can view the position. Business Unit Admins, which are typically store-level managers, will not be able to view positions marked as managerial.
Enter the Job Code. You will need to add the same job code as you use in your payroll system. If you do not use job codes within your payroll system, simply add a number or repeat the job title in that field
For Pay Type, choose either Hourly or Salary from the drop-down menu


Important: The Pay Type cannot be changed, so please ensure this is correct the first time you enter it

Enter a Description. While this is not mandatory, a Description is required if you have integration with Job Boards, such as Indeed
Enter Requirements and Additional Information, if applicable
Skip Integration fields
Skip EEO Classifications unless you are a federal contractor. If you need to enter this information, simply choose from the drop-down menu
Skip FLSA Status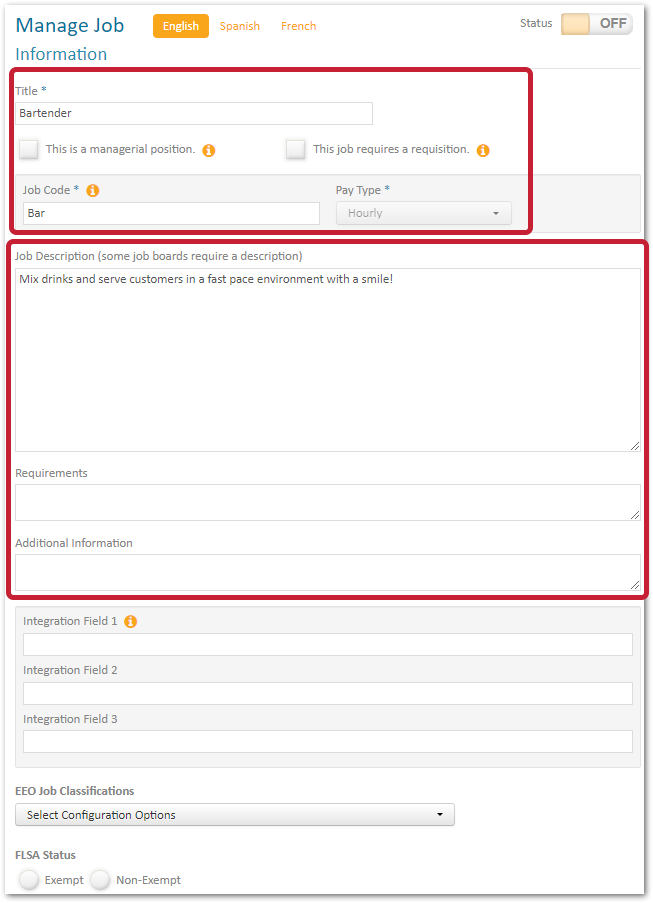 Fig.2 - Manage Job
Enter a Job Category, if applicable
Select Industry Type for your applicable Industry - this will correlate to Category if you are using postings on Snagajob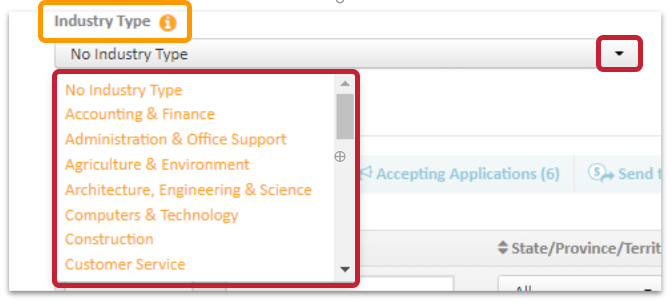 Fig.3 - Industry Type
The Units within your organization appear in the 'Locations' section. This section is used to indicate where the jobs that exist throughout your organization and which jobs/units are currently "Accepting Applications." You will need to take the following action:

Organization Chart Icon: Select this box to assign the Job to the Unit.  This makes the Job available throughout the system
Megaphone Icon: Select this box to indicate you are "Accepting Applications" for this position. This setting can be toggled on/off depending on your organization's needs
'Arrow with a T' icon: Select this box to send the job posting to the Indeed Job Board via our partner, TalentTrack

At the top of the form, ensure the status is turned to On
At the top of the form, notice that you can create a Spanish and/or French version of the Job
Important: If you are using the Snagajob job board, Snagajob will not translate this information for you. You will need to enter the text in Spanish and/or French if you choose to use this feature
Select Save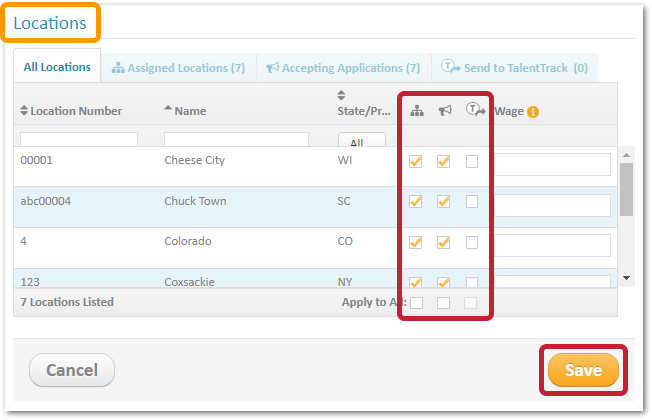 Fig.4 - Locations (units)