PeopleMatter has two main dashboards, displaying different information, based on your assigned role.
HR Leader Dashboard
The Primary Admin, Financial Admin and Business Admin roles have the new HR Leader Dashboard. This dashboard shows, across all locations, all overdue I-9s, I-9 re-verifications due in the next 30 days and active E-Verify cases (if applicable). In addition to these features, there is a sidebar that provides simple navigation. In later updates you can expect to see recruiting funnel analytics and other information populated on the HR Leader's Dashboard
Manager Dashboard
The Human Resources Manager and Business Unit Admin roles have the new Manager Dashboard. This dashboard shows the number of applications received in the past two weeks (with a link to them) as well as a list of new hires and their I-9 status. Like the HR Leader Dashboard, there is a sidebar that provides simple navigation. The Manager Dashboard also includes an in-product tutorial, that explains each part of the Manager Dashboard, ensuring they are set up for success.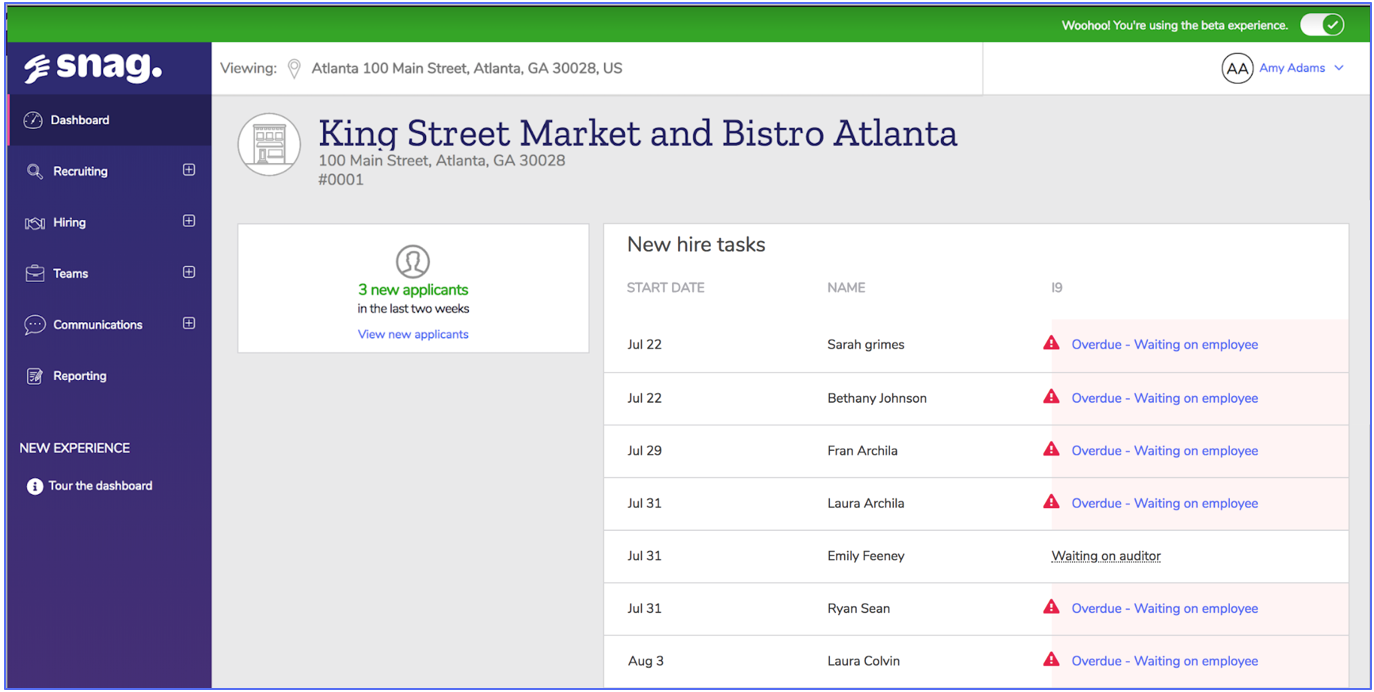 FAQs
Which dashboard shows if I am assigned multiple roles?
In this scenario, the highest role's dashboard would display. For example, if you have the Primary Admin role and the Business Unit Admin role assigned, you would see the HR Leader dashboard.
Can I switch to the manager dashboard if I have multiple roles?
Unfortunately, you are not able to switch dashboards even if you have multiple roles. You will always be presented with their highest role's dashboard.
Why doesn't my Custom Store Manager users have the new dashboard?
User rights for the Custom Store Manager role are more complex and require additional development. We are working on this and hope to have a dashboard released for them soon.
What is the toggle switch at the top of the screen?
Upon initial release, we are providing you the option to turn dashboards off and back on at your leisure. However, at some point this will be removed and Dashboards will be permanent.
Can a manager view information for more than one or all locations at a time?
No - managers can only view information on the dashboard for a single location at a time.
How do I access the "What's Happening" feed now?
At this time, the What's Happening feed is not a part of the new Dashboards and you will need to turn off the Dashboard in order to access it.
Where can I learn more about dashboards?
Check out the in-depth Managers Navigating Dashboards article and Administrators Navigating Dashboards article.