Overview
The Customer Success Portal is home to thousands of Knowledge articles that are designed to help customers navigate the Fourth solutions to obtain solutions or get information. We want to help you get the best possible result from your query. This article provides guidance to help optimise the experience within our Customer Success Portal.
Search within a Product
On the homepage of the Customer Success Portal, we have our Knowledge Articles categorised by core solution. This is a great place to start, as articles can be viewed that are directly related to the relevant solution.
Select the Product tile that is relevant for your business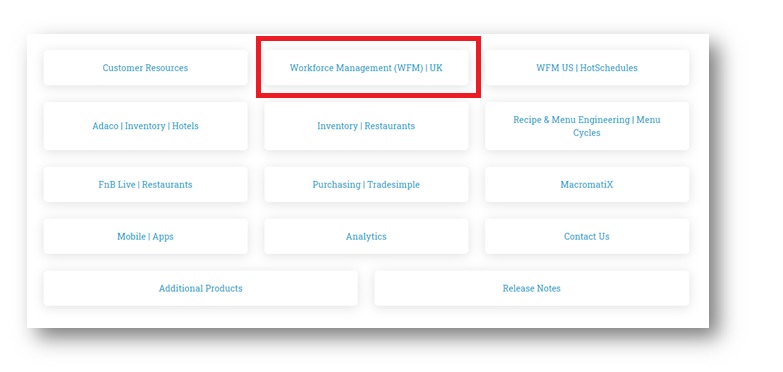 Fig. 1 - Selecting the Product Tile
All articles are then categorised by module, and we encourage customers to browse through the modules in their own time. To search for specific functionality, utilise the search bar in the top right corner of the page.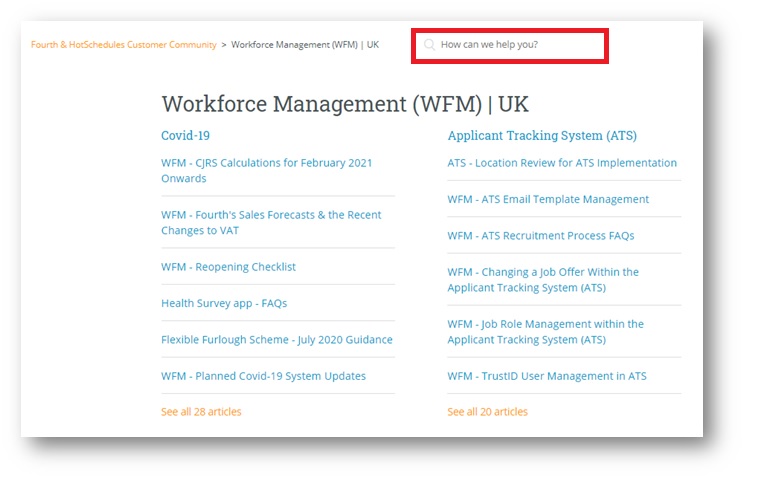 Fig. 2 - Search Bar within a Product
When searching within a product, only articles related to that product will be displayed in the search results. For example, searching "Deleting Shifts" within Workforce Management UK will only pull back articles relating to that search term for WFM UK.
Searching from the Homepage
Customers can also search from the Customer Success Portal homepage itself. Doing so will pull back results for all of Fourth's core solutions, so there are a few tips to bear in mind that will help optimise the search results.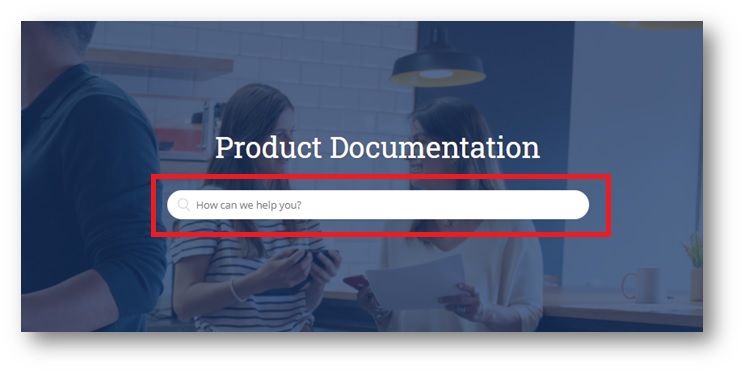 Fig. 3 - Search Bar on the Homepage
When entering a search term into the search bar, there are settings enabled that allow for a 'fuzzy' search which may slightly vary from the query submitted.
Some examples are listed below, the left column indicates what can be entered into the search bar, and the right column details the variations that will be covered by fuzzy search.
| | |
| --- | --- |
| Search Term | Also Includes: |
| Schedule | Schedules, Scheduling, Scheduled |
| Can't | Cannot, Couldn't, Could not |
| Covid | Covid 19 |
| Log in | Login, Log-in, Logging |
Customers can also put quotation marks around a search phrase to ensure that search results are pulling back articles that have the exact phrase in the content. Here are some helpful suggestions:
| | | |
| --- | --- | --- |
| Do this: | Not this: | Why? |
| schedule | Schedules, Scheduling, Scheduled | As noted above, fuzzy search will cover the different variations. |
| "delete shift" | delete shift | The results will pull up articles which include delete or shift rather than articles that are about deleting shifts. |
| W2 | W-2, W 2 | Fuzzy search is best utilized without dashes. |
| "Hotschedules Password" or "Adaco Password" | Password | Fourth have many products which require passwords, so entering product names will make the search more specific. |
| "Payroll UK" or "Payroll US" | Payroll | Fourth have Payroll products for both the UK and the US. Specifying the region in the search term ensures customers see the right articles |
On the search results page, customers will have the ability to filter by content type. Once a customer selects a content type, the list of article category or community topics become available to also filter by.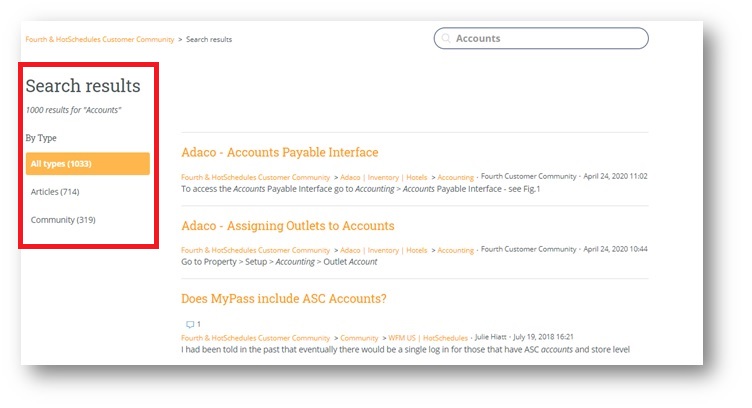 Fig. 4 - Filtering by Content Type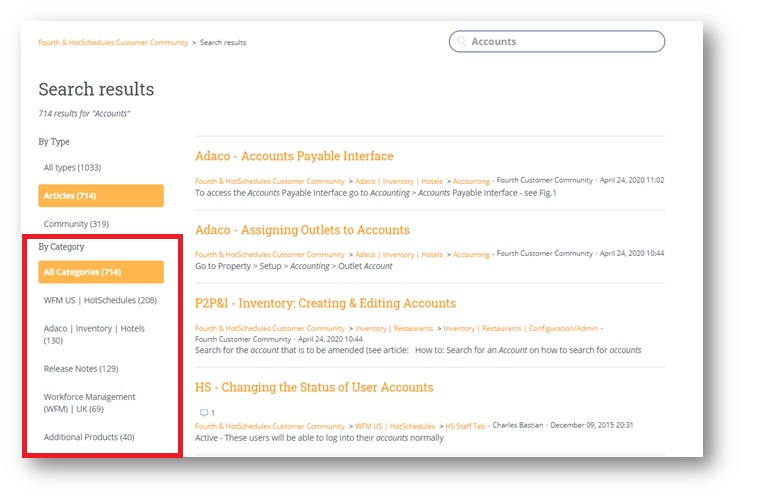 Fig. 5 - Filtering by Article Category
Voting on Articles
Customer feedback on Knowledge Articles is extremely vital. It helps Fourth understand whether the content is beneficial for customers.
Fourth welcomes your feedback. By voting, we can see what articles are meeting your needs and which may need work. If an article receives a thumbs down vote, it helps Fourth identify which articles may need to be reviewed. Providing a comment about how we can improve the articles will help Fourth more quickly address your feedback. Each article is open for voting and comments, and customers are encouraged to use these features to share their feedback.
At the bottom of each article, Customers can determine whether the article has been helpful or not, by selecting 'Yes' or 'No'. The comments section is underneath, where customers can further expand on feedback, or raise any questions.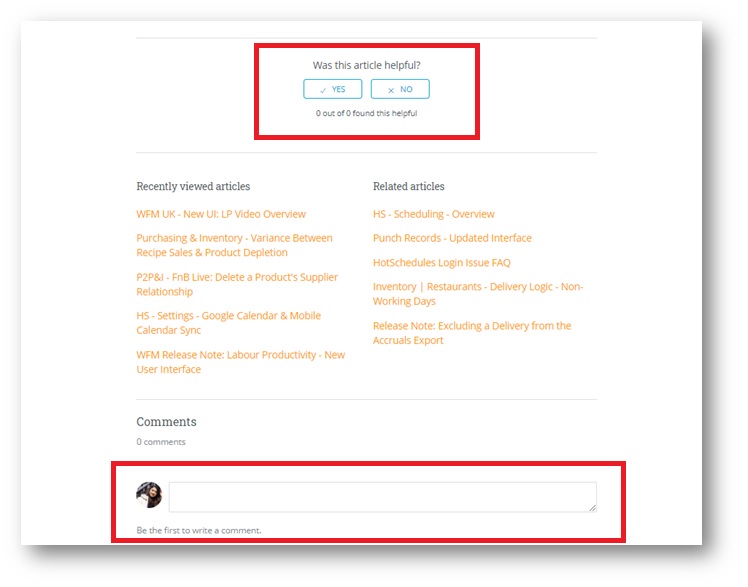 Fig. 5 - Article Voting and Comments Section