Overview

Catch weight products allow items to be purchased using a quantity of 'EACH', but received and counted in a weight. This helps to ensure accuracy in both stock quantities and value.

This article describes the best practice method for creating and maintaining catch weight products in Recipe & Menu Engineering

Configuration

The following settings need to be enabled to allow for the creation of a catch weight product. Please contact Fourth for these settings to be enabled.
Global Database Setting - Apply UoM restriction when Variable Weighted Equals True

Ingredient Fields

Variable Weighted - located on the Supply Details tab

Invoice UoM

and

Invoice Price, both located on the Supplier Spec tab
When this Global Database setting is enabled:
The default dependency between ingredient Supply Quantity UoM and ingredient Unit Size UoM is removed
A different dependency is established - Unit Size UoM will depend on Invoice UoM
The reason for this change is that the Inventory system requires that a product is stock-counted and invoiced using the same UoM.

When this Global Database setting is enabled and the setting Ingredient Variable Weighted = True:
Ingredient values Unit Size UoM and Invoice UoM will default to 'KGM' or 'LB'
Please Note: No other options for these Units of Measurement will be available when Variable Weighted = True.

When the above configuration is applied, the Ingredient Details screen will display the new catch weight fields – Variable Weighted, Invoice UoM and Invoice Price.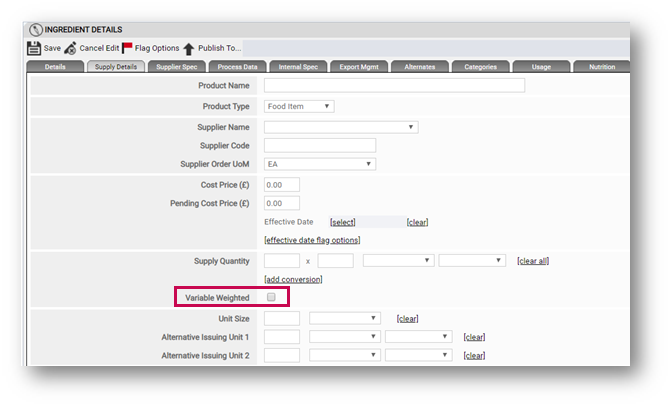 Fig.1 - Supply Details tab – Variable Weighted setting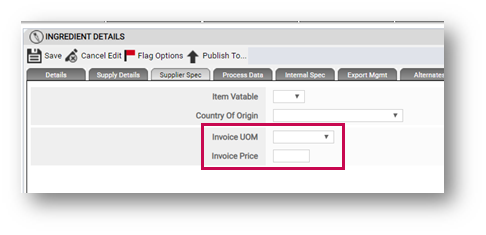 Fig.2 - Supplier Spec tab – Invoice UOM and Invoice Price
Ingredient Setup
With the catch weight configuration applied, the Ingredient setup will differ to a non-catch weight ingredient.
The Cost Price entered should reflect the total cost of the Product, based on the Supply Quantity entered
The Supply Quantity will typically be 1 x 1 Each

A Converts to value is required, this is the conversion from the Supply Quantity to a Weight family. This is to ensure that the ingredient can be used by weight in Recipes

Tick the Variable Weighted box to make the Ingredient a catch weight product
After this is enabled, the Unit Size of the product can then be defined as a Weight UoM, e.g. Kilogram
This will be the UoM which will be used for receipting and counting the Ingredient within the Inventory module.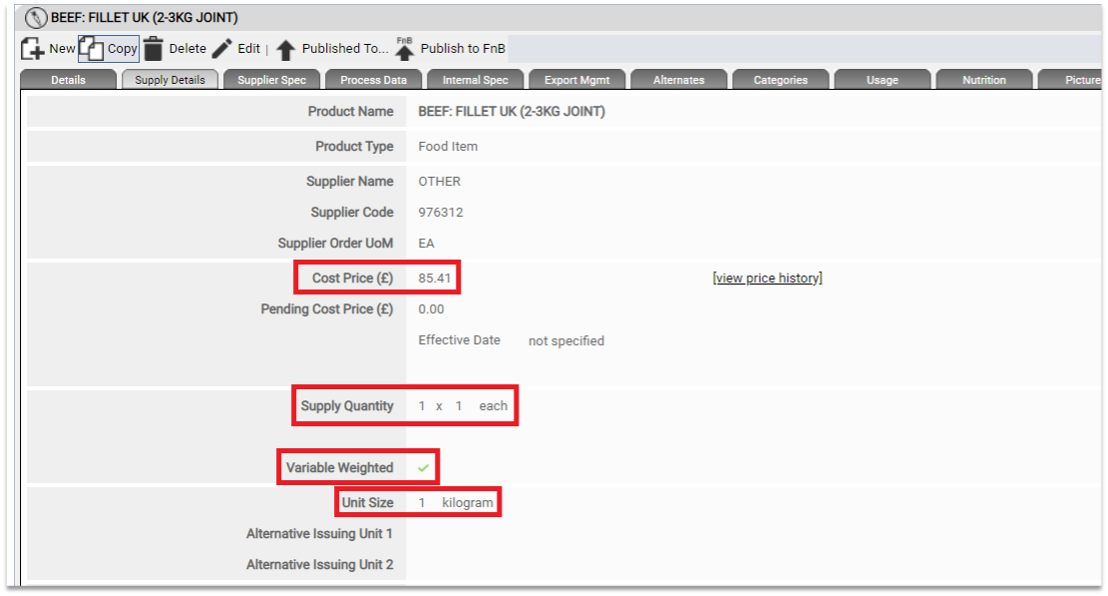 Fig.3 – Catch Weight fields In Supply Details
Once all required values have been applied in the Supply Details tab, go to the Supplier Spec tab
The Invoice UOM will be pre-populated with the Unit Size UOM defined
The Invoice Price should be the price per Invoice UOM defined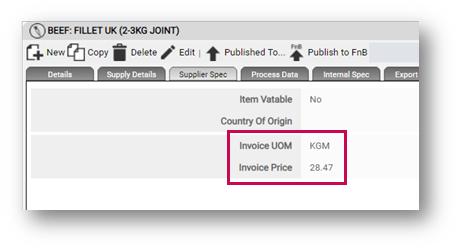 Fig.4 – Invoice UOM and Price fields
Once the Catch Weight fields have been populated, complete the rest of the mandatory fields as per standard Ingredient setup

Publish the Ingredient to Site in Inventory
Considerations
The Variable Weighted tick box (located in Ingredient > Supply Details > Variable Weighted) will not be editable when an Ingredient is published to a 'Live' Ingredient set
The Variable Weighted value defaults to False when a new Ingredient is created
When an Ingredient is copied, the Variable Weighted value will be the same as the original record. The copied Ingredient's value is editable until it is published to a 'Live' Ingredient set
For a new Ingredient, the Variable Weighted field is editable until the Ingredient is published to a 'Live' Ingredient set.
If the Global Setting was turned off, having been on previously, the Variable Weighted field will be editable