Publishing a Product/Ingredient
Once the product has been created and all the mandatory fields are completed it will need to be added to the stock system. This can be completed only when the product is not in edit mode and happens through the Publish to FnB tab.
Note: once it's been added to site (s) the product will be included in the overnight feed to the stock system for any changes that were made to it during the day. If the changes made should occur immediately then follow the same steps outlined below for publishing as this will update these changes.



Fig 1 - Publish to FnB Button
Click Publish to FnB, choose the relevant live set(s)to publish to and click next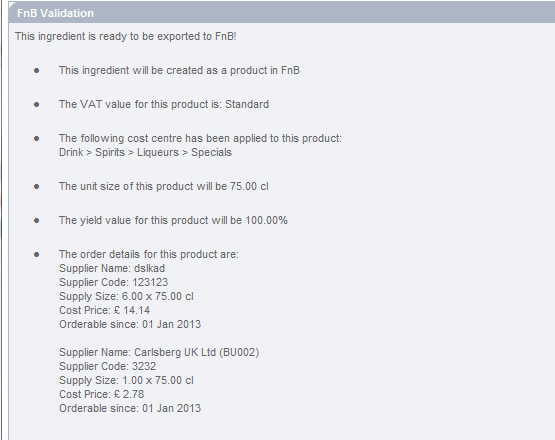 Fig 2 - Product Details That Will be Added or Updated to the Stock System.
The next page gives the opportunity to check the product details to ensure they are correct, take note of the unit size as this will be the stock counting size.
Check the supplier details and if satisfied click next.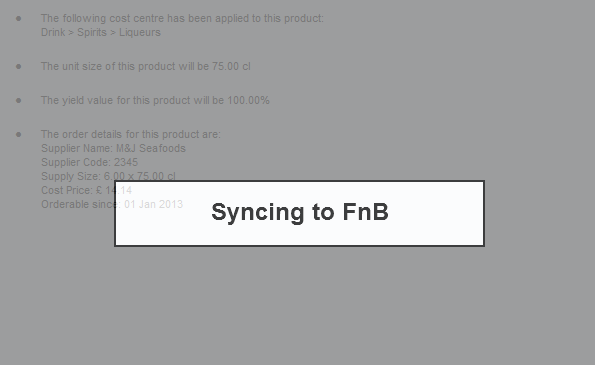 Fig 3 - Sync In Progress Alert
Master Data will synchronise with the Stock system to display the list of available sites to which the product can be added.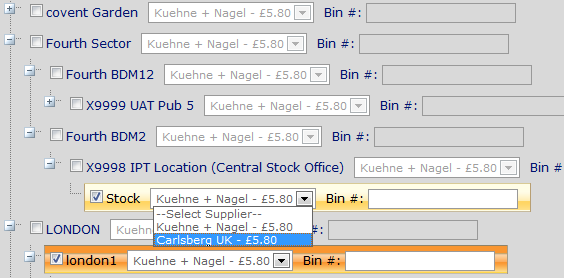 Fig 4 - Publish to Sites Window
Tick the sites where this product should be available for purchasing and selling.
If required, the bin number for the product at each site can be added at this point.
The allocated preferred supplier for each site can be selected from the drop-down. If a preferred supplier isn't selected per site the system will use the default preferred against the master product as the preferred for each site.



Fig 5 - Save Button
The final step required to add the product to site is to click the save button.



Fig 6 - Save Successful Confirmation
Once save is pushed the above alert will show the product has been added to site(s) successfully.
Mandatory fields to be completed
The following is the list of fields that must be considered and completed for the product to be exported from master data to stock. The bold rows are mandatory and an export will not occur unless these fields are completed. The other rows details should be considered and updated as applicable when deciding how the product will impact on the stock system.
Details Tab- Name of product
Details Tab- Product type
Details Tab- Is adjustment Item
Details Tab- Prevent from use in recipes
Details Tab- Transfer/requisition status
Details Tab- Bin Number
Supply Details- Supplier name
Supply Details- Supplier code
Supply Details- Cost price
Supply Details- Supply quantity
Supply Details- Unit Size
Supply Details- Alternative issuing units
Supply Details- Overhead
Supply Details- Min Order Quantity
Supply Details- Max Order Quantity
Supply Details- Splitable
Supplier Spec- Vatable
Supplier Spec- Country of Origin
Supplier Spec- Vintage
Internal Spec- Date into store
Alternates- Alternative suppliers
Categories- Smart category
Publish to fnb- Live ingredient sets

Also See