Overview

This article describes the process of publishing a Batch to the Stock System in Inventory.

Publishing a Batch to the Stock System

In Recipe & Menu Engineering (RME), select the Recipes tab
Use the Type drop-down to select the filter as Batch
Select the required Batch
To assign the Batch to Site, select Publish to FnB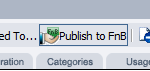 Fig.1 - Publish to FnB Button
If any mandatory information has not been entered, an alert pop-up will display to list the fields which need completing.

Complete these fields and select Publish to FnB again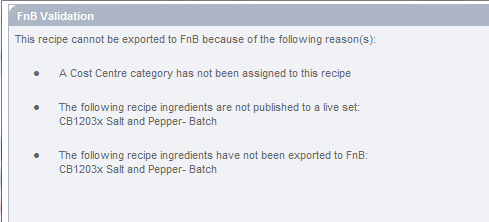 Fig.2 - Error Validation Screen
The system will request confirmation of which Live Recipe Set the Batch is to be allocated to.
Select the required Live Set to ensure that the Batch is visible in the Stock system


Fig.3 - Select Set to Publish Batch
Once a Batch is added to a Live Set, it will be included in the overnight feed for any changes to the Batch Recipes which occurred during the day. If the Batch needs to be updated immediately (this includes produced on Site), then the process for this is the same as carried out when publishing to the stock system.



Fig.4 - Next Button
A message detailing which actions will be carried out will be displayed, either to update the Batch or add it to Site.


Fig.5 - Confirmation Screen
The systems will synchronise Master Data to the stock for either adding or updating Batches to Sites.



Fig.6 - Syncing to FnB Message

A list of available Sites which the Batch can be added or updated to will be shown.
Tick the Sites which will use the Batch in their Recipes, or those which need them for transferring and stock counting
Tick any Site where the Batch is produced on Site

Produced on Site means that the Site physically creates the Batch.

Please Note: The Batch must be produced on Site at least one Site. If a Batch is ticked to be produced onsite, the product and/or other Batches contained in the Recipe must be available to this Site. This is to allow for the system to know what stock to take from Site when this Batch is transferred or sold, and also to know how to allocate back the closing stock value to the ingredients contained in it when it is counted.

If the Batch is not produced onsite, then it will be treated as a Product in its own right at that Site.
The Batch can be produced at all Sites or at only one Site, however, it is imperative that the Batch is ticked to be produced at least one Site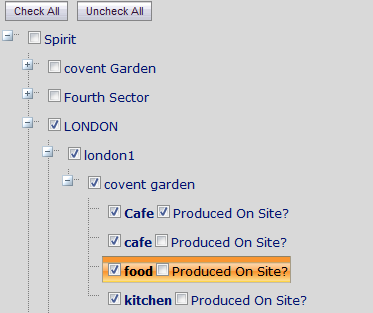 Fig.7 - Select Sites
Once the Sites are selected, select the Step 2 button



Fig.8 - Step 2 Button
Review the list of Sites which the system has added the Batch to and select Save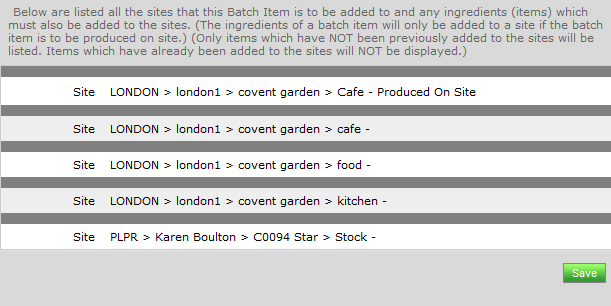 Fig.9 - Sites Selected
A confirmation will then display that the Batch Item has been successfully added to the Site.



Fig.10 - Batch Added Confirmation
Also See