This 'article' was once an internal release note but still contains correct information for Fourth
employees. This article cannot be viewed by customers.

To enable this field for customers follow the path: admin tab > Global Database Settings > Ingredients tab
Search for 'Supplier UoM' and click on the 'configure' link.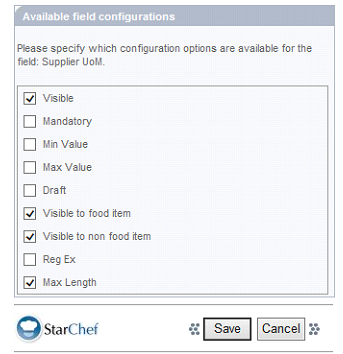 Fig 3 - Field Configurations
Tick the following values:
Visible
Visible to food item
Visible to non food item
Max Length
Click the grey 'Save' button.


Fig 4 - Supplier UoM Field
After saving the values will appear as in Fig 4 above.
Click on each of the checkboxes and input a maximum value in the 'Max Length' field as shown in Fig 5 below.


Fig 5 - Supplier UoM Field with Settings Enabled
Also See