Overview
The Maintain Guide Import tool can be used to add products to a new Outlet or to update the existing products in the list. This is a useful tool to use within Purchasing & Inventory (also known as Adaco), and this article provides clarity on how to use it correctly.
To access the tool, go to Maintain Guide > search & select Outlet/Outlet Location > Import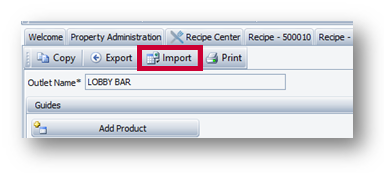 Fig.1 - Location of Import tool
Guidance
Key Requirements
When using the Import function for the Maintain Guides:
Ensure that all fields in have a value in each cell

Note: Column H - 'Bin Number' can be left blank

Entering a value, even if it is zero, will ensure that no changes will be made when importing it back into the Purchasing & Inventory system. Failure to do this will result in the error shown in fig.2
If the Property is currently in Period End Cycle or Interim Cycle, it will not be possible to use the Import tool until the cycle is closed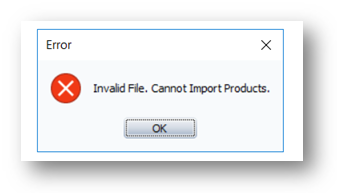 Fig.2 - Error whilst importing the Maintain Guide
Export Function 
The Export function can be used to obtain a file with a valid format. 
Product Description
The Product Description in the import file is irrelevant. It is purely for user reference when importing the file. Purchasing & Inventory uses column B (Product Number) to identify the product. Then it pulls the Product Description from the Product Master.
Sequence Number
Category Outlets do not use the Sequence Number (column A in the Import file). This is for Location Outlets only.
The import Sequence Number overrides any existing sequence in the Maintain Guide for Location Outlets. If the product already exists in the Guide but has a different Sequence Number in the import file, it will be overridden and other pre-existing products will be re-sequenced.
There must be no Sequence Number gaps. For example, if product 1 is at Sequence Number 100, but two lines fail before 100, then product 1 will show a Sequence Number of 98 on completion of the import. 
Product Number
A missing Product Number Detail will cause the line to fail - it will be skipped and the import will continue.
Please note: recipes do not use Details for Products. This can be seen as the "-1" in cell B4 in Fig.3, which refers to 'Product Number 2 - Detail 1'.
Duplicate Product Numbers and Product Numbers that do not exist will cause the lines to fail - the lines will be skipped and the import will continue.


Fig.3 – Import file example