Video Guide
Fourth customers can raise Customer Support tickets within the Customer Success Portal
Customers can also see and manage their tickets if signed up to the Customer Success Portal
Step-by-Step Guide
Raising a Support Ticket
Any Portal user can raise Customer Support tickets in the Portal and manage their own Support Tickets within their business.
This can be done via the Submit a Request tab in the top right-hand corner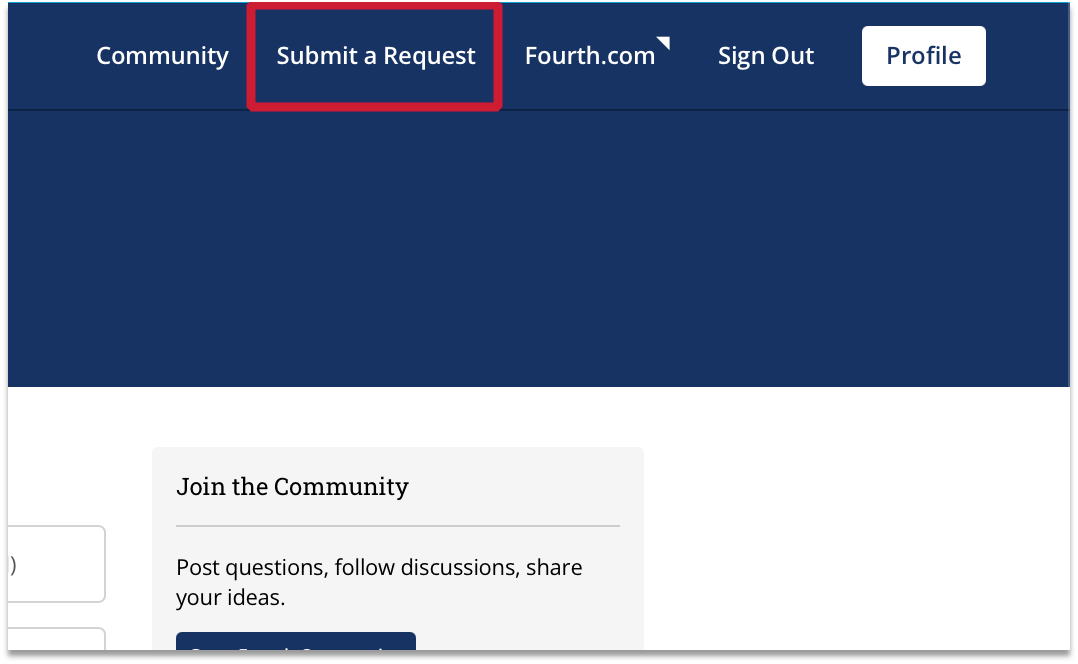 Fig. 1 – Submit a Request via Homepage
Select Customer Support Ticket Form from the drop-down menu
Enter your preferred contact email address
Optional:

Enter your Full Name
Enter your Contact Number
Select which of the options from the drop-down menu describes your role
Put in the name of the Business you work at

Select the Product or Module used by the business you work at
(As Fourth has different solutions, we need to understand which one you use to help you. If unsure please contact your manager)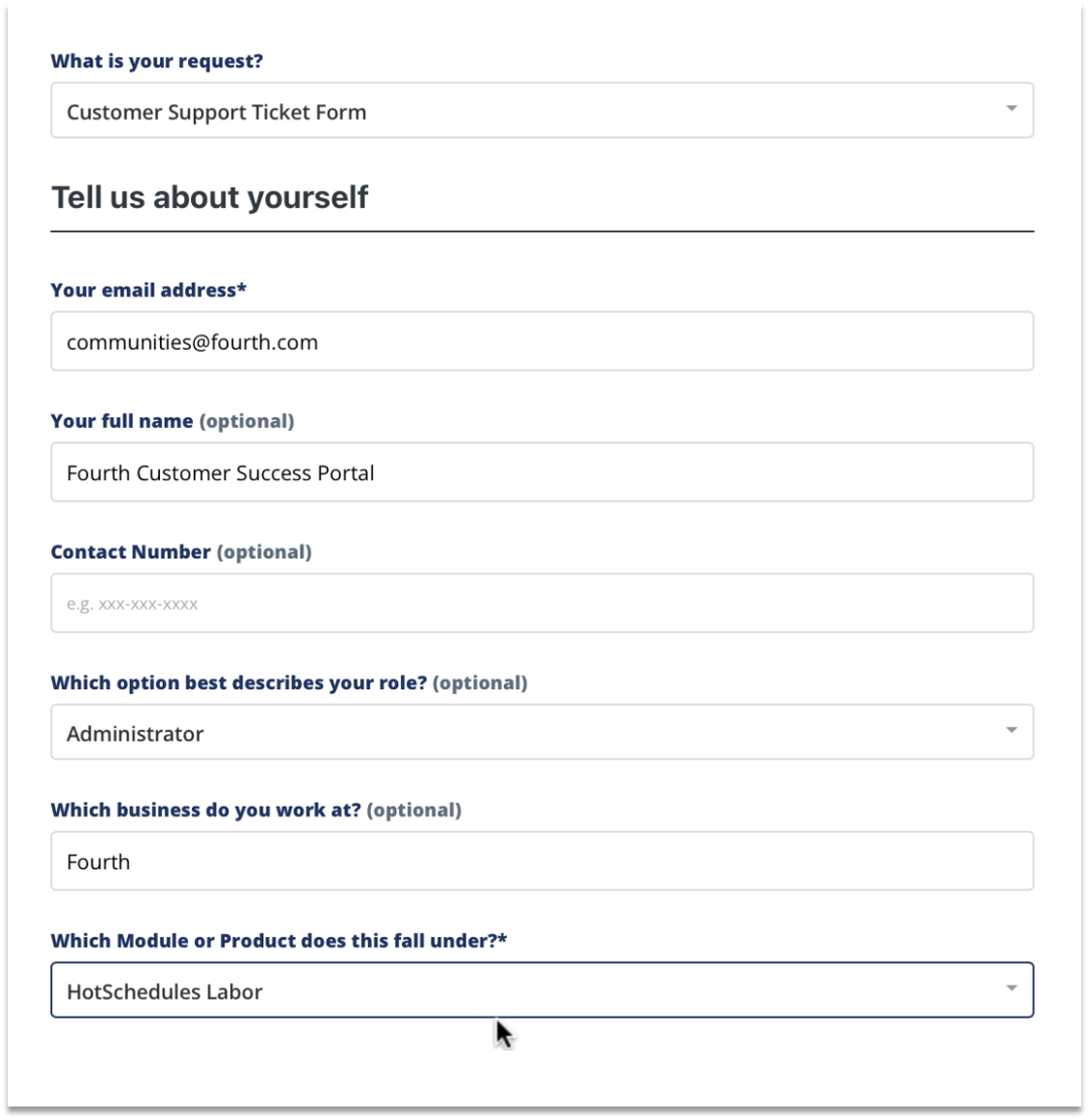 Enter a short, general title in the Subject for the Support Ticket
Enter details for the Support Ticket in the Description. Include as much information as possible, including URLs, file paths and user details
Select the relevant Module - this is the Fourth product used by your organization
Select the appropriate Category from the drop-down relevant to the Support Ticket
Enter the Business Impact to display how urgent the Support Ticket is to the business. This gives the Customer Support team an idea of the priority for the ticket

P-1 Subscriptions service application is down or in a state that most customers cannot reasonably perform any work or the integrity/security of data is in jeopardy.
P-2 Subscription service application is available, however, customers are unable to perform critical business operations due to a persistent loss of feature or serious performance degradation.
P-3 Critical business functionality is available but either may require an unscale-able or inconvenient workaround to use or Is experiencing Intermittent performance degradation.
P-4 Non-critical functionality is unavailable, isolated customer-impacting issues, or exception case that has a reasonable workaround.

Provide screenshots with the Add File option
Submit the Support Ticket and it will be sent to Fourth's Customer Support Team
Users can CC (copy) other contacts onto a Support Ticket. (Users must be signed-in for this option to appear).
An email notification confirming the Support Ticket will be sent to the Ticket requester.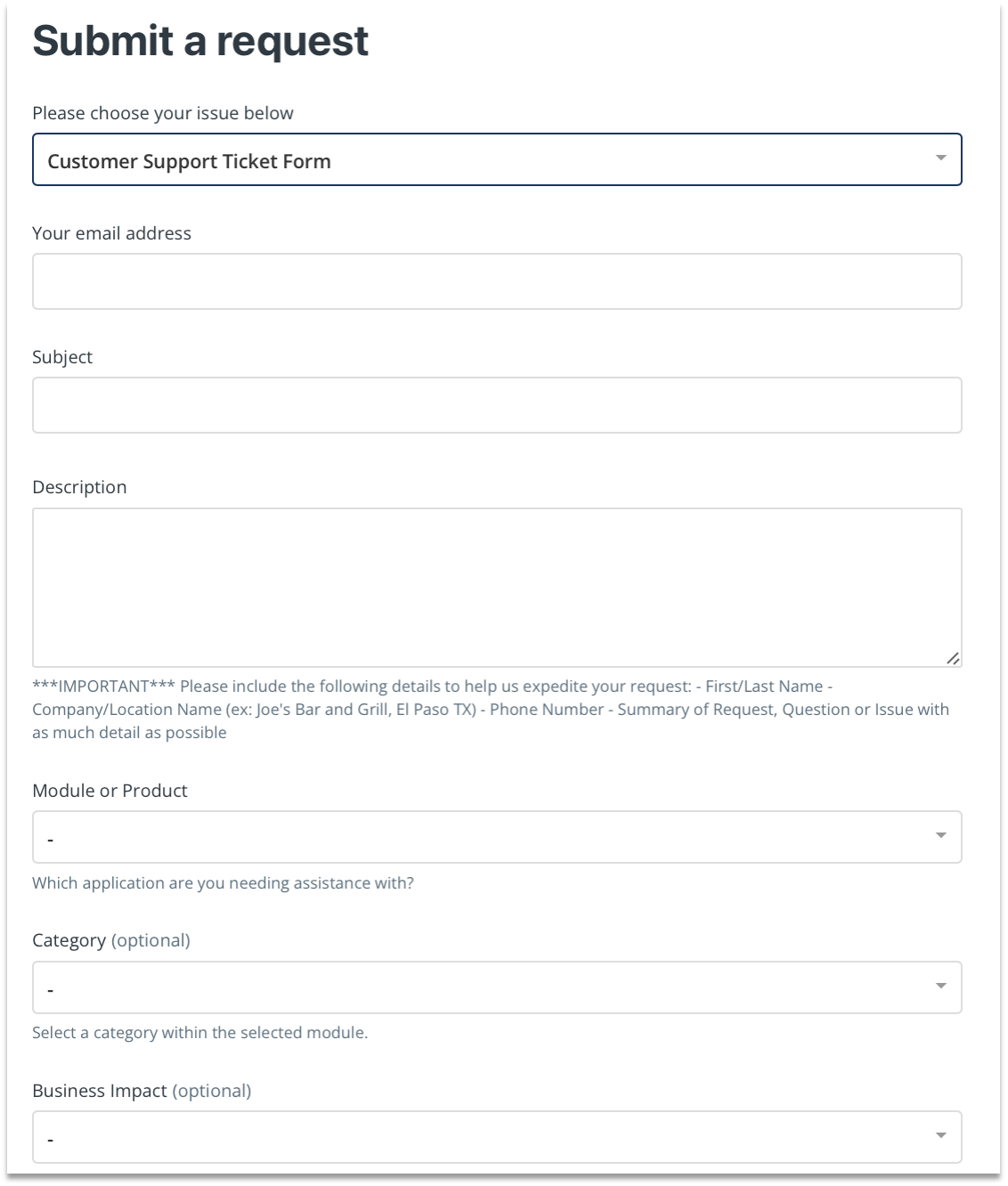 Fig.2 – Submit a Request Form
Managing Support Tickets
Once a Support Ticket has been raised, its progress, along with any other Support Tickets raised can be tracked via the My Activities tab within your profile. You must be signed in to be able to view this tab. Refer to How to Sign Up to the Customer Success Portal for further guidance.
To access this, select the Profile on the top right-hand corner
Then select My Activities from the drop-down list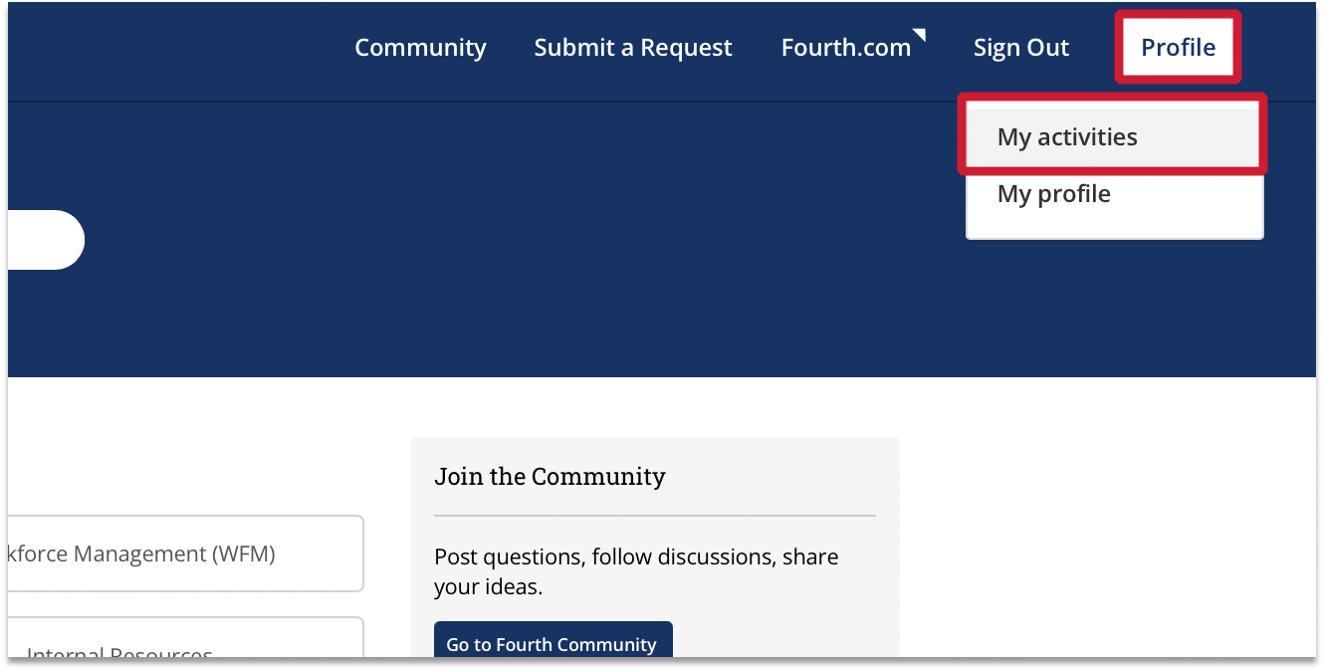 Fig.3 – My Activities Drop-down from Homepage
All raised Support Tickets you have raised can be viewed on this page, and can be filtered by ticket status by selecting Status on the right-hand side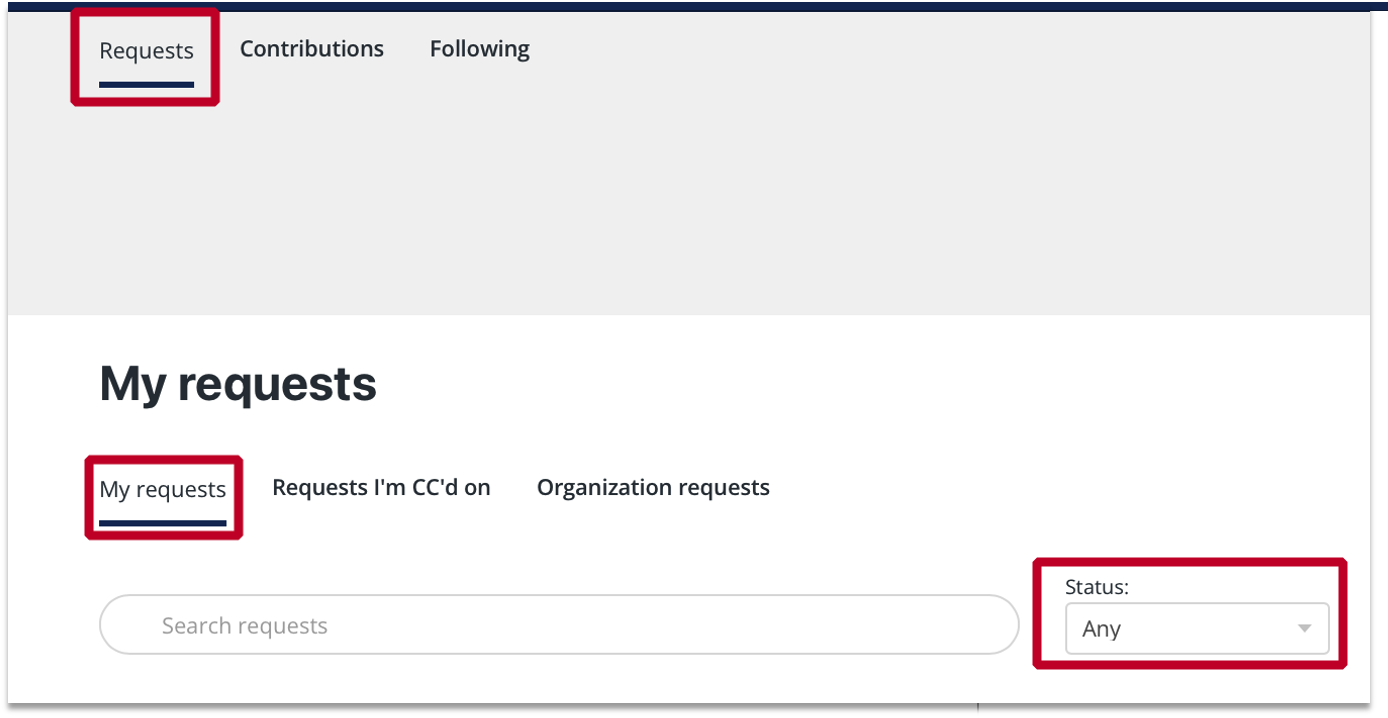 Fig.4 – My Requests Pageview with Ticket Status Filters
Within this page view, you can also view any Support Tickets that you have been CC'd on.
Users can also respond to open Support Tickets from this page view and add any additional CCs at this stage also.
Certain Portal users can be given access to all Support Tickets raised within their organisation. It is recommended to have minimal ticket managers per customer organisation because it:
Reduces risk of duplicate tickets being created
Aligns support queries, considering historical tickets and knowledge built
Builds rapport and familiarises the contact and the Customer Support team, and how to best raise tickets
To have access to all Support Tickets raised within an organisation, inform the Fourth contact for the business or the Fourth Customer Success Portal team with further details of who should be given this access.

Once a user has access to all Customer Support tickets, the Organization Requests tab will be available within My Activities in the Customer Community. All Support Tickets raised within the Organisation will be available to view within this tab, as well as their status.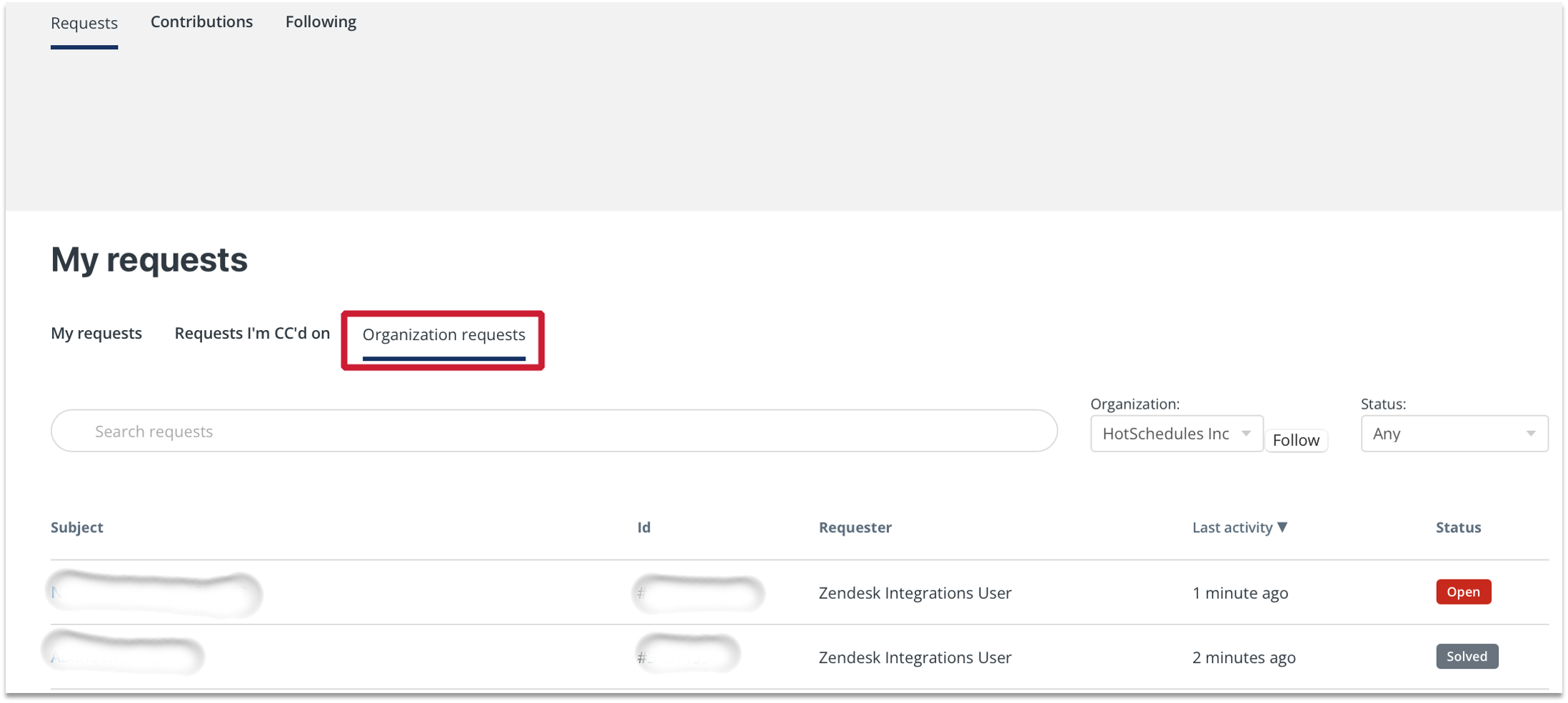 Fig.5 – Organization Requests Pageview
If a user is part of multiple organizations, users can select the organization they wish to view in the Organization dropdown menu.