Overview
This article shows how to set up and run an Interim Inventory in Adaco (formerly Purchasing & Inventory).
Configuring Adaco to Allow Interim Inventory

Interim Inventory may not immediately available at a property, as it first needs to be enabled.
To do this:
Go to Property > Administration > Property Preferences > Inventory
Tick the Allow Interim Inventory box - see Fig.1
Select Save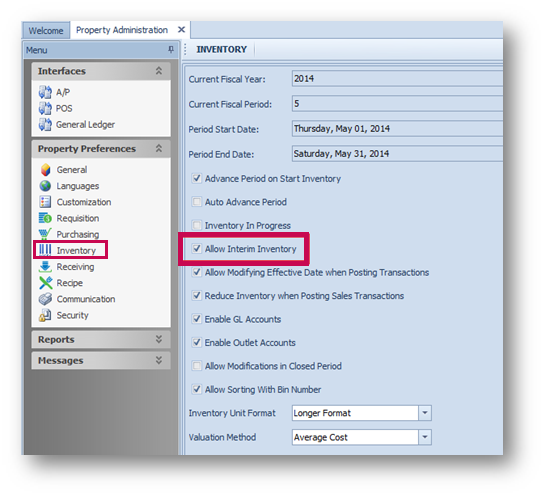 Fig.1 – Allow Interim Inventory


Create an Interim Inventory Cycle
The next step is to create an Interim Inventory Cycle to be used for the Interim Inventory.
Go to Property > Setup > Accounting > Inventory Cycle Setup > New

Fig.2 – Inventory Cycle Setup
When creating a new Interim Inventory Cycle, change the Cycle Type to Interim
The Outlets (locations if available) need to be marked as Included to be part of the Interim Inventory Cycle (see Fig.3)
Select Save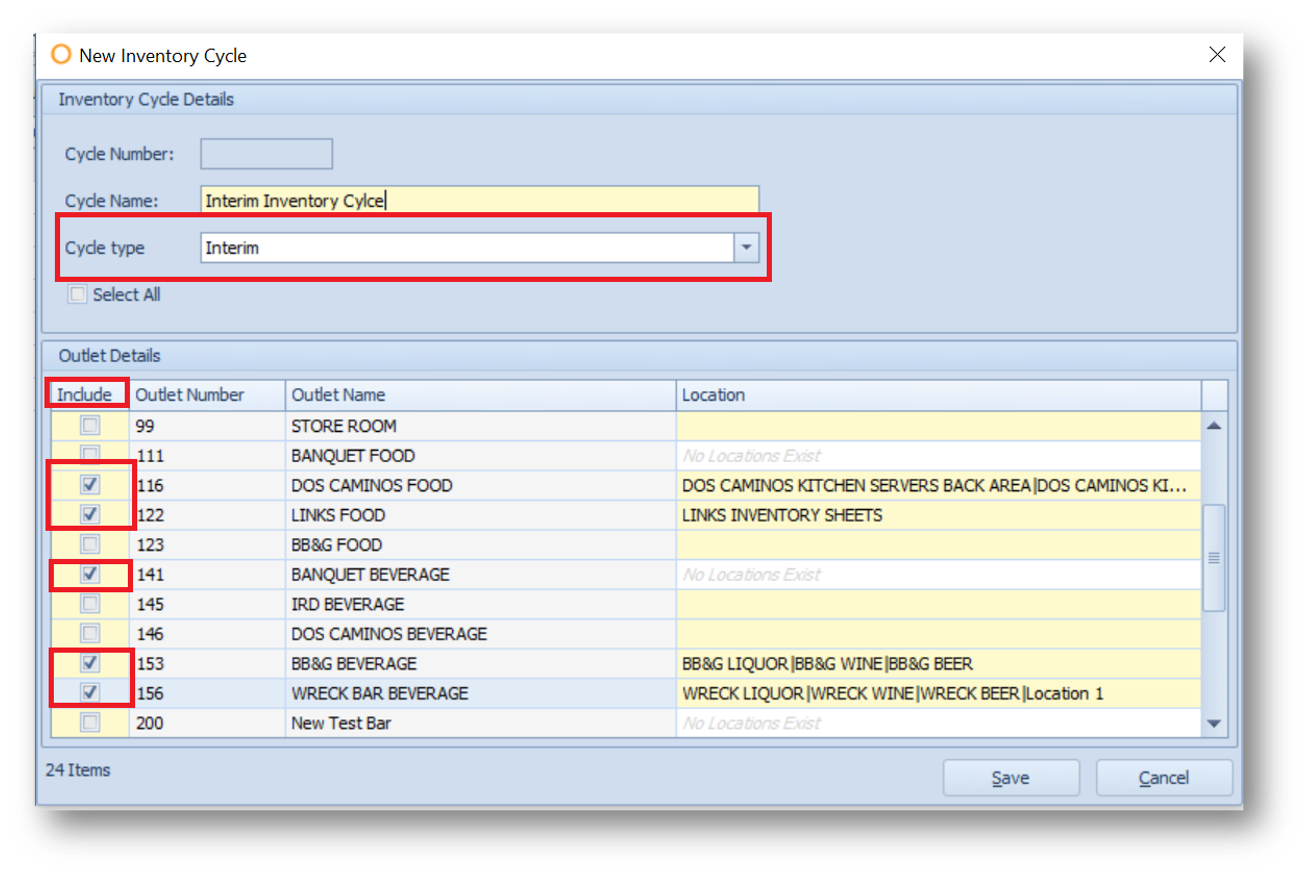 Fig.3 – Include Outlets in Interim Inventory
Starting Interim Inventory
Go to Inventory > Start Interim Inventory
From the Inventory Cycle drop-down, select the correct Interim Inventory Cycle
Select Run Setup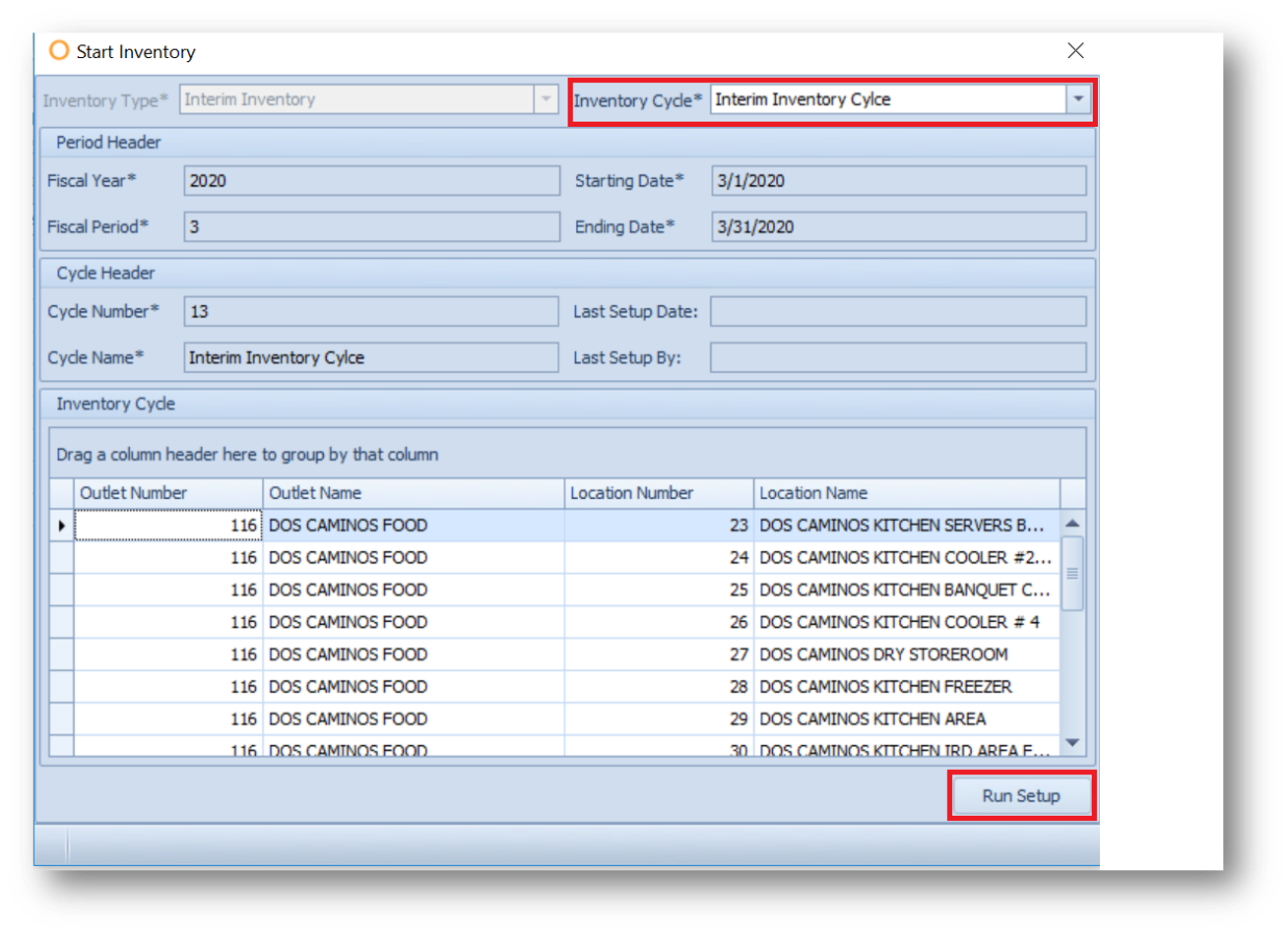 Entering Interim Inventory Counts
Entering the Interim Inventory Counts is similar to entering counts for a Month End Inventory.
To enter the counts, go to Inventory > Physical Inventory Count
Select the Outlet to have inventory entered in, and then Details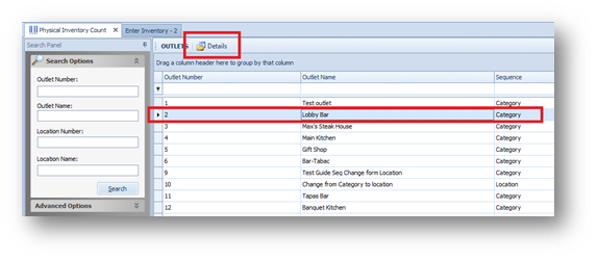 Fig.5 – Outlet Selected and Details
Select the Location or Category as needed
Enter Counts
Select Save


Fig.6 – Enter Inventory
To run the Interim Valuation Report once the counts have been entered, go to: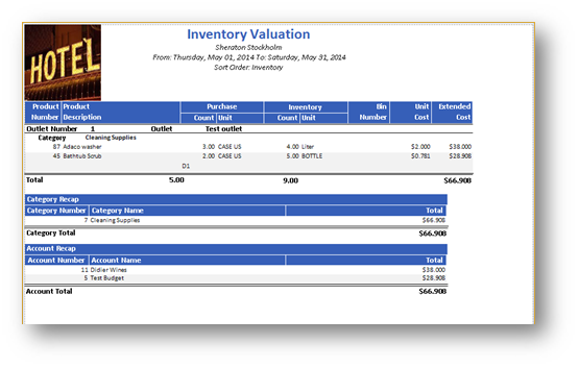 Fig.7 – Inventory Valuation Report

Closing Interim Inventory
Once all counts have been entered and the Interim Inventory Valuation has been run, the Interim Inventory can then be closed by going to Inventory > Close Interim Inventory
When closing an interim inventory, any variances between the calculated system on-hand and the physical inventory count will generate an Inventory Adjustment, which will be posted to align the system on-hand count with the physical inventory count.
It is possible to post these inventory adjustments to a date prior to the date on which the interim inventory is being closed. For example, if a physical inventory count is taken on Sunday evening but the interim inventory is not closed until Monday morning, it is possible to post the inventory adjustments on Sunday.

Please note: It is not possible to post interim inventory variance adjustments on a future date or within a previously closed period (either full or interim).
Use the 'Post Variances on:' drop-down as required
Select Close Period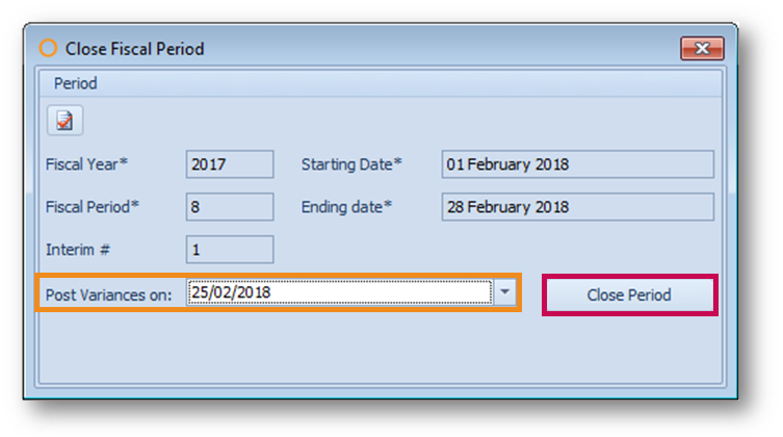 Fig.8 – Close Fiscal Period

A message will appear, asking to confirm closing the Interim Inventory.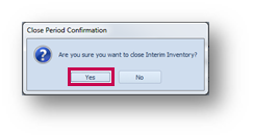 Fig.9 – Close Period Confirmation
Once the interim is closed, the Outlet's on-hand counts will be updated to reflect the counts entered for the Interim.
When the actual month-end inventory is closed, those month-end numbers will overwrite the counts entered for the interim and will be the valid on-hand counts.