Overview
This article will guide users encountering a browser error or getting a timeout error when trying to access HotSchedules.

First, take note of the type of error you are receiving. Fig.1 shows an internet error, Fig.2 shows a HotSchedules error.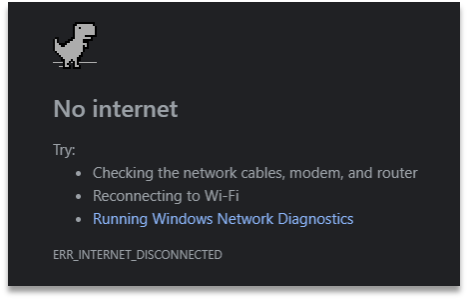 Fig.1 - Internet error
If you are experiencing an internet error, try checking your internet connection. If it is not working, You will not be able to log into HotSchedules
Fig.2 - HotSchedules Error
Once you determine that what you are experiencing is a HotSchedules error, there are a couple of things you can try:
Try to reload the page. You can do this by selecting the reload option in your browser or by logging back into HotSchedules.

Fig.3 - Reload page
If you continue to receive the error page after doing this, try clearing your cookies and cache. For users unfamiliar with clearing out cookies and cache, follow the links below.
After clearing out your cookies and cache, try logging back into your account.
If you are having a technical issue and need assistance, please contact us through the blue "Help" button in the corner or refer to our Support Contact Information article.