+Selecting A Company
To select a company:
Navigate to the left side of the screen
Select the company name
A menu will appear
You can select from the companies you have access to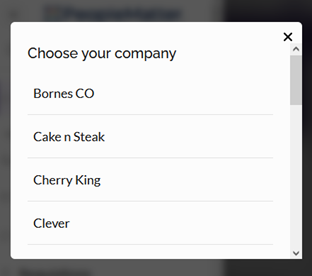 +Selecting Locations
To select a location:
Navigate to the right side of the screen
Select the field box under Location
A drop down menu will appear
You can select from the locations you have access to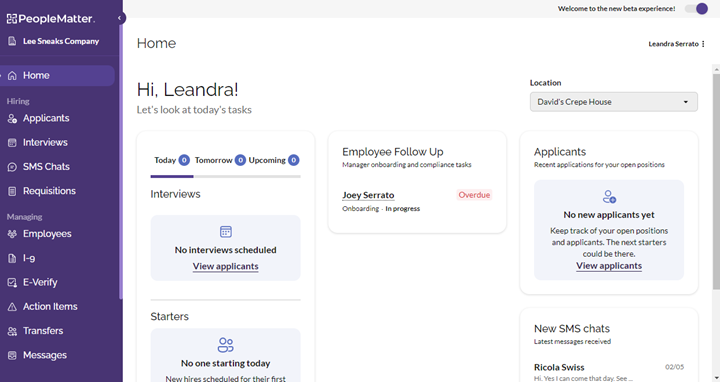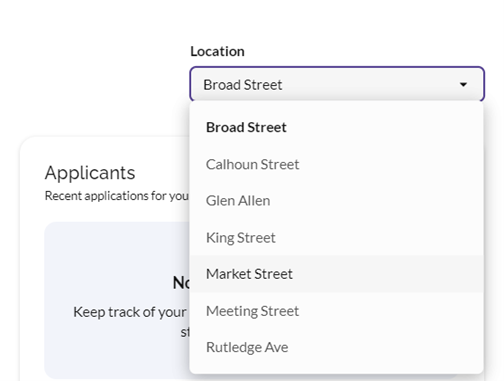 Click Go! to be taken to your dashboard for the selected location.
Notes:
You can only view one location at a time
+Dashboard Fe
atures

1. Under today's tasks you will find interviews scheduled for today. View the 'Tomorrow' and 'Upcoming' tabs to view future interviews scheduled.
Click 'View applicants', to jump to the 'Applicants' page.
2. The Starters box will show any new employees starting today. View the 'Tomorrow' and 'Upcoming' tabs to view future new starters.
3. The Employee Follow-Up section displays manager onboarding compliance tasks. Beneath each employee, you will find quick links for performing the next action necessary at that stage, e.g. send onboarding or send I-9.
4. The Applicants box shows a quick view of the total number of applicants to a particular job. You can select the job listing under Applicants to view all applicants.
5. New SMS chats displays any new SMS messages to respond to.
6. Use the location drop-down to seamlessly switch between different locations.
7. Slide the switch on the beta banner to the left to opt-out of the dashboard experience and return to the old homepage.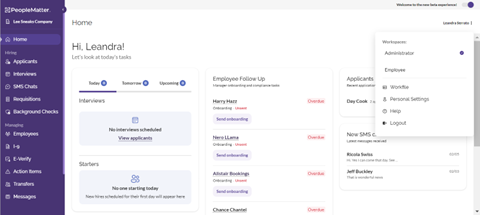 To log out, click the menu in the upper right corner next to your name.

Click Help to go to our Knowledge Base.
Click Personal Settings to update your personal information.
Click Workfile to view your Workfile.
Click Employee to view your Employee Workspace.

+Navigation Panel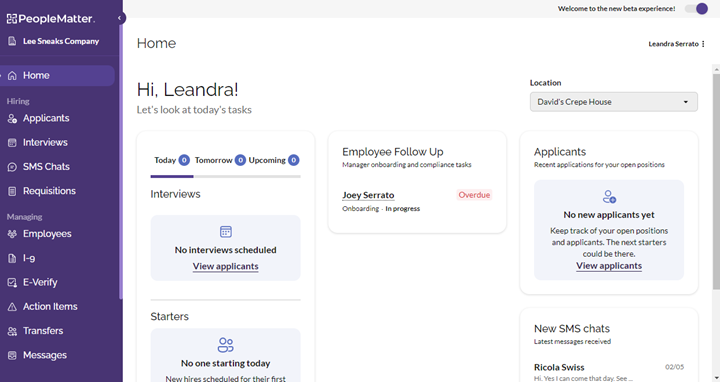 1. Use the Applicants tab to Manage Applicants and Candidates
2. Use the Interviews tab to view any interviews that are scheduled and add applicant availability.
3. Use SMS Chats to message applicants.
4. Use the Requisitions tab to Manage Requisitions.
5. If you are using Background Checks this will be displayed under the Hiring section.
6. Use the Employees tab to Manage your Employees
7. If you are using either of these additional optional features they will be displayed:
8. Use the Action Items tab to Manage any Action Items you've created.
9. Use the Transfers tab to manage Employee transfers
10. Use the Messages inbox to Manage your Inbox.
12. Use the Reporting and Reporting (beta) tabs to manage your Reports.
Optional features that are not displayed in the image above are RTO and Perform. If you have either feature on, you can expect them to display on the side navigation.