+Selecting Locations
To select a location:
Click Workspaces > Administrator.
You will be prompted to choose a location.
Type in the location name, address or ID.

You also have the option to click on the search bar to display a list of recent searches and suggested locations.
Click Go! to be taken to your dashboard for the selected location.
To change locations:
Click on the location name in the upper left of your screen.
Select a location from the dropdown or type in the name of the location you'd like to see.
Notes:
You can only view one location at a time.
If you only have access to one location, you will bypass all of the steps above go directly to your dashboard.
+Dashboard Fe
atures


1. Under New Experience, click Tour the dashboard to view the dashboards tutorial.
2. You can use your new applicant filter to view new applicants that applied in the last two weeks.
Click View new applications to view each new applicant in more detail.
3. Use the New hire tasks filter to see a listing of incomplete I-9s and their status.
Click on the status to take action on the I-9 from the I-9 Documentation page.
4. Slide the switch on the
beta banner
to the left to opt-out of the dashboard experience and return to the old homepage
.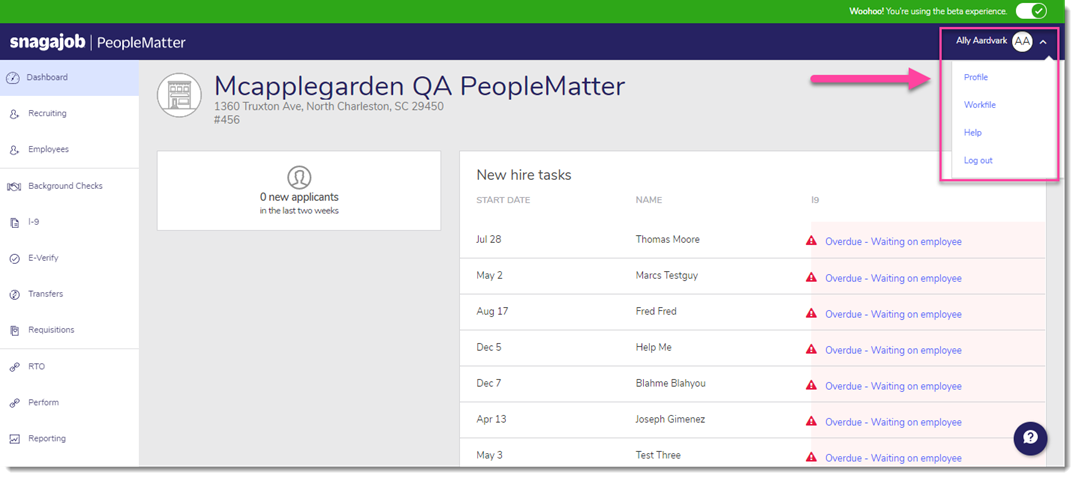 To log out, click the arrow in the upper right corner next to your name.

Click Help to go to our Knowledge Base.
Click Profile to update your personal information.
Click Workfile to view your Workfile.

+Navigation Panel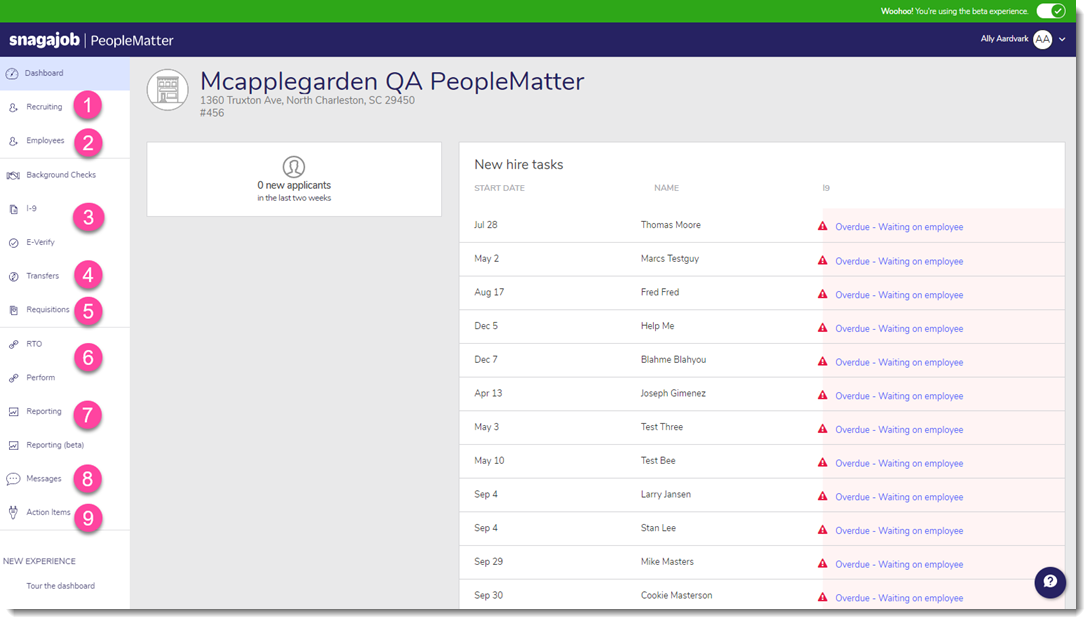 1. Use the Recruiting tab to Manage Applicants and Candidates
2. Use the Employees tab to Manage your Employees
3. If you are using any of these additional optional features they will be displayed:
Background Checks
I-9
E-Verify
4. Use the Transfers tab to manage Employee transfers
5. Use the Requisitions tab to Manage Requisitions
6. If you are using additional any of these optional features they will be displayed:
7. Use the Reporting and New Reporting (beta) tabs to manage your Reports
8. Use the Messages tab to Manage your Inbox
9. Use the Action Items tab to Manage any Action Items you've created