SONIC Drive-In changed career site providers in January 2020:

While the new career site boasts many enhancements, the bullet points in the job descriptions are not displaying correctly; unfortunately, this results in your job descriptions looking like one large run-on paragraph.
To Update your Job Description Format:
Under Company Settings, the Jobs section allows the Administrator to configure the jobs within one's company.
To access Jobs at any time, follow this path: Settings → Select your organization → Company Settings/Jobs.

Click on each Job on the left hand side of your screen to update and Save your new Descriptions.
Please note, while editing the job descriptions, if you have not added your franchise name as the employer, please add that text in addition to adding the dashes.

Old Description: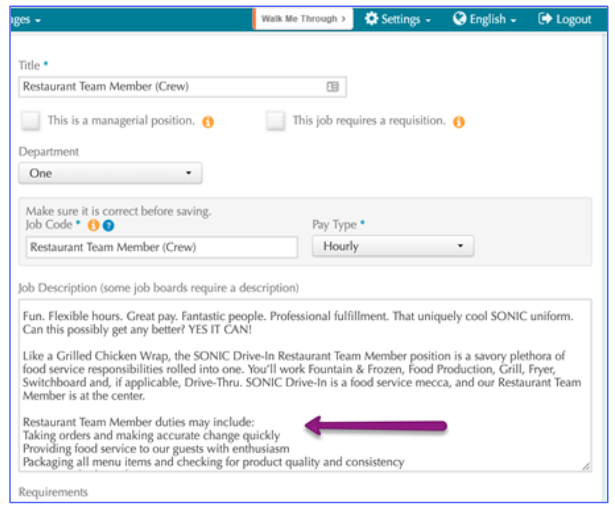 New Description: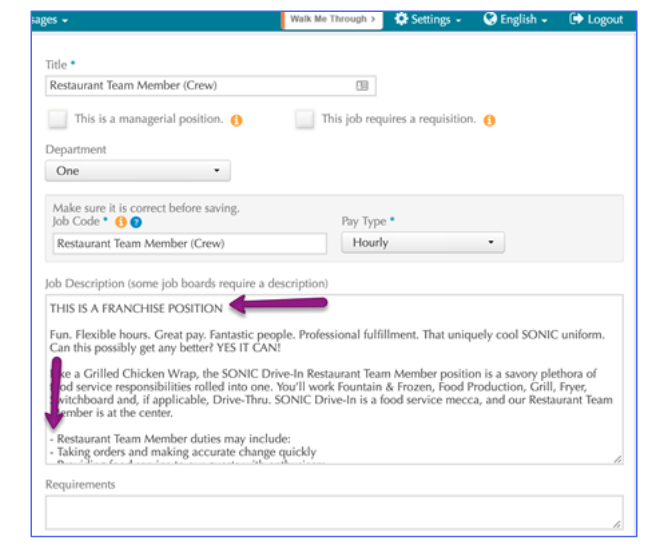 Lastly, the new site does NOT post out to Indeed. If you are not already, you may post out non-sponsored ads to Indeed with a click of a checkbox on the same jobs you are editing.

Scroll to the bottom of the jobs description and check the box.
Lastly, Click Save.

Related Article: PeopleMatter: How do I Set Up Job Board Integration with Indeed?