Overview

The Ingredient Import Tool/Ingredient Price Update Tool allows users to import nutritional information for ingredients saving them time.

This article describes the process of updating Ingredient Nutritional Information using the Import Tool.

For a list of all Recipe and Menu Engineering articles, please visit RME - Article Contents Page.

Exporting the Ingredient Nutrition Update Template

The first step in the process is to export the Ingredient Nutrition Update Template.
Go to the Recipe and Menus Engineering (RME) module
Select the Reports tab

Fig.1 – Reports Tab
Select Ingredient from the Reports group drop-down list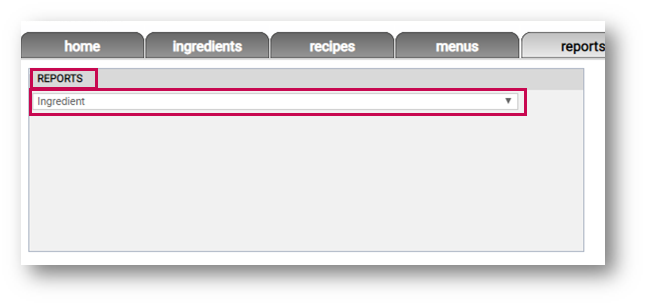 Fig.2 – Ingredient in Reports Drop-Down
Select Ingredient Nutrition Update Template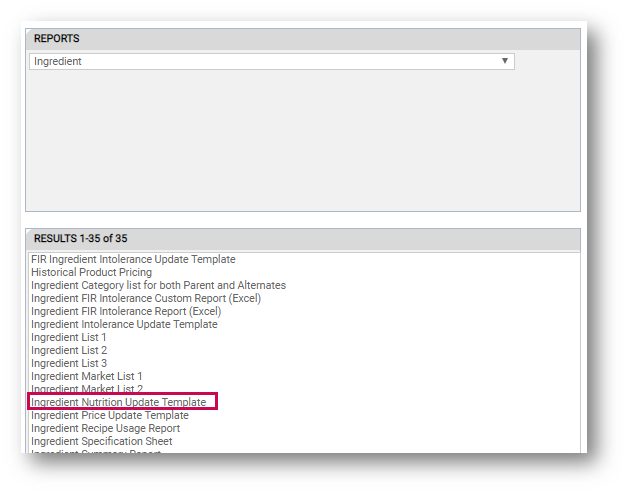 Fig.3 – Ingredient Nutrition Update Template Option
Enter the desired criteria and select Excel (xls) from the Download as drop-down list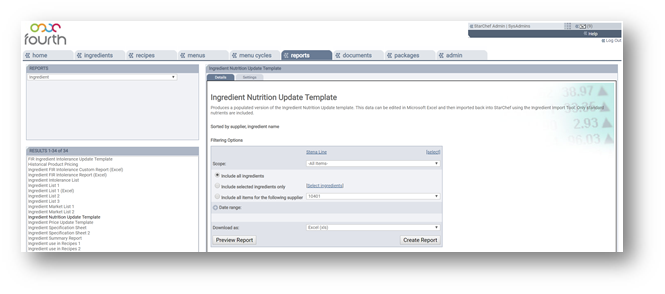 Fig.4 – Ingredient Nutrition Update Template Fields
Select Create Report
When prompted, Save the template to a memorable location

Editing the Nutrition Update Template

Open the saved file in MS Excel

The import fields in the template are in columns E – T

Columns E – P are for standard Nutrition
Columns Q – T are optional values enabled for some customers

If an ingredient in the export already has nutritional values, they will show in these columns

Fig.5 – Example Nutrition Update Template
Fill in the relevant changes in the file

Save

Pay close attention to the instructions in the template, particularly around which columns can be edited and acceptable formats.

Please Note: If the details of an existing value are changed in the template file, the system will overwrite the existing value with the new details in the template file when it is imported.

Importing Nutrition Updates

The final step in the process is to import the updated template.

Go to the Admin tab
Select Ingredient Import/Update in the Select drop-down menu on the left of the screen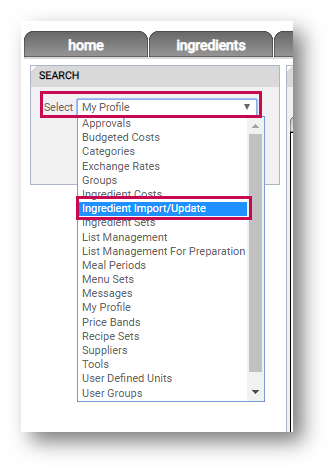 Fig.6 – Ingredient Import/Update in Select Drop-Down Menu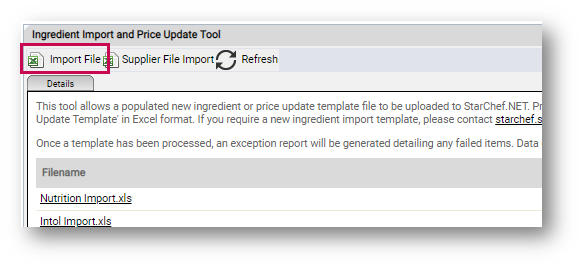 Fig.7 – Import File Option
Select Choose File and locate the template file which was edited previously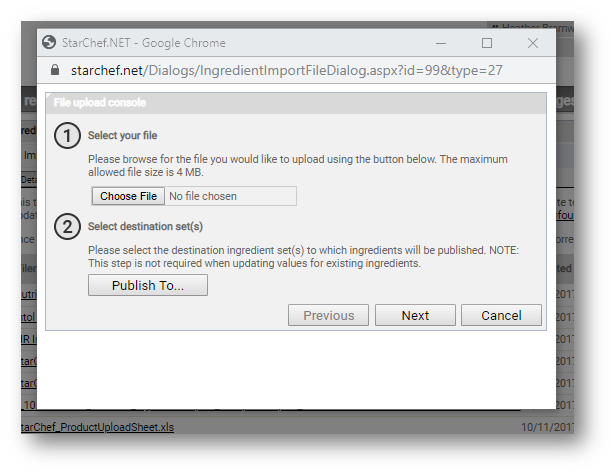 Fig.8 – File Upload
There is no requirement to edit Publishing for an update

Select Next to move to the next step
Review the summary and select Finish to start update process

The system will show the imported file on the main page.

The file will first have a status of 'File Uploaded' whilst the system attempts to process it.

To monitor the progress, select the Refresh button

Once the system has processed the file, the status will change to 'Processed – Nutrition Update'.


Fig.9 – Imported File/Refresh Option