Invoice Export – Trouble Shooting
The invoice export once configured correctly, should export all invoices, credits and/or accruals in the required format when needed. There may be occasions whereby the export doesn't export or exports with missing data.
Below outlines common reasons for errors on the invoice export.
Information Missing on Exported file
Ensure the relevant configuration information in the supplier, category and site nominal code references are filled in
Ensure all invoices are correctly reconciled at site level and have matched the paperwork to the penny and the invoices have been marked for export
Ensure each invoice has a relevant invoice number in the appropriate field as the system will not export any data without an invoice number


Fig 1 - this shows marked documents but with no invoice number, they will not export

Increased time in File Generation
Ensure there are not a large number of files open on your desk top
Ensure a good internet connection and check the session has not timed out as this will prevent files being generated
If in doubt, logout and in again and save and close all documents being worked on.
Inconsistent Files generated
Ensure the best practice procedure is being followed when selecting invoices to be exported:

Filtering the page for relevant invoices, this includes date ranges
Ensuring that 'marked for export' is present in the status field
Ensure the same file isn't being exported twice


Fig 2 - shows searching using specific and relevant criteria
No information on Files Generated
Ensure that best practice detailed above is being adhered to
Ensure the Internet Settings have been re-set to default internet settings > internet options > advanced options (please see the document 'How to restore your default IE settings' for details)
Ensure that you have restored your advanced settings to ensure the correct IE security measures are in place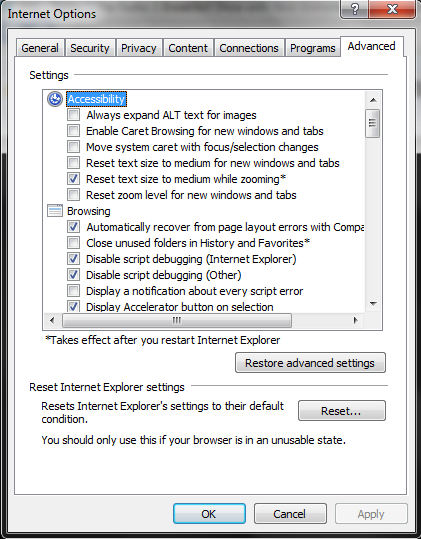 Fig 3 - showing restoring advanced settings

If there is still an issue, check the invoices were not exported from site level accidentally by another user.
Invoices can always be re-exported, do this by un-marking and re-marking the relevant documents and export as normal
Also See