Note: This article is for the new home tab interface. If you are not yet using this version of the home tab, please refer to this article here.
We have recently updated the interface of the Home tab in HotSchedules. This article will give you a quick overview of the new changes.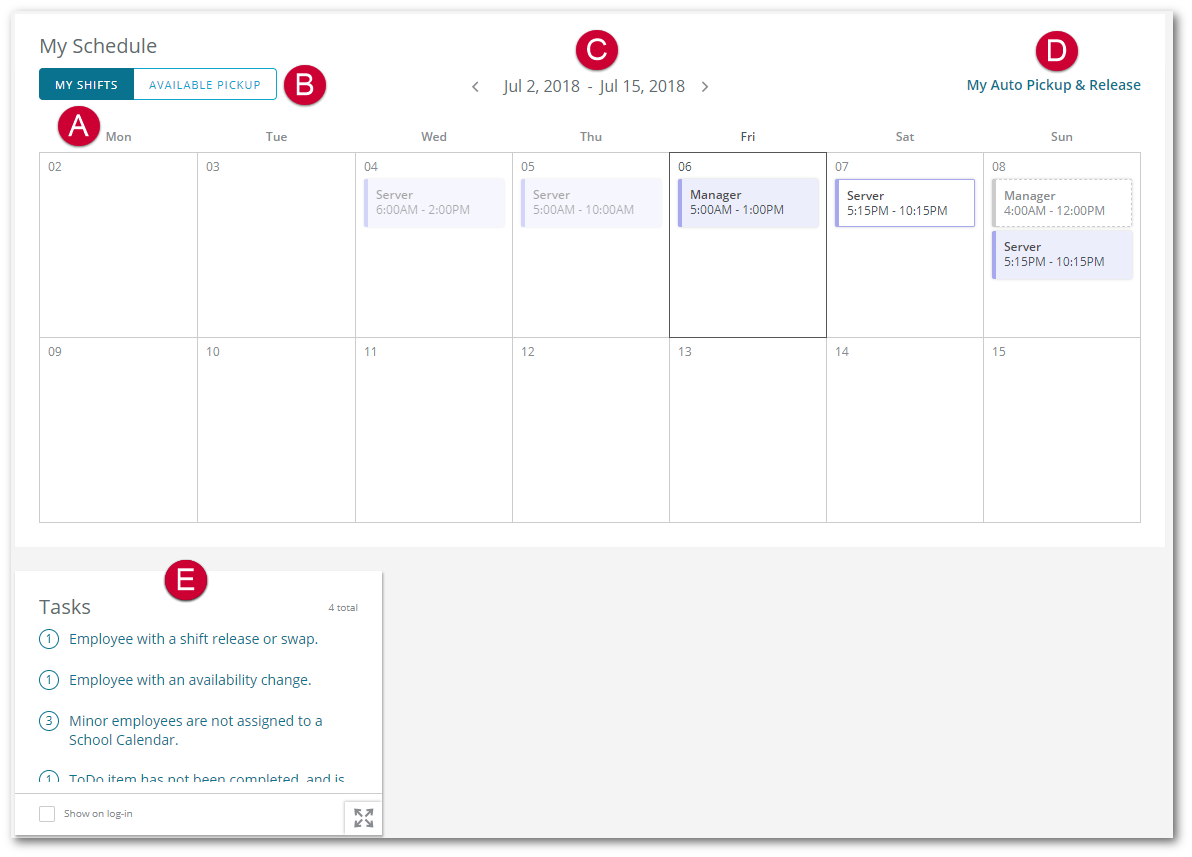 A) My Shifts - This is the calendar view where you will be able to see your schedule. You will be able to see the current week and next week. The week will start depending on work-week setup for that site. A nice improvement that will allow you to see past shifts for the current week. Current day cell will be highlighted as you can see in the screenshot for July 6.
Current and Future Shifts will have a Solid colored left bar and a lighter background color where the shift information is. We will display the Job and In-time and Out-time (only if you have the permission to view out times).

You will need to click on shift to see the schedule and location (if a location exists).
Past shifts will have the same colors but in a lighter shade.

Shifts that have been swapped or released and are pending a decision will have the same solid colored left bar, but the background will be white.

Potential shifts that have either been picked up or swapped but are pending approval will be in a greyed out doted rectangle.

B) Available Pickup - This is the calendar view that will display any available shifts for pickup. You will need to click on the "Available Pickup" button. Once you clicked, your shifts won't display, and only available shifts will display. You will have to click on the shift to view the start time; we only display the Job code.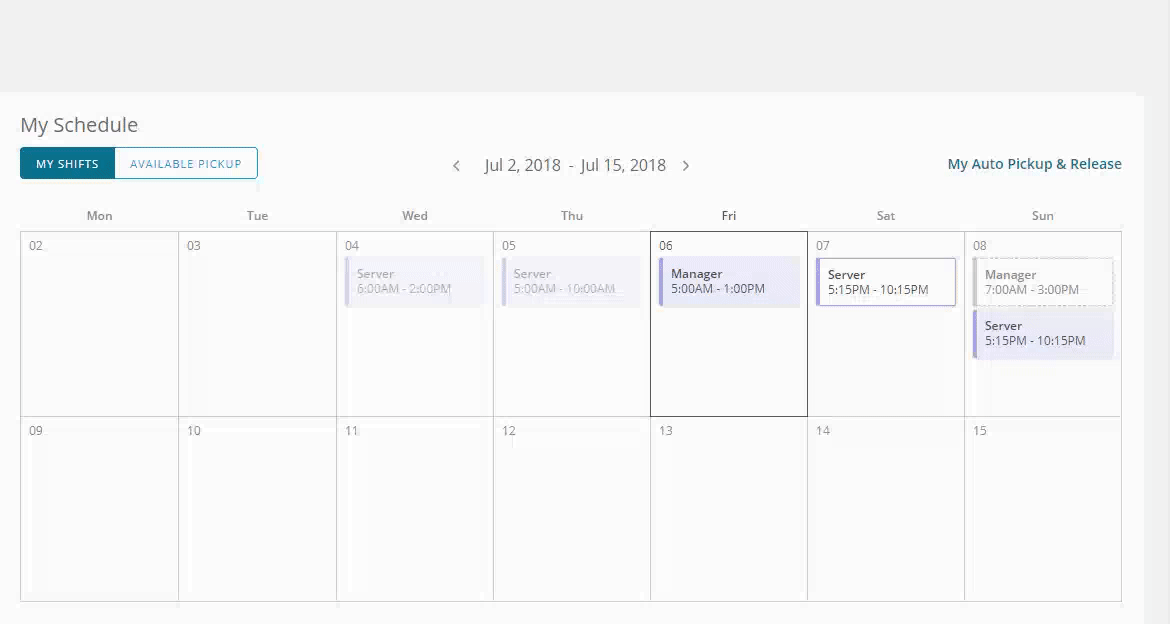 C) Date Picker -  You will be able to move the calendar back or forward with this. It will move to the next two weeks or the previous two weeks. Note: You won't be able to select specific dates.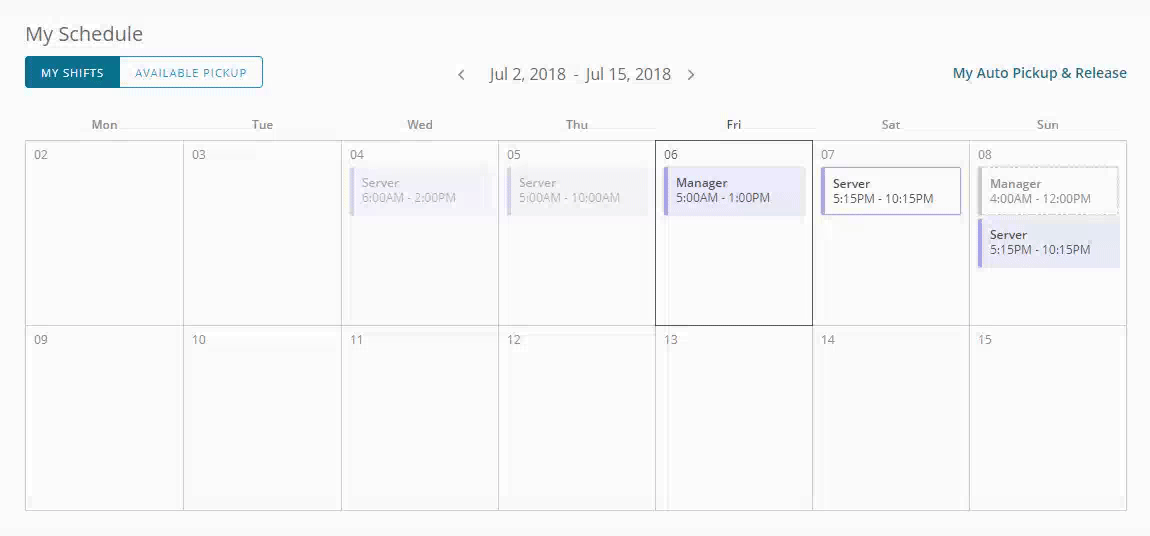 D) My Auto Pickup & Release -  This is a link to the Auto Pickup/Release screen. The Auto Pickup/Release will also have a My Schedule back button. Need to know how this feature works? Check out this article.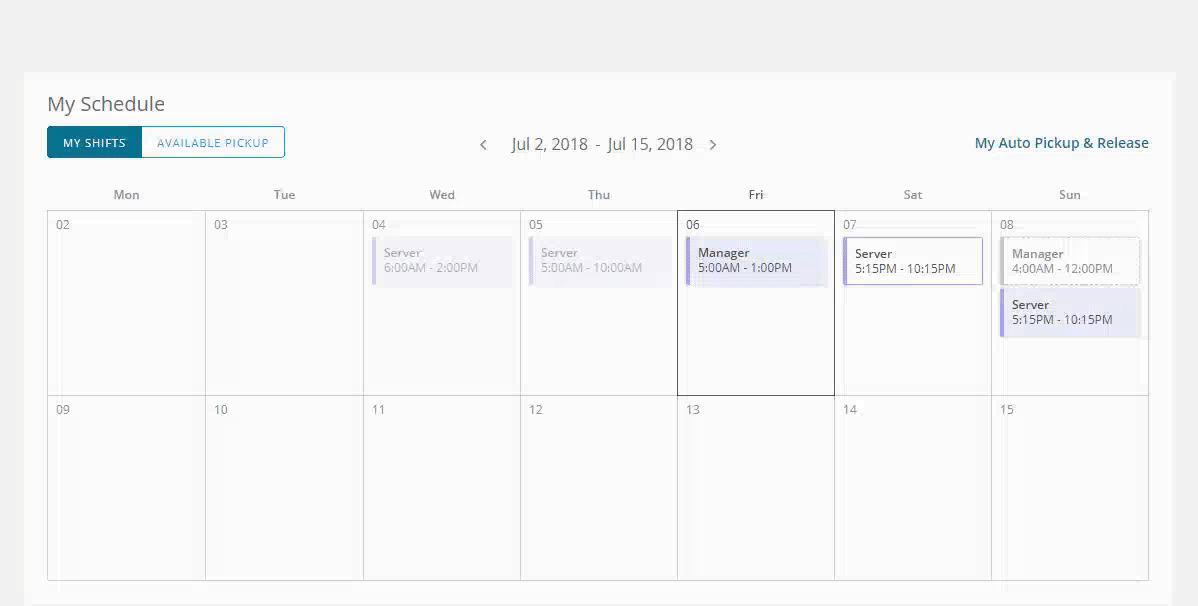 E)  Tasks - This window will display any pending tasks. Example: pending shift, image or availability approvals. You will be able to see how many tasks are pending; the total number will display in the top right corner of the window. You will also be able to expand to view a full list and select if you want this to pop-up every time they log in.