If your venue operates with Focus POS and you are preparing for a HotSchedules integration, the first place to begin is our HS Integration Fact Sheet.  Once these steps have been completed, there are a couple of additional steps that must take place before you will have a successful HotSchedules integration.
In your Focus POS, navigate to Setup > Misc > General > General, and under the Timekeeping tab you must check "Enable HotSchedules."  If no such button is present, you may still need to purchase the module from Focus that allows the two systems to communicate.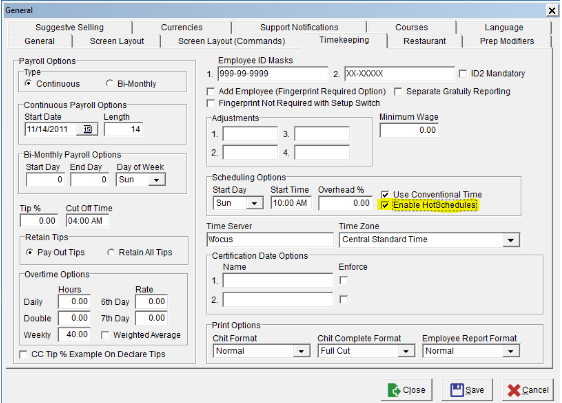 In short, HotSchedules requires the ID2 field for Employees and an "External Schedule ID" for job codes.  Without these fields present, those pieces of data will not populate in your HotSchedules site.  
To set up the ID2 field:
On the screen shown above, check the "ID2 Mandatory" field.
Then navigate to Employees > Employees, and enter a unique ID2 number for each employee.  HotSchedules will mainly pull the Employees, their job codes, and pay rates - however we can also pull the Phone #1 and E-Mail Address fields.  Please make a request to HotSchedules if you do not wish to have this information pulled from Focus.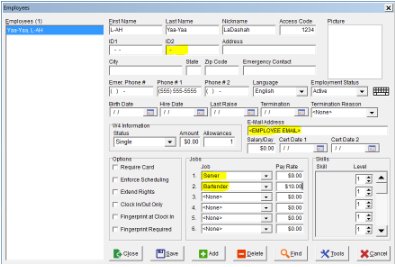 ___________________
Once you have posted schedules in your HotSchedules site, you can import those schedules into Focus in order to see the benefits of Focus punctuality controls.  If you select "Enforce Scheduling" on the screen above, that will enforce the time and attendance rules set in Employees > Jobs > Timekeeping.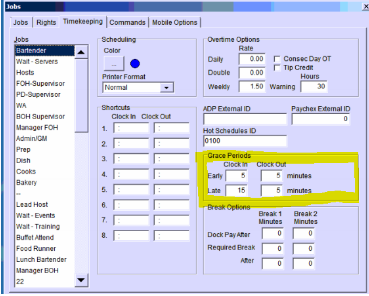 For additional information, please reference our article on Importing Schedules to your POS.
___________________
To set up the External Schedule ID:
Go to Employees > Jobs, and under the Timekeeping tab you will find a field to enter this record.  Each job code must have a unique ID in the External Schedule ID field in order to populate in Hotschedules (and link to the appropriate employee accounts).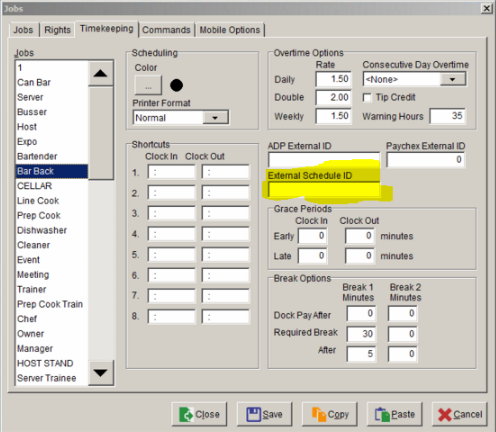 For additional information regarding whitelisting, etc - please refer to the aforementioned HS integration Fact Sheet.