Note: This article is for clients using the updated version of the Time Off & Requests interface. If your options do not match the screenshots below, please reference wither the Time Off or the Requests overviews depending on which sublink you have on the Home tab.
HotSchedules users have the ability to delete requests that they have submitted to their management team. Please note that if the schedule for that time has already been posted, and you would like to have your schedule changed, you will need to contact your manager.
Follow these steps to delete a request:
Log into your HotSchedules account and select the Time Off & Requests sublink on the Home tab.
This will direct you to a page displaying a calendar with all previously submitted requests.
Select the requested day(s) that you would like to remove.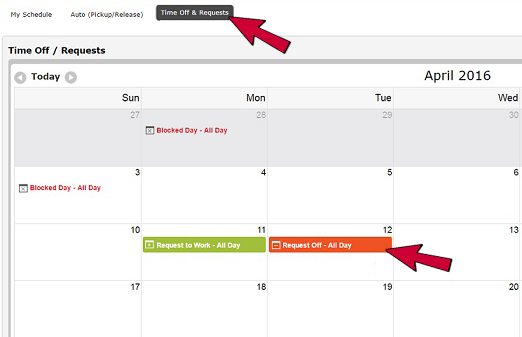 Once you have selected the request, the Edit Request window will pop up. This will display the details of that request.
To remove it, simply select the Delete Request link at the bottom of the window.
Note: If the request submitted spans multiple days, individual days can be removed. To do so simply select From Date: or To Date: and change the date to be the day you would like for it to be instead.