Skill levels give you the ability to rank your staff based on their expertise with each of their job codes in HotSchedules. You can use these skill levels to help you schedule your team with the Autoscheduler. This article will walk you through how to assign skill levels to individual employees. 
Please visit this article if you have questions about adding new skill levels to the site or editing the existing ones.
Follow these steps to assign skill levels to your staff:
Navigate to the Staff tab.

Select the name of the employee.
Select the Jobs/Schedules tab on their employee profile.
Under the Jobs section of this page, the employee is assigned any job code that is checked.
Use the Skill Level drop down menu to assign them a different ranking.
Select the Save button when you are done.
Example: You have an experienced server who can handle larger sections during busy shifts vs. a brand new server. The more experienced server should be assigned a higher ranking skill level. This will help ensure that the Autoscheduler will assign shifts according to experience and ability.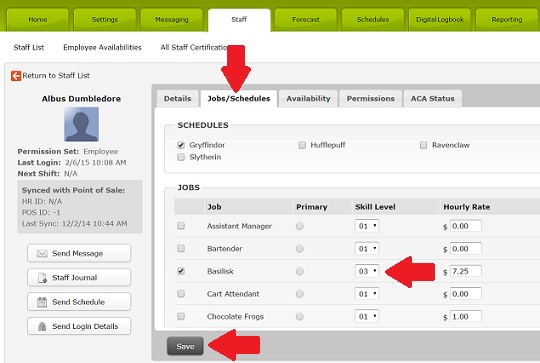 Self-Guided Tutorial 
(This will prompt you to log into HotSchedules, and then guide you through the process click by click.)