The certifications feature in HotSchedules allows you to keep track of various employee certifications and expiration dates. Each certification must be enabled on the site through the Settings tab, and then you can assign them and to individual employees and configure expiration dates accordingly.  Click here to read an article on how to enable certifications for your site.
This article will cover how to assign certifications and configure their expiration dates for individual employees.  From the Staff tab, there are two areas where this can be accomplished.  As with all features in HotSchedules, your account needs to be configured with the necessary permissions.  If you feel you are missing permissions, please contact our Customer Care team.
From the Staff List:
Follow these steps to assign a certification and configure its expiration date for individual employees from the Staff List sub-navigation of the Staff tab:
Log into your HotSchedules account, hover your mouse over the Staff tab, and select the STAFF LIST sub-navigation.
Select an employee.
When viewing the Details tab of an employee's profile, the Certifications card displays all of the enabled certifications for your site along with the employee-specific expiration date for each one assigned.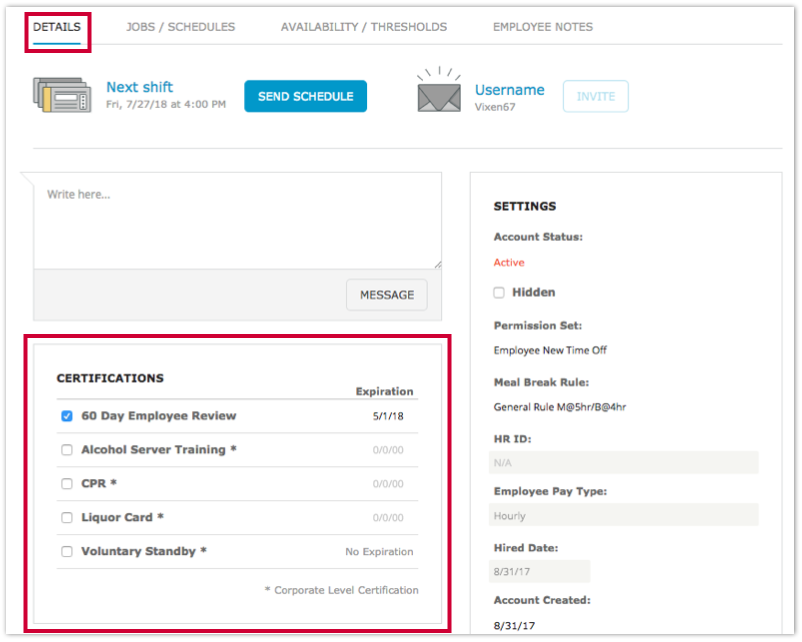 To assign a new certification to the employee whose profile you're viewing, simply check the corresponding boxes.  Want to un-assign a certification?  Just uncheck the box.
To configure the expiration date, simply click the date to the right of the certification, and select a new date.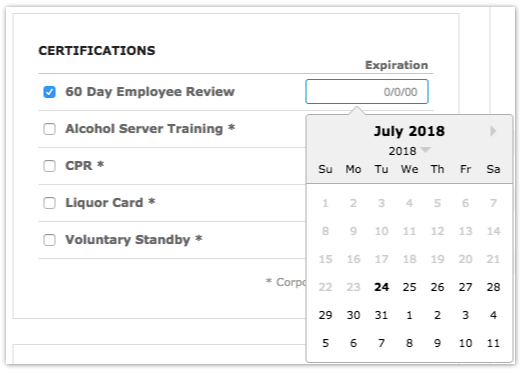 The data will save in real time, so there won't be a SAVE button or anything.  Pretty easy, huh?
From All Staff Certifications
The All Staff Certifications sub-navigation of the Staff tab allows you to view the certifications assigned to each employee.  Various filters are available so you can easily view everything you need to find.

Follow these steps to add or remove a certification for an employee from the All Staff Certifications sub-navigation:
Select the All Staff Certifications sub-navigation from the STAFF Tab.
Select an employee.
A modal will appear for that specific employee where, like above, you can check and uncheck boxes for the available certifications.  Additionally, selecting the Expiration Date field, you are able to select when the certification expires for that employee.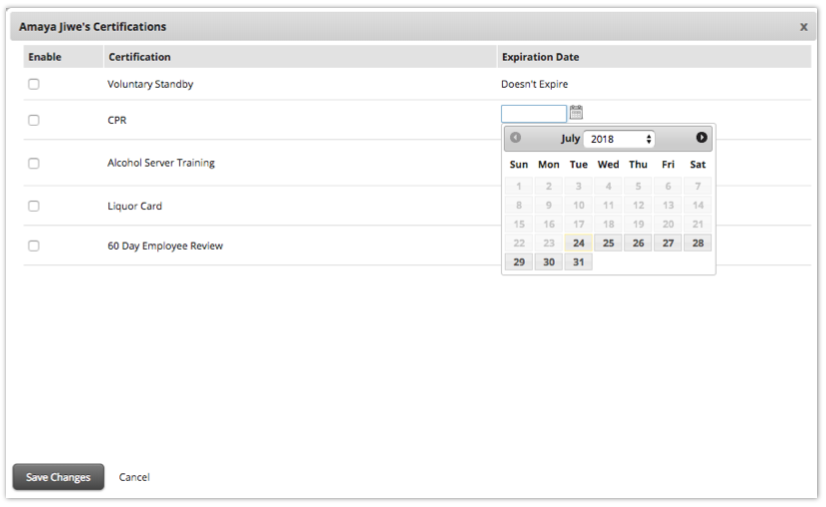 Unfortunately, expiration dates don't save in real time on this page, so you will need to select SAVE CHANGES to make sure you don't lose the information entered.