You can always go back and add additional advertising to jobs that you have already posted on GoHire. This is a great way to get more applicants to a job that may have been posted for a little while.
Follow these steps to add advertising to a posted job:
Select the My Lists tab from your GoHire account.
Select My Job List from the menu.
Select the title of the job that you would like to add advertising to.
This will direct you to a new page with all of the job details.
If you would like to make any changes to the job posting before adding advertising to it, select the View/Edit Job Details button.

Make your changes and scroll down to the bottom of the page to select Save Job.

When you are ready to add additional advertising to your job, select the Advertising button.
This tab will show you the history of the advertising used on this job.
Select Add Advertising.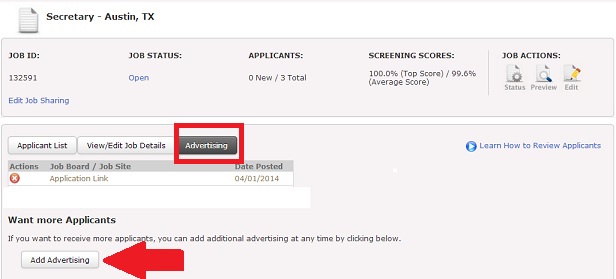 On the next page, you will be able to select any job board(s) that your would like to purchase for this job posting.
Your Total will be reflected on the right side of the page.
Select Next when you are done, and you will be directed through the Checkout process.