GoHire gives managers the option to run background checks on applicants and new hires. National Crime Search (NCS) is the third party company that runs these background checks. Managers will have to register with NCS through GoHire the first time they attempt to run a background check.
Follow these steps to order a background check:
Access your GoHire account.
Hover over My Lists, and then select My Background Screenings.
This will redirect you to a page to link your account to NCS if you have not done this yet. Otherwise, it will display all of the background checks you have ordered and allow you to order another.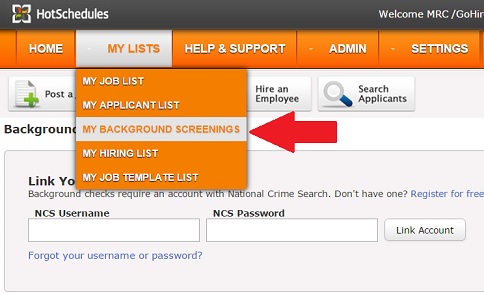 Alternatively, you can order background checks for applicants that have applied through GoHire:
Hover over the My Lists tab at the top of the page, and select My Applicant List.
Select the name of the applicant you would like to order a background check for.
A window with all of their application information will pop up.
Select the

Background Check

tab within this window.
Select the background check package you would like to order to proceed with your order through NCS.