The Work Schedule Availability feature allows applicants to provide their schedule availability in job applications through GoHire.
Managers can specify the ideal availability for applicants when they are posting the job. They can also rate how important an applicant's availability is for the position (this will impact the screen score of applicants on the the Applicant List).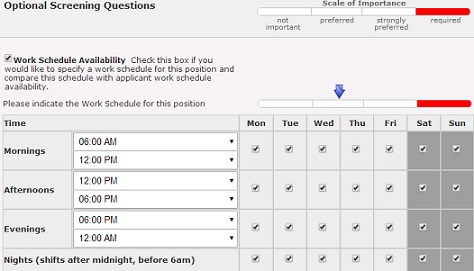 However, you have the ability to turn this feature on and off as an option for your job applications. When you turn the setting off, the option to fill out this chart will not be present for managers posting jobs or applicants who are applying.
Select the Settings tab from your GoHire account.
Select Application Preferences from the menu.
Locate the section labelled Work Schedule Availability.
Select the Edit Work Schedule Availability Settings button.
A pop-up will allow you to turn the setting on or off and save the change.