! This article is only for clients using the Non-Integrated version of HotSchedules. This means that HotSchedules is not integrated with your location's POS system. If your company uses the integrated version, new employees must originate in your POS system. !
If your site requires you to manually add new employees to HotSchedules, it is a quick and easy process. Once the new employee has been added, you can begin scheduling them and provide them access to this account.
Follow these steps to add a new employee:
Navigate to the Staff tab in your HotSchedules account.
Select the New Employee button on this page. It will be on the left side, just above the search employees field.
This will take you to the Create Employee page where you can enter all of their details.

Enter the first and last name of your new employee.
You have the option to input their phone number and email address, but the employee will also be able to set this up for themselves.

Select the Continue button on the bottom of this page to create the account.
At this point, you will be able to select the Jobs/Schedules tab to assign them the correct information to be scheduled.
Select the Availability tab to input any specific availability restrictions for this person.
Select the Permissions tab to assign them a different permission set. For example, if you are creating an account for a new manager, you will need to assign them the manager permission set to give them the correct access.
Save all of your changes when you are done.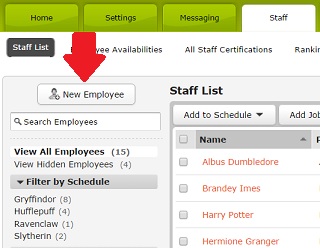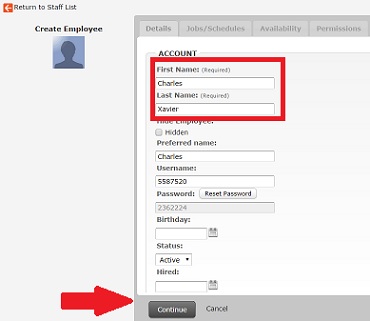 Adding Staff - Non-Integrated - Download QuickGuide