The certifications feature in HotSchedules allows managers to keep track of various employee certifications and expiration dates. Each certification must be enabled on the site, and then managers can begin entering expiration dates for their employees on the Staff tab.
Follow these steps to edit the certifications assigned to your staff:
If you only need to edit an individual employee's certifications, navigate to the Staff tab and select that employee's name.
Scroll down to the bottom of their Details page, and there will be a section titledCertifications.
Here you will be able to enable the certification for that employee and enter any certification expiration dates.
Be sure to select the Save button when you are done.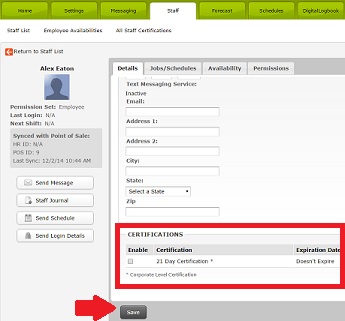 There is an alternative way to edit employee certifications. This is more helpful if you wish to review and edit certifications for multiple employees.
Select the All Staff Certifications sublink on the Staff tab.
This page will display a list of all employees and their certifications.
Select the name of the employee to edit their certifications.
Make sure to select Save Changes when you are done.

Company Certifications Download QuickGuide