When you hire a new employee in GoHire, you will send them an onboarding packet with several forms to fill out and sign. We offer the following standard forms in the onboarding packet:
I-9
W4
8850
Direct Deposit
All other documents have to be uploaded to the site to be included in onboarding packets. You have the ability to upload what we call Standard Signed Documents to the site to be included in future onboarding packets.
A Standard Signed Document is a document that the new hires will have to read and sign in their onboarding packet.  They are only able to sign these documents. There are no free text fields for the new hires to fill out. For example, you could upload an employee manual or a dress code policy here. As long as you only need a signature from the new hire of this document, it can be considered a Standard Signed Document.
Follow these steps to upload standard signed documents:
Select the Settings tab in your GoHire account.
Select Onboarding Preferences from the menu.
Locate the section labeled Standard Signed Documents
You will see all of the onboarding documents that you currently have uploaded to the site. You are able to view them, edit their settings, or delete them.
If you would like to add a new one, select the Add a Document button
A new pop-up will allow you to upload the document from your computer.
If you select to Global Share this document, it will be inherited by any child-companies. For example, if you are a corporate user, you can upload a document at the corporate level and share it down to all of your stores.
If you select the Make this a Default Document option, then this document will be automatically checked to be included in all onboardings. If a manager does not wish to use it, they can un-check it.
If you make a document Required, then this will be included in every onboarding packet.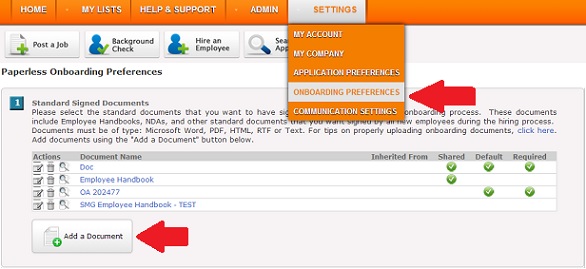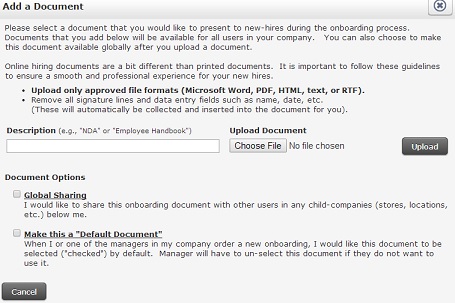 The alternative to a Standard Signed Document is a Custom Form. This is an onboarding document with free text fields for the new hire to fill out. For example, if you have an emergency contact form, it might require the new hire fill out certain fields rather than just sign the document. This type of form has to be created by our support team to ensure that it is formatted correctly to display on GoHire.
If you have a Custom Form request, please email your document into our customer care department (customercare@hotschedules.com). Please include your company, basic contact information, and mention that you like to have this document added as a custom form.