Employee Notes in the Staff tab allow you, with the necessary permissions, to easily associate memos or reminders about individuals, and then access them while generating schedules. For example, if Barry and Carlin carpool to work, having a note attached to each of their names makes it easier for all managers to be aware of their scheduling needs when assigning them shifts.
To get started, navigate to the Staff tab, and select the appropriate individual's name in the staff list.  Then select the Employee Notes sub-tab.  To add a note, click Add Note.

Employee Notes are highlighted in the Scheduler as a green dot next to the individual's name. 
To view the Employee Note from the Scheduler, click the employee's name, and select the Employee Notes tab.  The author of the note and when it was created will display here, as it does in the Staff List.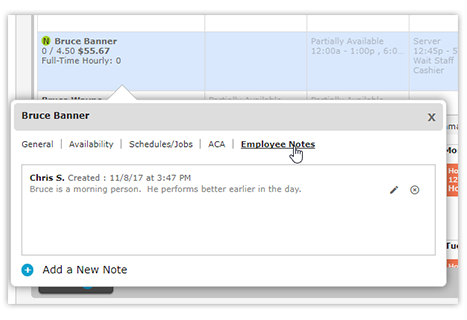 When there are multiple notes for an employee, they will appear in reverse chronological order, so that the newest note will always appear at the top of the list.  

Please note that only the author of a note can edit it.