Summary
Ordering app, Recipe Label Added
A "Recipe" label has been added for recipe items to help distinguish them from products.
Release date: September 21st 2022
Enabled by Default? - Yes

Set up by customer Admin? - No

Enable via Support ticket? - No

Affects configuration or data? - No

Roles Affected: - Adaco users who place orders via the Ordering app
What's Changing?
A "Recipe" label will be displayed for recipe items on all of the screens where items are listed (Category, Market Lists and Favourites).
Reason for the Change
Increase ease of use by making it possible to distinguish between purchasable products and recipes when ordering.
Customers Affected
All Adaco customers using the Ordering app.
Release Note Info/Steps
The new label will be displayed in the Ordering app automatically if the item is a recipe. No setup is required by users.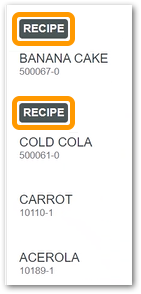 Fig. 1 - Recipe label displayed above items that are recipes rather than purchasable products