Overview
Settings for the My Schedule app can be configured through the Scheduling module in Workforce Management. In the past, it has been necessary for customers to request such configuration to be carried out by Fourth. Naturally, this functionality is only available for customers using the My Schedule app, and also requires two user-level permissions to be applied (by admin users).
User Level Permissions
Go to Settings > User Configuration > User Levels
Select Edit against the required user level

Under 'Settings' tick the boxes against either/both:

Edit My Schedule Organisation Settings
The link to this setting will always be visible. The settings in this page will be the default Organisation settings for the My Schedule app. Any new Locations that turn on My Schedule will have these settings applied
Edit My Schedule Location Settings
The link to this settings page will only be visible if the Location logged in to has the Location setting Publish Shifts Enabled enabled. These are the current settings for that Location. Each Location can have their own My Schedule settings if required


Fig.1 - My Schedule User Level Permissions

My Schedule Settings
Go to Settings and expand My Schedule Settings from the left-side menu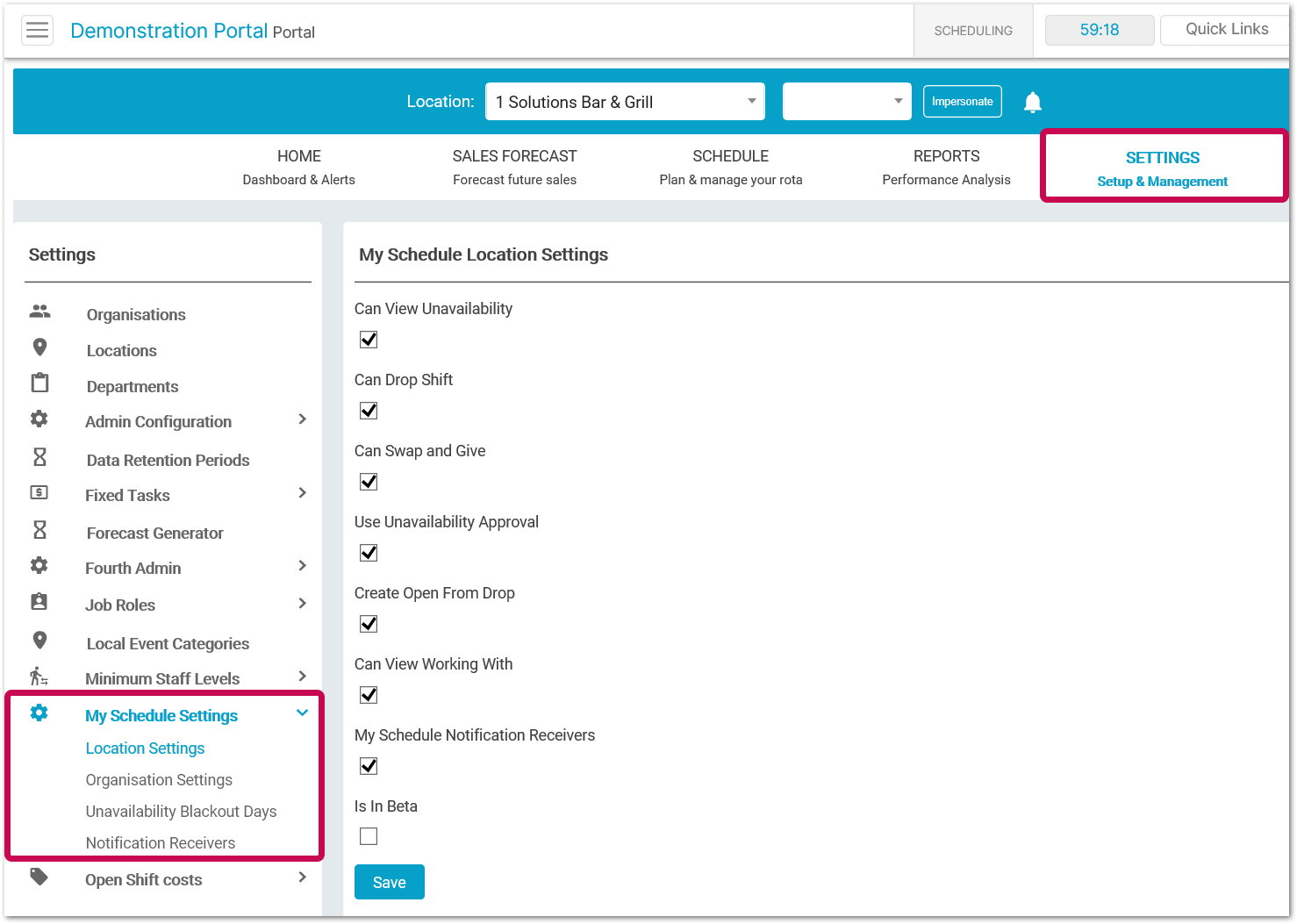 Fig.2 - My Schedule Settings
Organisation Settings
Select Organisation Settings from the left-side menu
Apply settings as required and then select Save

Please note: If Apply these settings to all existing locations is ticked and the settings page is saved, the settings on this page will be applied to all existing Locations and overwrite any existing configuration. When any new My Schedule functionality is developed, the setting can be bulk applied to all Locations through this page.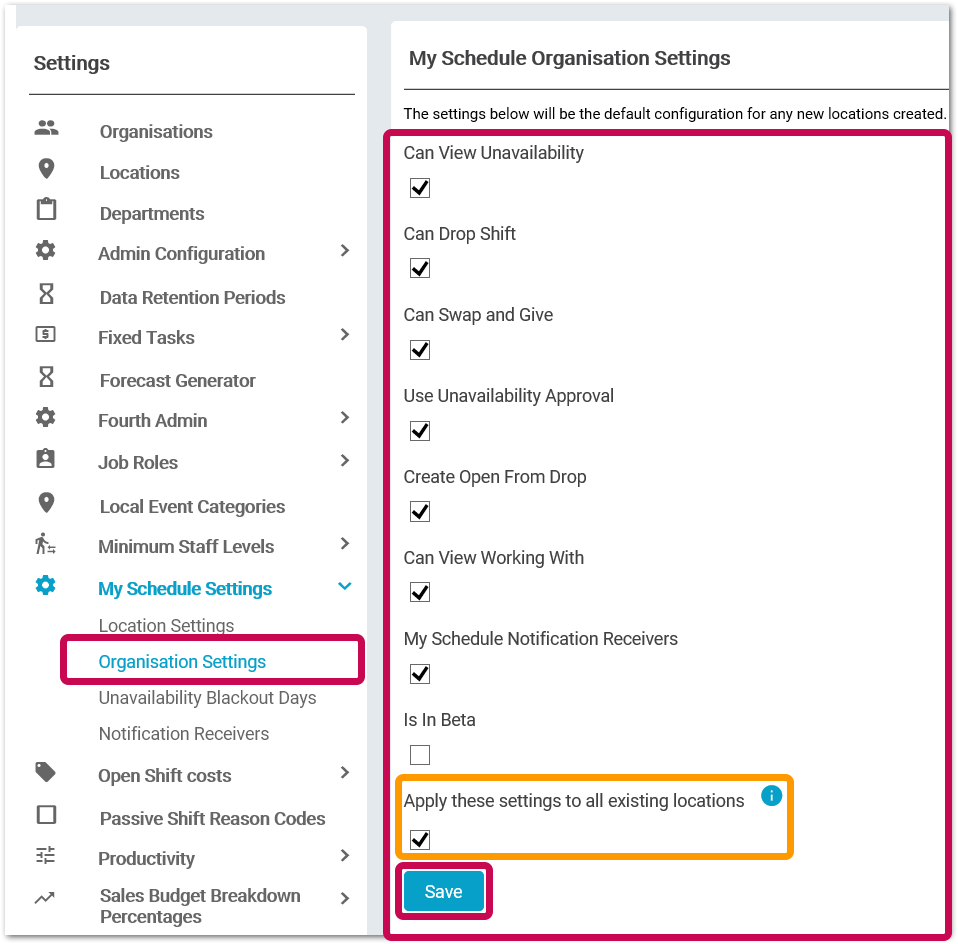 Fig.3 - MS Organisation Settings
Location Settings

Location settings need to be enabled, via the Publish Shifts Enabled setting.
Go to Settings > Locations and select Edit against the required Location
Tick the box against Publish Shifts Enabled and select Save
My Schedule settings will then be enabled for that Location. For more information on how to configure Locations, please see WFM Labour Productivity - Configuring a New Location.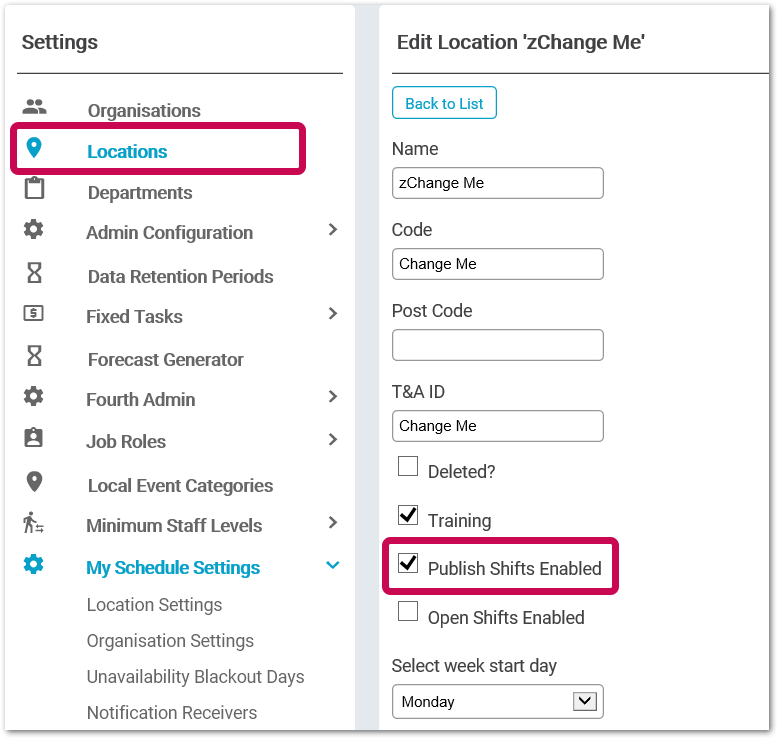 Fig.4 - Applying the 'Publish Shifts Enabled' Location setting
Locations can then have their My Schedule settings applied. This is done through the MS Location Settings page.
Select Location Settings from the left-side menu (if no drop-down appears then the Location settings can only be applied for the Location that the user is logged in to)
Select a Location from the drop-down
Apply settings as required and then select Save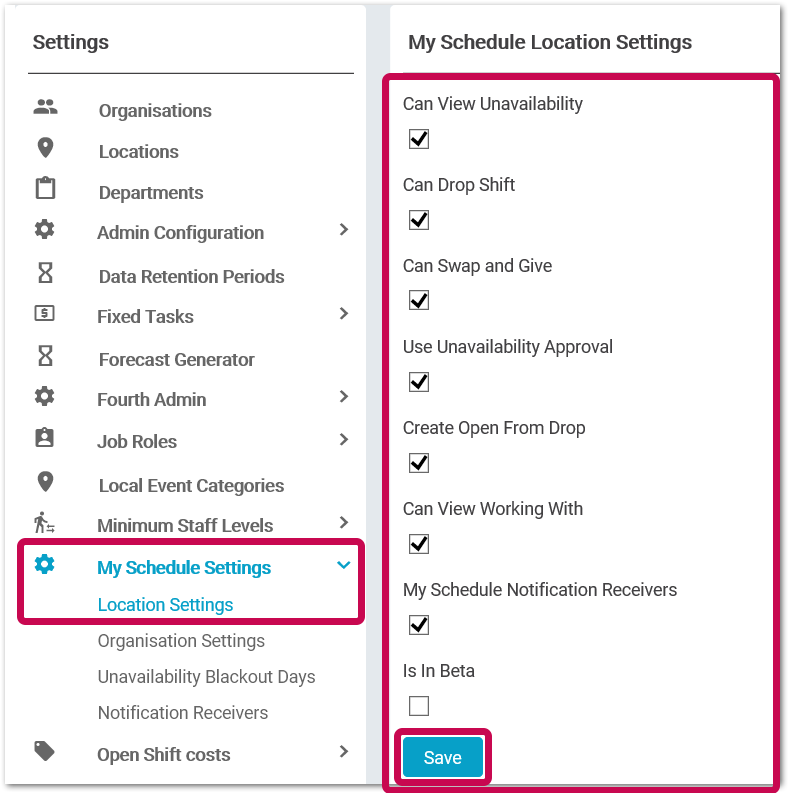 Fig.5 - MS Location Settings Page
A 'successfully saved' message will indicate that the settings have now been updated in My Schedule app for that Location.