Overview
The Employee History section on Workforce Management (WFM) records all changes made to an employee. This article explains the headers displayed in an employee's history.
Pathway
HR > Employees > Employees list > Search and select employee > Employee info > Employee History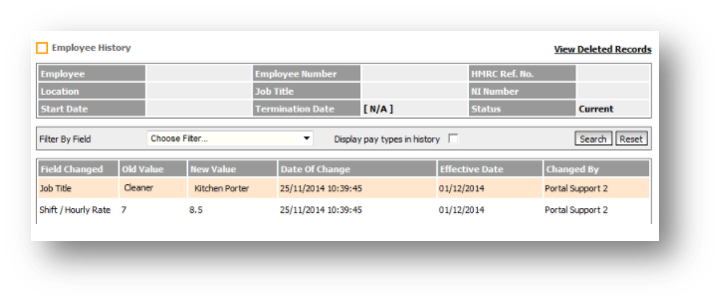 Fig.1 – Employee History
Description
Below are the headers stated in the Employee History, the definition of the header, and an example of a job title change.
Field changed – The type of value that is being changed i.e. Job title
Old Value – The previous value that was set for the employee i.e. Supervisor
New Value – The value of the new change set for the employee i.e. Manager
Date of change – The date when the change was completed i.e. 07/03/2021 17:06:25
Effective date – The date when this change will be made effective from i.e. 08/03/2021
Changed by – Who made this change for the employee i.e. Portal Support 2
Changed by
If changed by a Portal support this would be done by someone in Fourth

If changed by a System Operation this would be done by an upload (arranged with the customer and data team in Fourth

If changed by the customer this would state that particular person's name
See more
Release Note: Handling Future Career Employee History Conflicts