Overview
This article has been designed to be a user guide in order to assist in the process of using Digital Recipe Cards (formerly known as Starchef Light) in the Recipe and Menus solution.

For a list of all Recipe and Menu Engineering articles, please visit RME - Article Contents Page.
Accessing Digital Recipe Cards

Please Note: This section is only applicable to users who have multiple User Groups available.
Sign in to the Recipe and Menus Engineering solution

Select the Home tab
Select Click here to change your active user group

In the pop-up which appears, select one of the User Groups called 'Light', e.g. RME Recipe Viewer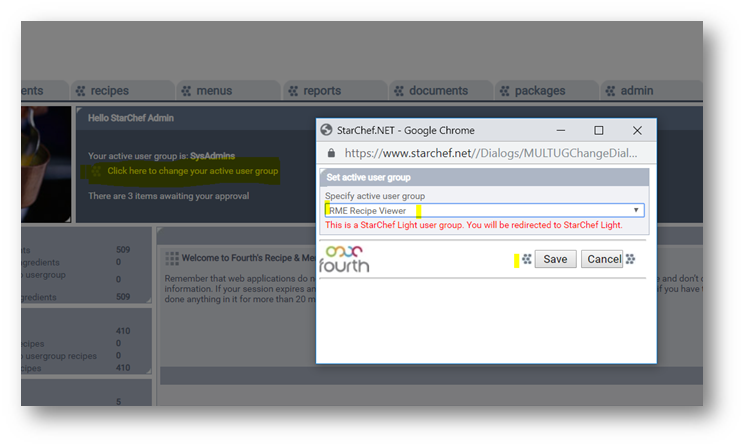 Fig.1 – Change Active User Group link
Select Save

The screen will refresh and the 'Light' Digital Recipe Cards View will display
Browsing Recipes

All Recipes can be viewed by going to the All Recipes tab and then using the Enter or 🔍 (search) buttons
Go to the My Favourites tab to see all recipes that have been marked as favourites
Recently Viewed will display recently accessed recipes

Fig.2 – All, Favourite, and Recently Viewed Recipes


Viewing Recipes

When viewing a Recipe, various actions can be taken:

Back to Search - Return to the previously used Recipe page
Print - Use this function to quickly print the Recipe
PDF - Save the Recipe in PDF format for later reference or sharing
My Rating - Rate the recipe 1-5 by clicking on the stars. Adjust at any time
Add to favourite - Tick/untick the box for the Recipe to appear in My Favourites when browsing
Show/hide information - Hide/display information by clicking on the arrow at the top left of every box. This is useful to avoid exposure of sensitive information when showing the recipe to a customer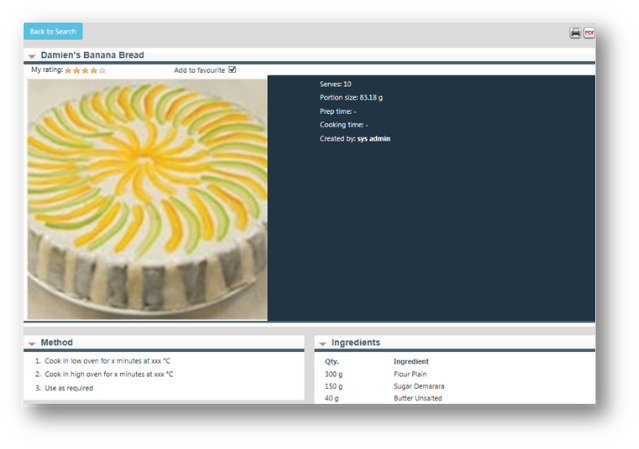 Fig.3 – Viewing a Recipe

Searching For Recipes

Use the 'Search' tool to easily find Recipes.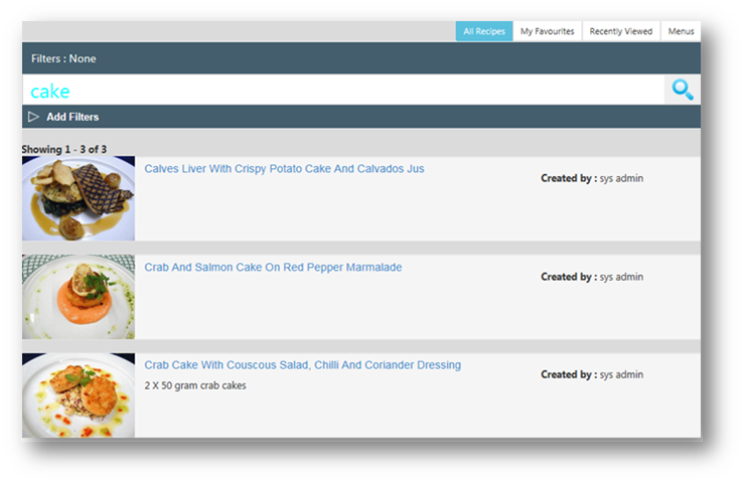 Fig.4 – Multiple Search Results
Multiple results can be refined by selecting Add Filters

Recipes can be filtered by categories, menus, or ingredients, as well as by the following 'including' or 'excluding' criteria: "Additives", "Allergens", "Contains", and "Dietary".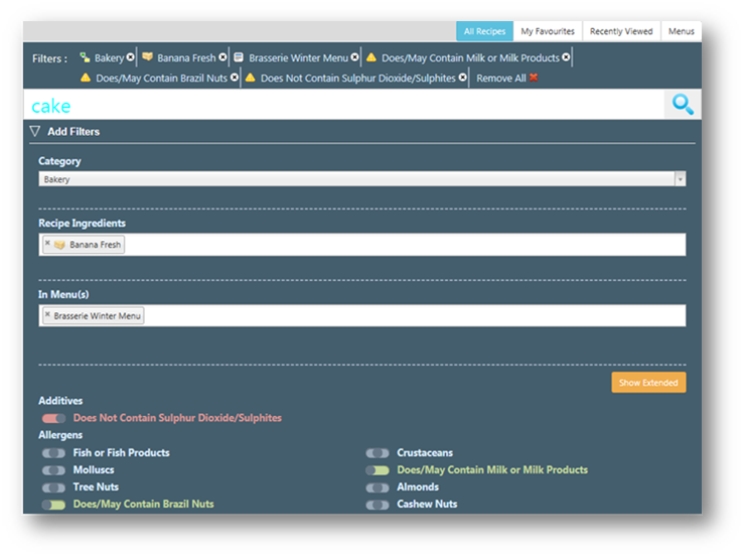 Fig.5 – Applying Filters to a Search
Select Show Extended to display a greater range of 'including' or 'excluding' criteria

User Functions

User options can be accessed via buttons located in the top right corner of the screen.


Fig.6 – User Functions in Top Right Corner
User profile details (username, email, password, etc) can be modified by selecting the Username
Switch to a different User Group by selecting the Person icon as shown in Fig.6

Log out of Recipe & Menus with the red cross button - always advisable at the end of the session