Overview
​​​​​​​
This article explains how to create a System User who is not attached to Payroll or shown in a Rota.

This functionality can be used in various circumstances:
A 'Super User' login with more permissions than the employee's personal login, such as HR/Payroll personnel

Running reports to include their 'real' record

Third party companies who need particular access to the system

The benefit of this is that there are not duplicate Payroll records for an employee.


Creating a 'Super User' Job Title

The first stage in creating a System User is to set up the job title.
To do so:
Go to HR > Company Admin > Job Titles > Create Job Title

Change the option of 'System User' to Yes

Select Next

Fig.1 – Create Job Title
Assign the job title to the relevant Locations and Divisions, for example 'Head Office'

Save
 
Creating a 'Super User' Employee

Once the Super User job title has been created, it is now possible to create employees to attach to this job title.

Go to HR > Employees > Create New Employee

It is essential at this stage to complete any mandatory fields in order to move to the next page. It is suggested that the fields such as 'First Name' and 'Surname' are used to denote that this is to be a Super User, and who the Super User login is to apply to.
Once the relevant fields have been completed, select Next

Select the relevant Location and Division that the Super User was assigned to

Select the Job Title from the drop-down list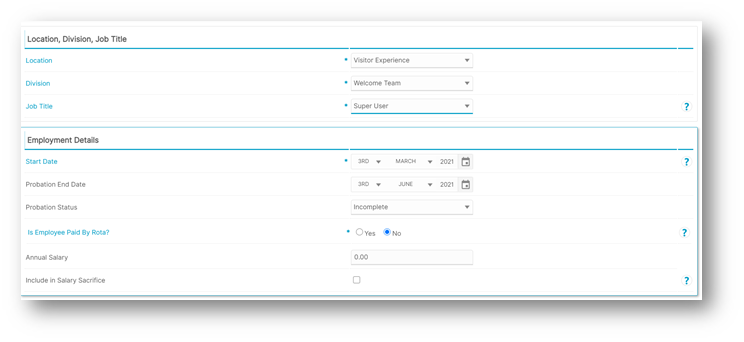 Fig.2 - Employment Details

Once the Super User job title has been selected, a pop-up message will display explaining that the selected job title will not be attached to Payroll (see Fig.3).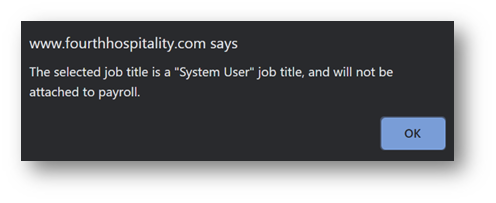 Fig.3 - Super User Message


Please Note: The 'Annual Salary' field must have a figure in it, even though this job title is not being attached to Payroll, such as '£0.01'. A payment method must also be inputted.


Within the 'Assign Access Levels' page, it is now possible to assign the relevant Access Level to the Super User so that they can see the employees required who fall below them in the hierarchy.

The relevant access also needs to be assigned to each module for the relevant Locations and Divisions that the Super User is to have access to.

The 'Reports To' field must also be correctly filled out if set as a mandatory. If the Super User sits at the top of the hierarchy, this field will default to 'No Managers'.

Once ready, select Next to finish the process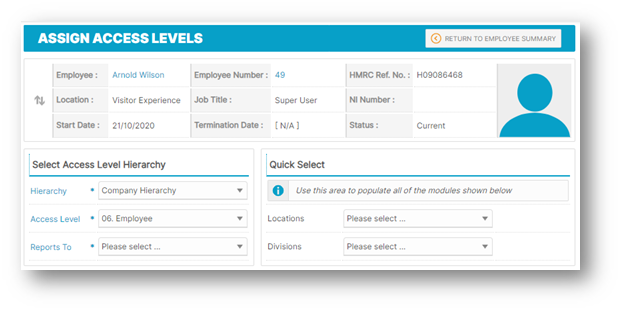 Fig.4 – Employee Access Levels

Creating a Login for the Super User

In order to allow the Super User access, a login must be created.

Go to HR > Employees > Employee List > Select Employee > Employee Access > Change Login Details

Enter the required Username and Password

Select Save to complete the changes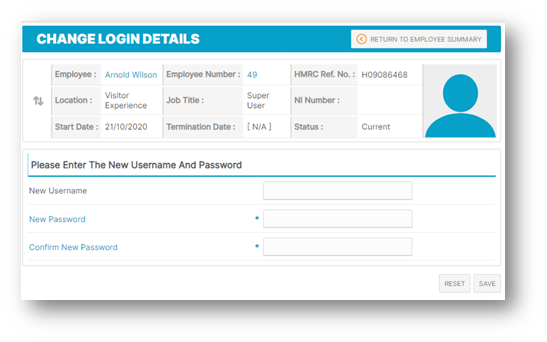 Fig.5 – Change Login Details