Overview
This article describes the process of creating a holiday within the HR module in Workforce Management.
Creating Holidays
Go to the HR module
Select Job Titles from the Company Admin drop-down menu
Select the Job Title to enter the Holiday allowance from the list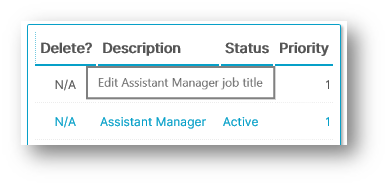 Fig.1 - Select Job Title
The details of the Job Role will appear on the screen.
Select Edit Default Holidays

Fig.2 - Edit Default Holidays
Select the relevant General Holiday Settings option
Enter the Full-Time Equivalent (FTE - what a full-time member of staff would work) in days/hours and shifts
Enter the Basic Holiday Allowance for a full-time employee
If this is entered incorrectly, it will affect the part-time holidays which are calculated pro-rata from the number entered here. This information should be entered for all job titles on the system.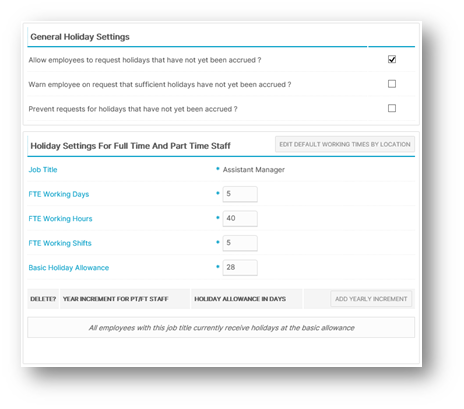 Fig.3 - Enter Job Title FTE information
If employees gain extra holiday days when they have been with the company for a certain number of years, these can be entered within the Job Title settings.
To do so, select Add Yearly Increment


Fig.4 - Add Yearly Increment
Enter the number of Years Of Service and the new Allowance in the pop-up, and click Save. Once saved these will come up underneath the original holiday allowance.



Fig.5 - Yearly Increment Pop-Up
As well as entering the Holiday for full-time employees, it needs to be entered in the equivalent weeks for flexible employees (if this option is being used). E.g. 28 days allowance equals 5.6 weeks, for 25 days it would be 5 weeks and so on.
Fourth looks at the average number of days going through the Rota for these employees and multiplies this by the weeks Holiday to calculate their allowance. Yearly increments can be added in the same way, however, the increments will need to be added in weeks rather than days.
These settings can also be accessed via the Global Settings. This will show the holiday allowances for all job titles.
Select Global Settings in the Administration drop-down

Select Edit Default Holiday Settings

Select the required Job Title

Select Add Yearly Increment

Enter the required information
Back Pay for Additional Holiday Pay
A Global Setting is available to include any additional payments that are in the current pay run within the additional Holiday pay calculation.

Go to HR > Administration > Global Settings > Edit Default Holiday Settings
Select Holiday Calculations


Fig.6 - Holiday Calculations

Under the Additional Holiday Pay section, the setting is titled Use payments within the current pay run within additional holiday pay calculation


Fig.7 - Use Payments in Current Pay Run Option
By turning the setting on, any additional payments that are in the current pay run within the additional Holiday pay calculation are included.