Overview
This article shows how the price movement of product categories in Purchasing & Inventory can be understood and analysed in Fourth Analytics.
The Year on Year (YOY) Price Split tab can be found within the Cost Price Analysis dashboard. The tab compares the price of each product in the main food and beverage categories, with the average price paid for that same product 12 months before.
Data and Categories
The data is trended to provide price index fluctuations for each of the given categories. The prices compared are the base price values (price per kilogram, litre, gallon or pound) of a product purchased in the same month last year. It will only return a comparison if the product has been purchased both years.
The only categories available will be those where products are measured in base units (typically fresh food products and beverage products). Other categories are not visible as not all products are purchased in base units. Because purchase unit sizes may change, it is not possible to make a meaningful comparison year on year. For example, printing paper is purchased in boxes – there is no way to determine if the box size if the same year to year, so accurate comparisons cannot be made.
Product Category Graph
Each line graph shows the percentage change in product prices per base unit for the category, compared to the same period last year. Taking the example below, in Jun 2023 fish/seafood category average prices were 104.13% of (or 4.13% more than) average prices for Jun 2022.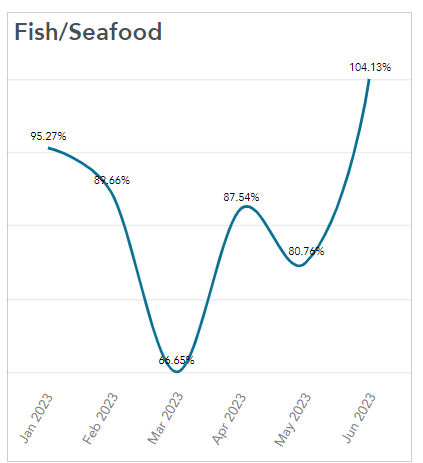 Fig.1 - Example meat/poultry graph
Sub-categories may be shown as separate lines on the same graph.

Fig.2 - Multiple Product Category graphs
How To:
Quickly view which product categories have average prices higher than the previous year and prices differences continue to grow year on year
First choose the required time period using the Date Dimension (Business day) filter under 'Property Details'
Refer to each category graph
Categories where % figures are greater than 100 indicate this year's prices are higher than last year's. Graphs where the line is trending upward indicate the price difference year-on –year continues to grow.