Overview
This article provides guidance on how to view spend against budget and forecast information. The Budgets tab is found within the Purchasing and Receiving dashboard and shows the actual (raised) requisition value against budgets and forecasts entered in Purchasing & Inventory. Information is available based on pending requisitions, as well as what has been raised, received and invoiced. These can be viewed by physical location or by account code.
Headline Summary
Found across the top of the tab, this shows actual spend compared to budget amounts entered for the time period selected and calculates the remaining budget amount. It also displays the forecast spend, remaining amount and percentage used.


Fig.1 - Budgets Headline Summary
Budgets Trend
Shown in the top-left of the screen for the chosen time periods, the trend of actual spend (narrow bar) compared to budget (wide bar) and forecast (line) based on requisitions released.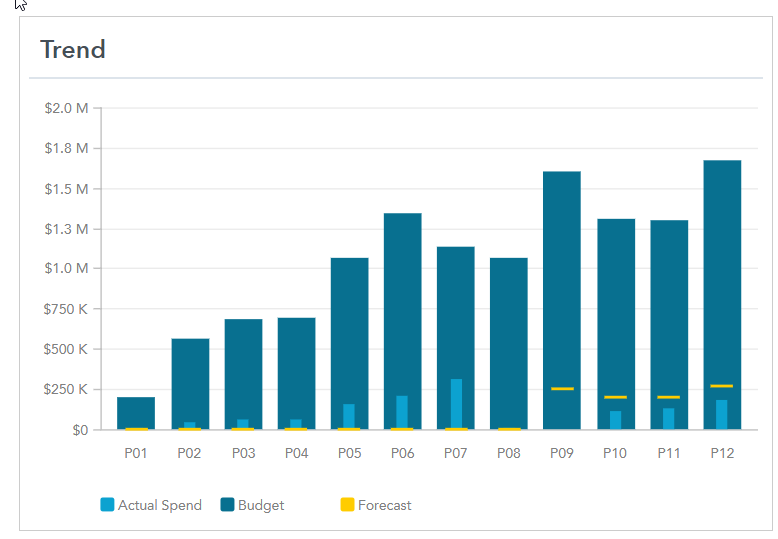 Fig.2 - Budgets Trend graph
Budgets by Budget Name
Displays actual spend comparison against budget and forecast by budget account for the selected time period.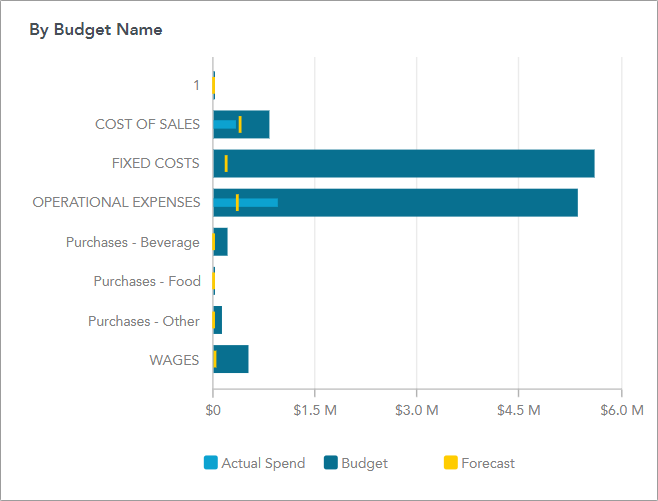 Fig.3 - Budgets by Budget Name graph
Breakdown of Actual Spend
Shows for the chosen time period, the value of requisitions which are pending, approved or final approved, as well as open POs – that is, amounts which have been committed but for which products have not yet been received. POs that have been received as well as manually entered invoices - where a requisition has not been created first in the P&I system, will also be included in the Actual Spend.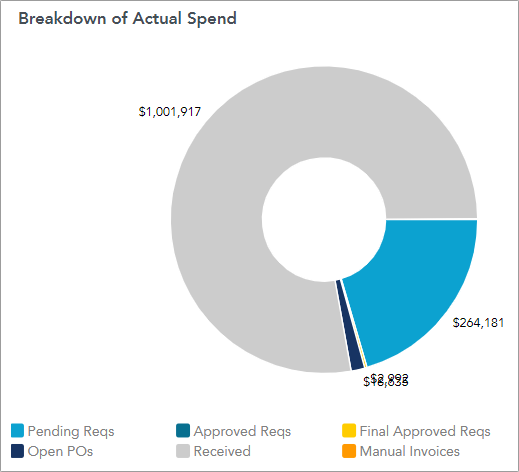 Fig.4 - Breakdown of Actual Spend graph
Used Budget
Consists of two graphs (middle, right of screen) showing "by property" and "top 10 accounts". The % budget already spent sorted highest to lowest.


Fig.5 - Used Budget % graphs

Budget Detail
The last report shows a detailed breakdown of requisition spend against budget and forecast.


Fig.6 - Budget Detail Report
How To:
Quickly identify any areas of unexpected budget overspend and whether there is an opportunity to prevent this.
First, choose the required time period using the Fiscal Year (budgets) and Fiscal Period (budgets) filters under 'Property Details'
The Headline Budget vs Actual figure will show if there has been overspend against the budget or not. The forecast figure will show the overall expected (forecast) spend if entered in the core system.
Refer to the difference between actual spend and forecast spend as a value and percentage for an overall indication of whether actual spend is within expectations
In the example shown in Fig.2, in P11 the actual spend of £128,895 is well within budget spend of £208,986 and within the forecast (expected) spend of £200,960.
Refer to the Budgets by Budget Name (Fig.3) to see that 'COST OF SALES' is the main area where actual spend has exceeded forecast
Refer to Breakdown of Actual Spend to see if any spend value is in pending requisitions – it may be possible to reduce or not approve these requisitions before they are transmitted in order to reduce the spend amount
Refer to the Budget Detail Report and apply a filter or sort by column Budget Code or Forecast Remaining to see where overspend against forecast has occurred